This post may contains affiliate links for your convenience. If you make a purchase after clicking a link we may earn a small commission but it won't cost you a penny more! Read our full disclosure policy here.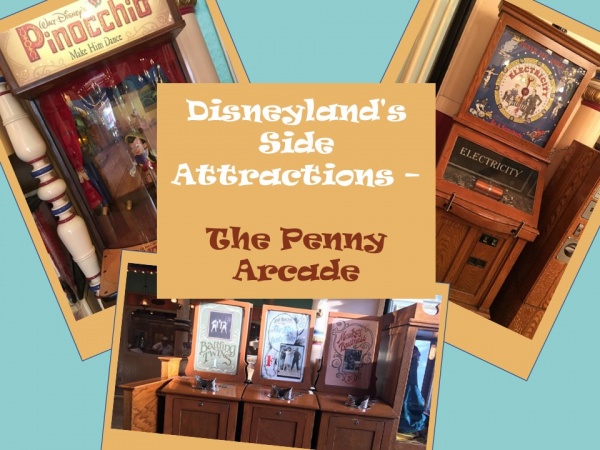 This is the second in a series of blogs on the amusements of Disneyland. Last time I introduced you to Esmerelda, Fortune Teller. For today's inexpensive amusements, I thought that we might stay around the Penny Arcade on Main Street USA.
There is something that draws people in to sideshow amusements. It must be the combination of the lights and bright music that calls out to the kid in all of us. That combination that turns on some hard-wired switch that increases our heart rate and encourages us to 'just do it'. Today's Penny Arcade has the added draw of being an extension to the candy shop next door. However, snuck between the boiled lollies, lollypops, and taffy, you might find a few fun contraptions.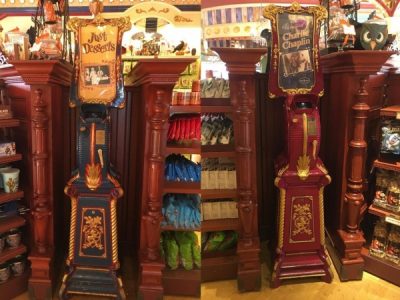 The amusements here do change but generally, you can find three types of old time amusements: dancing men, flip movies, and detectors. Esmerelda can also be found in the entry to the Penny Arcade.
Within the shop you will find 'Pinocchio, the dancing boy'. For a shiny quarter, you can watch as Pinocchio dances his 'got no strings on me' puppet dance. I always enjoy dropping a quarter in when there are small children about and then encourage them to come and play with the buttons to change his movements. My daughter loved the dancing men amusements in the park when she was little. Sadly, she lost that love as a teen but is now to an age where nostalgia is beginning to take hold. And if you are without children, do not fear, you too can play with the dancing man if you want. Don't worry, no one is watching.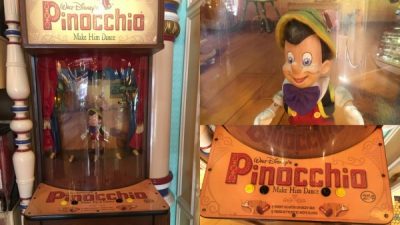 Some of my favorite things in the Penny Arcade are the old flip movies. These boxes are each different but generally they have a viewing lens made of brass or copper that you look into, once you drop your penny, the inside of the box lights up and a series of pictures begin to flip and the images move. Some of the boxes require you to crank a handle. You can flip slow or fast, but the light is timed. These movies aren't Disney related in many instances. They are original to the machine when they were brought into the park back in 1955. They now sit in small runs between the candies. Keep an eye out for them.
The last category is what I call detectors. You might be familiar with this type of machine. This is where the 'Love Detector', 'Strength Detector', and 'Electric Shock' machines fall. These amusements are interspersed along the walls of the shop and they supply a few minutes dalliance and many hours of debate among family members – after all, Uncle Joe did hang on to the electric shock handles longer than Tim; didn't he?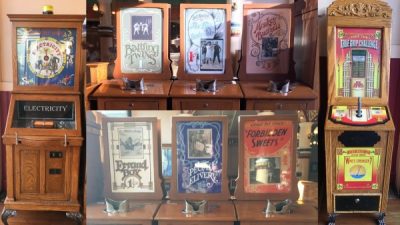 These amusements are fun, inexpensive, and out of the weather. If you are hot or it is raining, and you want something a bit unusual to do, go visit the Penny Arcade. It is both indoors and in air conditioning. Just be aware that it can get very crowded inside. This is a small shop with a lot of things in it. I avoid going to the Penny Arcade at the end of the park day now. Back in the day, I used to come and spend about twenty minutes on the way out before heading home. The change to expand the candy shop has put a dampener on that activity.
Your best time to visit is usually in the mid-afternoon (but not during the parade) or in the morning after the first rush from rope drop.
What is your favorite Penny Arcade machine? Share why in the comments. 
Did you like this article? Make sure to share it with your friends! Check below for easy ways to share!
Incoming search terms:
https://www themouseforless com/blog_world/disneylands-side-attractions-penny-arcade/
penny arcade machines disney world
pinocchio at disneyland arcade