This post may contains affiliate links for your convenience. If you make a purchase after clicking a link we may earn a small commission but it won't cost you a penny more! Read our full disclosure policy here.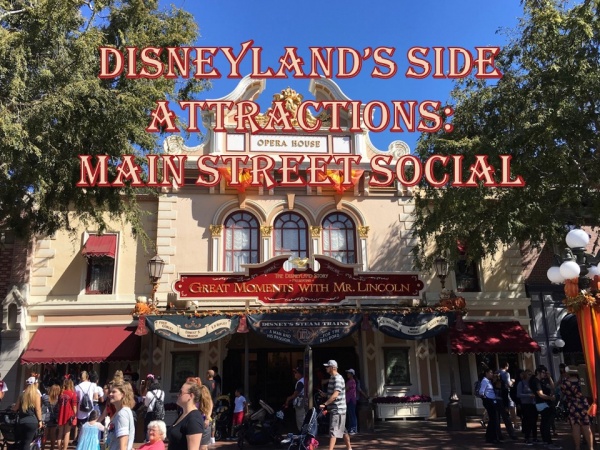 I hope that you enjoyed our tour around Disneyland on the Disneyland Railroad last time. Now that we are back on Main Street, USA, let's continue our side attraction exploration here. This time we are going to look at the Main Street Social.
Walt envisioned Main Street, USA as if it were any of those turn of the century towns that he loved as he and his family rode through them. Since we are near the train station, let's head upstairs and have a look at the inside. You will find information about the trains and the Disney history with trains in this building. More importantly, you will find, in the corner an old music machine. For the price of a quarter (or sometimes free, if the conductor is around), you can watch this little band in a box perform its heart out. All the sound of the big marching band in a small fridge-sized cabinet. A nice time to explore this section is during rainy or extremely sunny weather.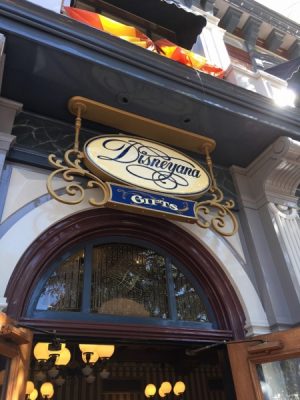 Leaving the train station, we have a beautiful view of Main Street, USA. To the right is the Disneyana shop. To the left is City Hall. If you are interested in the art and/or history of Disney, then head to the Disneyana shop at the end of your day – you won't want to carry the large, hardcovered books all day. If you would like to thank a Cast Member, make reservations, or find lost parents, City Hall is your place. Also, if you find a food item that you would love to make at home, City Hall keeps the recipes for the prepared food on site. Just be warned. The recipes are for mass consumption. You will make enough Bengal Barbeque sauce for the year.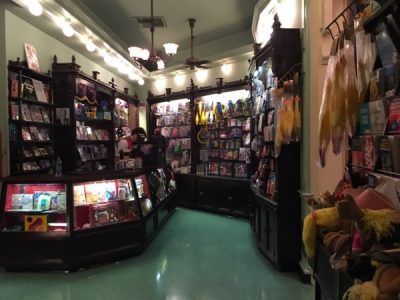 As we continue down the walk, we will come to a Magic Shop (right hand side of the street). This quirky shop is always a fun stop. It is quite tight in this shop, so avoid visiting during peak times (such as during parades). On the wall between this shop and the next, you will find a vintage crank phone. Pick up the ear piece and listen in to the only recorded conversation with Harry Houdini.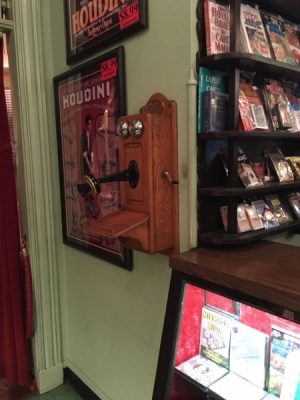 Once you are up to date on the latest magic theory, it is time to head on to the Main Street Cinema.  I have mentioned the Cinema before, but I wanted to remind you of the wonders held behind the dark curtains. Here you can get to know the Fab Five in their oldest incarnations. It is a nice place, with climate control and it is dark.
Up to $75 Disney Gift Card!
Deal
Book a Disneyland package of $1500* or more and receive a $25 Disney gift card. Packages of $3000 or more receive a $50 Disney gift card. Packages of $5000 or more receive a $75 Disney gift card. Gift cards are accepted at many Disneyland Resort locations and can be used to pay for shopping, dining, and so much more. We are sure you will find a way to put this to good use!   Read More
More
Less
Next on our tour is a stop at the Market House. This shop is known more for its Starbucks than anything else nowadays. But have a look at the columns and you will see a set of crank phones. These phones are best for eavesdropping on the locals of town. Obviously, these phones are party lines and they allow anyone to listen in to the town gossip.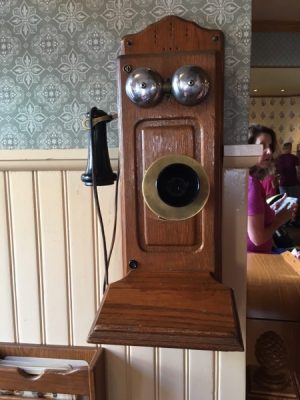 Of course, there are other ways to find out the latest in town gossip. Head down the side street just past the Market House and listen to the conversation above from the dentist. Or head across the street and down the alley, likewise you will hear what's going on in the music school.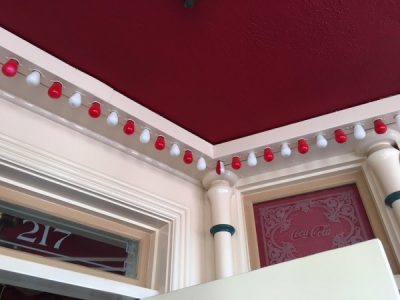 Our last stop as we walk up the street will be at the Coca-Cola Refreshment Corner, on the left side of the street right before the hub. Head to the entryway and marvel at the red and white bulbs. They alternate beautifully, that is until the last bulb in the corner. There were an odd number of bulbs so the last one was painted half white, half red to fit into the alternate colors. You know that the imagineer responsible for this one had a bit of OCD. But isn't that what makes Disneyland such a magic land?
Until next time, I hope that you find all the side attractions in Disneyland delightful.
What are some of your favorite Main Street USA side attractions? Share in the comments, or on Facebook or Twitter.
Did you like this article? Make sure to share it with your friends! Check below for easy ways to share!
Incoming search terms:
https://www themouseforless com/blog_world/disneylands-side-attractions-main-street-social/