This post may contains affiliate links for your convenience. If you make a purchase after clicking a link we may earn a small commission but it won't cost you a penny more! Read our full disclosure policy here.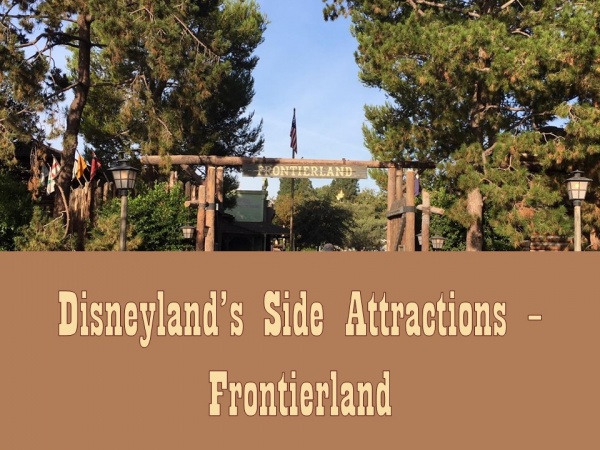 Disneyland is always shifting and one land that has seen a lot of change is Frontierland. This land used to encompass all the passable land around the Rivers of America. As we visited one of the claim jumpers last time, I thought we should double back to the Old West. Let's have a look at a few notables of Disneyland's side attractions – Frontierland and from its past incarnations.
As you enter Frontierland, look at the gate and fort wall. The walls were constructed using traditional techniques. You also find many props (some from old Disney live-action movies) here. If you are looking for an ATM, the guard tower on the left as you enter hosts one.
Once in Frontierland, be sure to look down. The Imagineers made sure to give this land a very characteristic walkway. There are wagon wheels, hoof prints, and boot prints found in these dried muddy paths. You can also find where the rivers overflowed and brought silt along with them.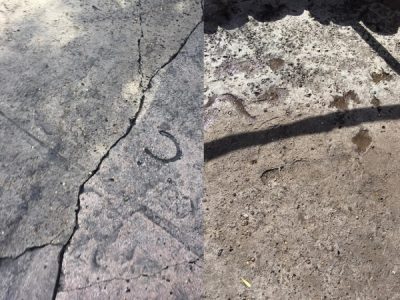 Heading over to the Mercantile, you will find Woody's Ho-Down. This small box entertainment allows the player to "make him dance". Like Pinocchio, Woody's string puppet is suspended from the top of the stage and you use buttons to, well, make him dance. All the while you'll be reminded that You Have a Friend in Me.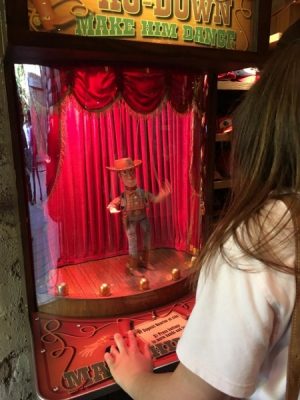 If you are visiting Frontierland during Halloween Time, be sure to stop outside the Silver Spur Supplies to visit Ray Bradberry's Halloween Tree. This oak tree is dedicated to the writer who penned the Halloween Tree in the 1970s. Visit the tree during the day and at night if possible.
From the Golden Horseshoe Saloon, let your gaze wander to the Rivers of America. Along the shore you will see a large wooden stump. This enormous piece of petrified wood has quite the Disney story. A plaque at the foot details how this artefact was donated and ended up in Frontierland. The story goes that Walt stopped at a petrified forest while on vacation with Lillian, his wife. She was not always the most patient with Walt's explorations and so she remained in the car while Walt wandered the site. Soon after, Lillian received this petrified stump as part of her anniversary gift from Walt. Needless to say, this gift was best suited for Frontierland rather than her suburban home.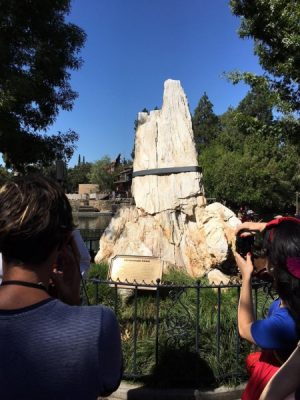 Heading back up hill to the white adobe building currently known as Rancho del Zocalo (a nice respite for lunch or dinner on a hot day as it is well shaded) will bring you to your next scavenger hunt objects. In the seating areas you will find a magic room with star lanterns. This covered and semi-sheltered area is a must stop on a cold winter's night. Grab a snack or dinner and rekindle your awe. While you're at Rancho del Zocalo, be sure to go to the outside seating area and look back towards the building. Here you'll see a balcony on the second floor and just to the right a window proclaiming the Mineral Hall. This window is a testimonial to the old Mineral Hall Museum. This museum allowed children of all ages to explore the wonders of various rocks found throughout the United States.
Up to $75 Disney Gift Card!
Deal
Book a Disneyland package of $1500* or more and receive a $25 Disney gift card. Packages of $3000 or more receive a $50 Disney gift card. Packages of $5000 or more receive a $75 Disney gift card. Gift cards are accepted at many Disneyland Resort locations and can be used to pay for shopping, dining, and so much more. We are sure you will find a way to put this to good use!   Read More
More
Less
Frontierland has changed so much since 1955. Back then, visitors could board Conestoga Wagons or Pack Mules and wander trails through the Living Desert. In 1956 this area was expanded to include the Rainbow Caverns Mine Train (later renamed and enhanced as the Mine Train through Nature's Wonderland). The mine train's expansion saw the end of the Conestoga Wagons, but opened a new area for guests to explore via mule or train. The boarding area was the small mining town of Rainbow Ridge.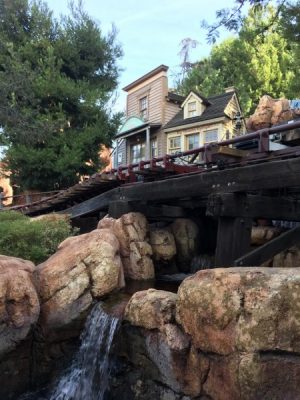 As is the way with Disneyland, in 1973 disaster happened. Well, at least that's what it seemed like to me. My grandfather and I arrived at Rainbow Ridge to undertake our expedition via train and mule only to find hoarding. Signs proclaimed a new and exciting experience awaited us in the near future, but that didn't help the heartbreak of my favorite attractions going down. Built on the ruins of Nature's Wonderland is the E-ticket attraction Big Thunder Mountain Railroad. So next time you ride, while you're making sure to hold onto your hats and glasses, be sure to look at the little buildings of Rainbow Ridge. Listen closely and you may be able to hear the voices of the townspeople going about their daily business just as they did back in the 60s and 70s.
Frontierland is full of gems and history just like the ones above. But I will save some of the others for another blog. Perhaps once Star Wars Land has opened and I can check to see if some of the currently covered history remains in the area, we can again visit the land that was arguably Walt's favorite.
What are some of your favorite side attractions at Disneyland? Share them in the comments, or on Facebook or Twitter.
Did you like this article? Make sure to share it with your friends! Check below for easy ways to share!