This post may contains affiliate links for your convenience. If you make a purchase after clicking a link we may earn a small commission but it won't cost you a penny more! Read our full disclosure policy here.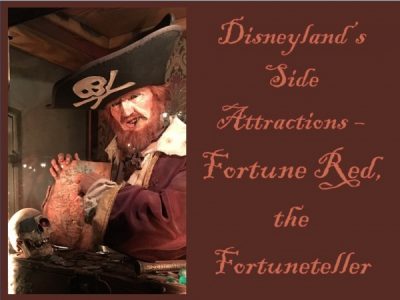 This is the third in a series of blogs on the amusements of Disneyland. Last time we visited the Penny Arcade on Main Street, USA. Today, I thought that we could wander over to New Orleans Square. Here we can visit some of the side alleys and fascinating folks there including Fortune Red, the pirate fortuneteller. Do not worry, we will return to Adventureland and Frontierland in due course.
New Orleans Square was the last land to have construction supervised by Walt Disney himself. I encourage you to walk the streets and visit the nooks and crannies. Not only are some of the most unique and interesting shops in Disneyland to be found in this section of the park, but some of the most thought-provoking theming as well.
For those foodies out there, stop by the Mint Julep Bar (behind the French Market Café, beside the train station). Grab the signature drink and a beignet and then take the road less traveled around the back of the land. Don't forget to look up. The second story balconies of this area have been decorated by some of the most influential people of the town. Here you will see the voodoo priestess's place (commonly associated with Madame Leota in the Haunted Mansion) and the latest of the Mardi Gras princesses. These back alleys are also home to the new entry of Club 33. This exclusive dining location is open only to members of the club. Looking up at the balconies that overlook the Rivers of America will sometimes grant those below a view of those above while they enjoy their dining.
For those of you interested in art, step into the Mlle. Antoinette's Parfumerie and have a look at the mirrors in the building. These mirrors are delicately painted on the reverse image. This painted mirror technique is a dying art. Be sure to stop by and see the beauty before it is gone.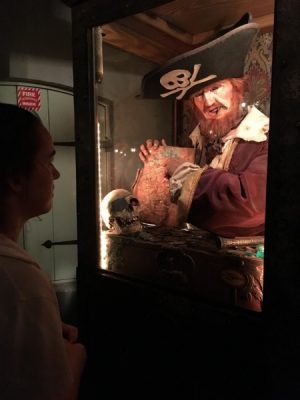 Now that you are familiar with the crowded streets, it's time to look in on one of those foretold Disneyland fortunetellers. While Esmerelda is easy to locate, Fortune Red seems to be a bit more introverted. Fortune Red is often found in Rue Street, between the exit to the Pirates of the Caribbean and Port Royal. You will need to look for him in the darkened corners, after all, where else would a blaggard pirate fortuneteller be?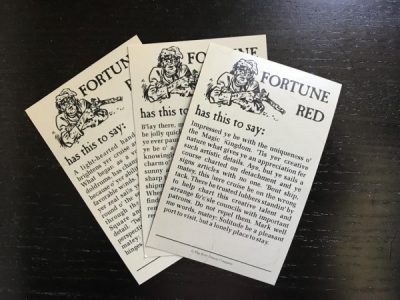 Like Esmerelda, Red came to Disneyland to take on his role and he dressed the part. In his fine red coat and black, Pirate's tricorn, he cuts quite the figure as he points to the location of his hidden treasure on his map. For the drop of your quarter, you will be granted a jaunty tune and he too will read your fortune. When he has made up his mind about what to tell you, he will deposit a card below the coin drop. Once you have read what 'Fortune Red Has to Say' make sure to turn the card over. Here you will find important information for all land-lubbers. Often it contains information about the Jolly Roger, but sometimes, there is additional information to help the unwary.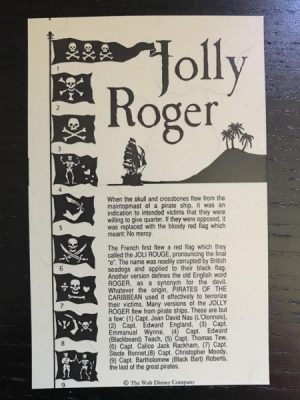 Red was originally part of the Pirates Arcade Museum on Royal Street in New Orleans Square. This old museum used to offer Disney-esque information on the history of piracy. I wasn't quite old enough to visit this arcade as a child. So, I missed the one-of-a-kind Disney-produced games (pirate themed of course). I have had the honor to meet Fortune Red many times.
As Disneyland is expanding areas to accommodate more and more people, special events, and offer exclusive magic for those willing to pay, some of the minor magic is disappearing (take for example, Shrunken Ned, who is currently in sabbatical). If you are wanting to meet the pirate fortuneteller, make sure to stop by soon, before he ships out to lands more exotic.
Have you stopped to get a fortune from Fortune Red? Share your thoughts of this fun sideshow in the comments.
Did you like this article? Make sure to share it with your friends! Check below for easy ways to share!