This post may contains affiliate links for your convenience. If you make a purchase after clicking a link we may earn a small commission but it won't cost you a penny more! Read our full disclosure policy here.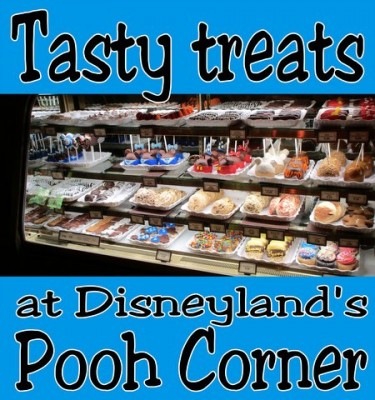 One of Disneyland's hidden gems is nestled in the back of Critter Country, behind Splash Mountain. You'll find a little candy kitchen and gift shop with a sweet reputation and some exclusive goodies. Come explore the yumminess of Disneyland's Pooh Corner!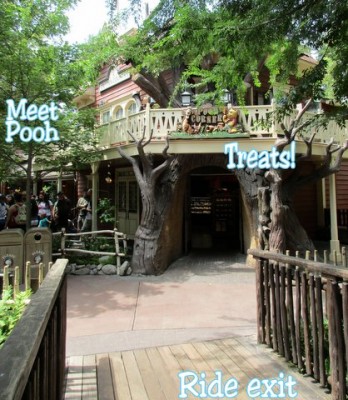 Your first job is finding the store. Critter Country is a dead end, so you can't get too lost. But the foliage and rustic look can disguise Pooh Corner's location. If you exit The Many Adventures of Winnie the Pooh ride, you'll walk right into it (above). If you lack time for a hunny hunt with Pooh, look behind the Winnie and friends meet-and-greet.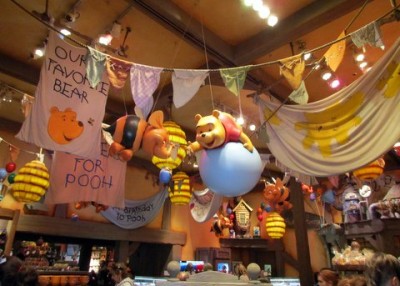 Be sure to look up!
The store is adorable and themed with all manner of Hundred Acre decorations. I used to buy more from the merchandise area when it had a wide selection of items with Winnie, Tigger, Eeyore, etc., but sadly this part has given way to mostly generic Disneyland souvenirs. The treat portion of the store is blissfully still stocking items you can't get anywhere else.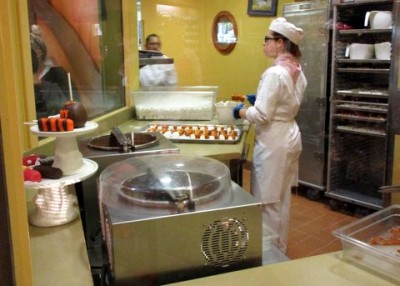 Before deciding on a treat, you'll want to watch them make some. All of the goodies sold here, except for the cookies, are made inside Disneyland. Like Candy Palace on Main Street and Marceline's in Downtown Disney, Pooh Corner has a drool-worthy show kitchen with a big glass front to watch Cast Members, dip, drizzle, and sprinkle the treats. Try not to lick the window!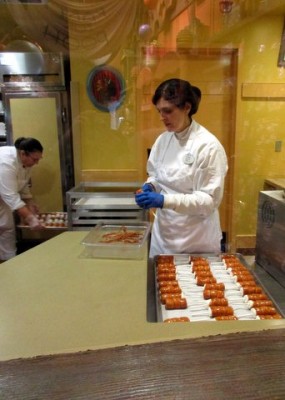 The caramel layer of a batch of Tigger Tails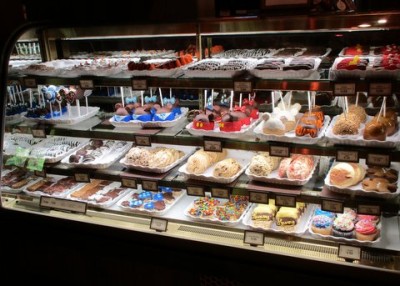 When you finally tear yourself away from the treat-making, you'll be overwhelmed by the selection in the double case of desserts — rice krispy treats, character apples, fudge, dipped marshmallows, cake pops, cupcakes, etc. Umm, can I have one of everything?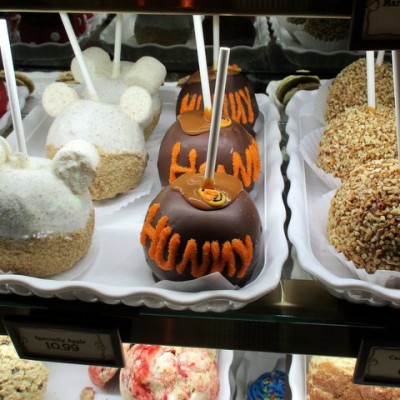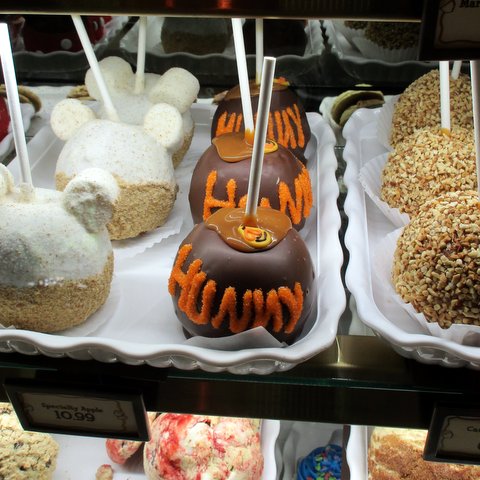 The Hunny Pot apple and the Tigger Tails are exclusive to Pooh Corner — you won't find them anywhere else at the Disneyland Resort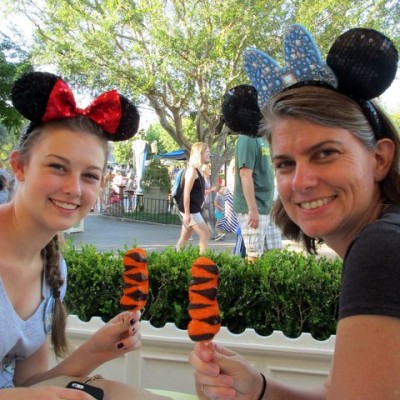 Tigger Tails always look so delicious, but I cannot eat all of one in a single sitting
If you want to make the most of your time in Critter Country without a lot of doubling back, here's a touring idea: First, grab a FastPass for Splash Mountain on your way into the area, around mid-morning. Ride The Many Adventures of Winnie the Pooh. Then check out Pooh Corner and buy a treat (or two, or three). Eat that treat while waiting to meet Winnie, Tigger, and Eeyore. By then your FastPass for Splash Mountain will probably be ready to use.
What have you tried at Disneyland's Pooh Corner? What's your favorite treat to pick up? Share in the comments!

Incoming search terms:
https://www themouseforless com/blog_world/disneylands-pooh-corner/