This post may contains affiliate links for your convenience. If you make a purchase after clicking a link we may earn a small commission but it won't cost you a penny more! Read our full disclosure policy here.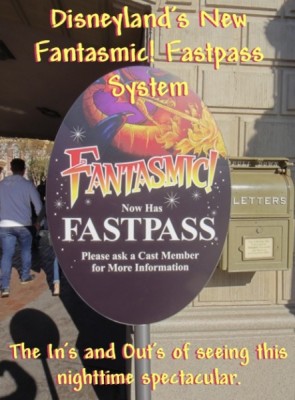 'Nothing is more wonderful than the imagination, for in a moment you can experience a beautiful fantasy or an exciting adventure. But beware, nothing is more powerful than the imagination, for it can also expand your greatest fears, into an overwhelming nightmare…'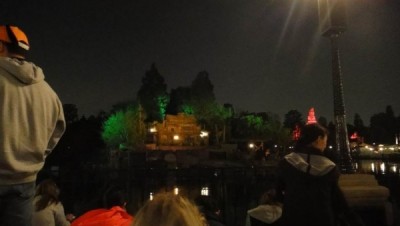 It was May 1992.  I was sitting on the pavement in New Orleans Square across from Tom Sawyer Island.  It was not opening night of the new 'Night-time Spectacular' but it was not too many days after and I knew nothing about the adventure I was about to undertake.  Twenty-three minutes later and I stood, mind buzzing, excitedly chatting with my friends.  I had found a new love – a new way to experience the imagination of Disney.
Over the years since, I have enjoyed Fantasmic! numerous times – not just at Disneyland but at Walt Disney World after it opened there and via video at Tokyo Disney Seas.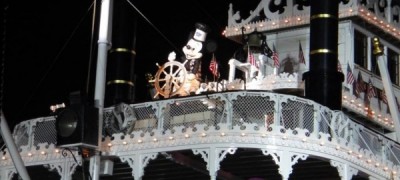 For those of you who aren't 100% sure what Fantasmic! is, I will try to give you a spoiler-light description.
Disneyland's Fantasmic! is a twenty-three minute, live theatrical production that take place on the Rivers of America and a stage on Tom Sawyer Island.  It utilises spray screens, water fountains, pyrotechnics, water crafts, live actors, and one really large audio-animatronic named 'Snaps'.  It's reported to cost over $75,000 a show to bring this extravaganza to life – which is a staggering number to me.
This production follows your host, Mickey Mouse, as he uses his imagination to ensnare the audience and drag them on the adventure of love and laughter found in the Disney movies.  However, disaster strikes as Mickeys dream is turned against him by some of the notable Disney villains.  Will Mickey and the other Disney heroes be able to overcome?  Go enjoy the storytelling next time you are at Disneyland (Walt Disney World or Tokyo Disney Seas).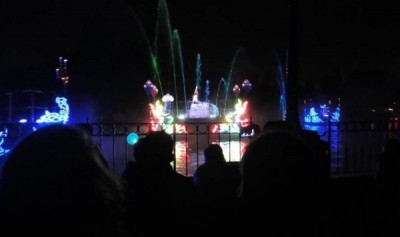 In December 2014, Disneyland began a new Fastpass program for the first two showings of Fantasmic! each night it plays.  There are six ways to see Fantasmic! now and to help your and your family, I have put together this guide.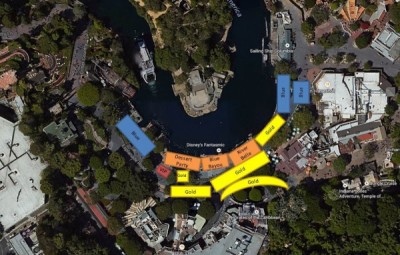 1. Fantasmic! FastPass Ticket Machines – Big Thunder Trail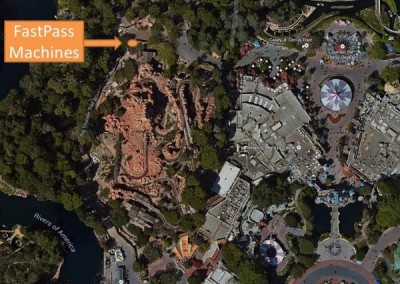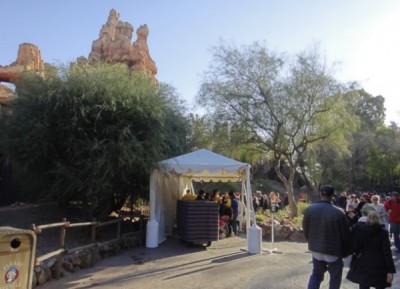 Similar to how they distribute same day Fastpasses at World of Color in Disney California Adventure, Disneyland now has FastPass machines to distribute Fantasmic! FastPasses.  The machines are located on Big Thunder Trail (behind Big Thunder Mountain Railroad, across from Big Thunder Ranch petting farm).  These FastPasses do not count against other attraction FastPasses (so you can hold a Fantasmic! FastPass and still collect other FastPasses through the day) and are strictly first come, first served.
Acquisition is easy; simply line up at the machines and when your turn comes, insert each ticket for your party into the machine.  Collect your paper FastPass and ticket.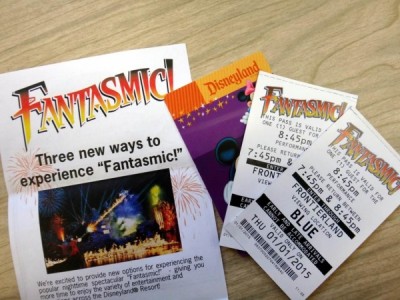 It's wise to check all of your party's tickets to insure that you are all in the same zone and at the same performance of the show before you leave the FastPass area.  If one or more of your party are split off from the rest, ask the extremely friendly and helpful, yellow Fantasmic costume wearing cast members in the area to change your tickets so that everyone is together.  If you have different tickets, you will have to split your group.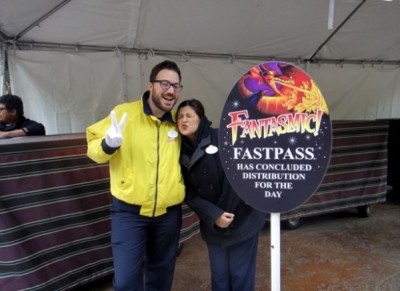 FastPasses are distributed until one hour prior to the show (or until the FastPasses are all distributed, whichever comes first).  There are two viewing areas – Blue and Gold.  Earliest return time is one hour before the show and the return location is currently the petrified tree in Frontierland.  Be aware that early and late arrivals cannot be accommodated according to the FastPass tickets.  Each guest old enough to hold a Disneyland ticket must have their own FastPass to be allowed into the viewing area.  When you return to the Rivers of America, you will be directed to your viewing areas by cast members holding blue or yellow flashlights.
2. Fantasmic! On-the-Go Dining Package – Aladdin's Oasis
One of the four dining options is the On-the-Go package.  This package can be pre-booked or, subject to availability, you can walk up during the open hours and secure your food and FastPass.  Located in Aladdin's Oasis (Adventureland), you can collect your food anytime between 12:00 p.m. and 7:00 p.m.  There are tables in the Oasis where you can eat your meal or you can take it with you to enjoy elsewhere in the park.  There are three meal choices for adults and three for children.  Adults must order from the adult menu and children from the children's.
Adult Offerings: Your choice of Herb Marinated Chicken Breast with vegetables, Lasagne Bolognese, or Vegetarian Lasagne.  The main dish is served with mixed greens, dinner roll, marble cheesecake and a drink.
Children's Offerings: Your choice of Grilled Chicken, Spaghetti, or Macaroni and Cheese. This main dish is served with vegetables, a cookie, and a drink.
Each meal comes with one FastPass for one of the shows that night.  Return location is the same as the FastPass machines, though cast members say that the only return location is Blue section. Cost is $19.99 for Adults and $13.99 for Children. Tax not included.  A discount is offered for annual passholders.
3. Fantasmic! Dessert Party Package – Hungry Bear Restaurant
The second dining option offering is the new Fantasmic! Dessert Party.  This package replaces the former Fantasmic! Dessert Party that was extremely popular.  The new package begins 90 minutes before the show and is located at Hungry Bear Restaurant (Critter Country).  The package include a live band, beverages (tea, coffee, soft drinks), and a 'sweet desert sampler' (no longer included are any savory choice – so no cheese and crackers).  The sampler is currently not individually packed and you cannot take any desserts with you.  The package includes one FastPass for the reserved viewing area. Cost is $29.99 per person.  Tax is not included. A discount is offered for annual passholders.  Advance reservations are recommended.
4. Fantasmic! Dining Package – River Belle Terrace
The next dining option is the River Belle Terrace Dinner Package.  Beginning at 3:00 p.m., The River Belle Terrace (Frontierland) transforms into a table service venue only available through the dining package.  Included is a three course meal and drinks, as well as one FastPass for the reserved viewing area.  Cost is $41.99 for adults, $21.99 for children.  Tax and gratuity not included. A discount is offered for annual passholders.  Advanced reservations are recommended.
5. Fantasmic! Premium Dining Package – Blue Bayou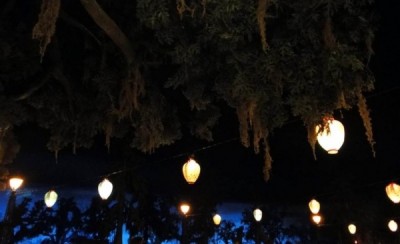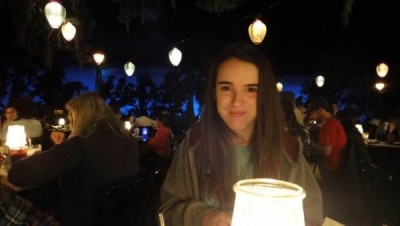 The final, and most expensive offering in the dining options is the Blue Bayou package.  Your price includes a 3 course meal at the famous Blue Bayou restaurant located in the Pirates of the Caribbean attraction in New Orleans Square.  You will also receive your beverages, a FastPass to the reserved seating area, and a Fantasmic! themed cushion.  Dinner begins at 4:00 p.m. and the restaurant is open to normal diners as well.  The 3 course meal is not pre-set and you may order any of the normal offerings on the menu.  Cost is $61.00 for adults, $23.00 for children.  Tax and gratuity not included.  A discount is offered to annual pass holders.  Advanced reservations are highly recommended.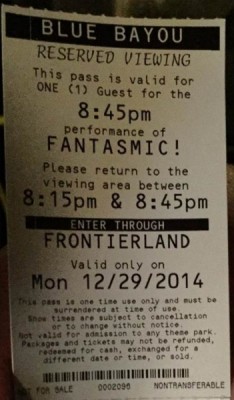 ** All four dining packages can be booked up to 60 days before the event by visiting Disneyland.com (and searching for Fantasmic! dining packages) or by calling (714) 781 DINE.  You will need a credit card to hold your reservation.  This card will not be charged unless you do not show for your reservation, then a $10 processing fee per person will be charged to your account.  Cancellations can be made up to 48 hours before.  Reservations can be made on the day, subject to availability (and, availability is limited).  Park admission is separate to the packages.  Your FastPass must be surrendered at the time of the show and return times are ½ hour before the show with the exception of the On-the-Go dining which is one hour.  If the show is cancelled for any reason, you will not receive a refund and will not be issued with a new FastPass.
6. Fantasmic! Standby Viewing – Frontierland
If you were hoping to grab a FastPass ticket but they ran out before you got there, and one of the dining options is not of interest, then there is the options to wait in the standby line. Currently this line begins at the Frontier Landing (where the Mark Twain and the Columbia pick up and drop off their passengers) and runs back along Big Thunder Trail.  You may join this line up to 60 minutes before the show.  People in the Standby Viewing will be escorted by cast members to the viewing areas (see map) and, if the FastPasses did not 'sell out' for the performance, you may end up in Blue or Gold to allow more guests to experience the show.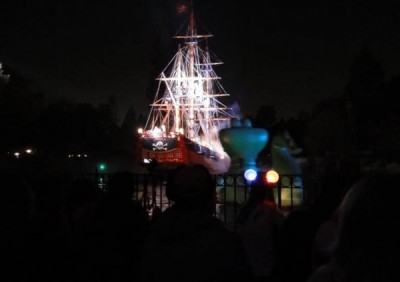 Return times are only open as directed on your FastPass.  Cast members set up roped sections and walkways early and will begin crowd control at that point.  I have heard of return lines opening earlier than the return time on the ticket so you might want to take a walk around a little early just to make sure.  The crowd control is efficient and ample cast members are on hand to keep the area moving.  If you are not sure of your return location, ask a Fantasmic! Cast Member (yellow uniform).  Many of the cast members on duty have not been fully trained on the logistics of the new system at this time and cannot easily direct you to your return location – however, we had no problems finding the friendly Fantasmic! Cast Members to help us.
As with any new or changed activity at Disneyland, there is a bit of confusion.  However, remembering that the viewing areas are not overly packed and having an adventurous spirit will get you to your place on time.
Location, Location, Location
All of the dining package reserved areas are ground seating only (with the exception of handicap sections).  Allowance can be made at the very back of these sections for those who need to stand.  Blue, Gold, and Standby sections are almost exclusively standing with only a small section of ground seating for those in need.  As a comfort note, the ground can be challenging in the cold weather, sucking the heat from your body.  Having access to something small to sit on (a towel, cushion, or guide book) is a good choice.  Also, the current Blue Bayou viewing area is just in front of these vents.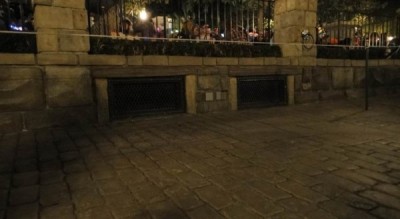 They blow cold air continuously (not just during the show). Cast members asked were not aware of where the air comes from (perhaps a vent from Pirates of the Caribbean) but there is no way to turn them off.  This is a pleasant thought for those hot summer days but can be confronting in winter.
Side note: Due to the location of Fantasmic! on the Rivers of America and the number of guests returning for the entertainment, Pirates of the Caribbean lines can be suspended during the FastPass return times.  This is especially true for peak seasons.
Remember, 'Imagination has no age' and I hope to see you soon on the cobblestone beside Rivers of America.