This post may contains affiliate links for your convenience. If you make a purchase after clicking a link we may earn a small commission but it won't cost you a penny more! Read our full disclosure policy here.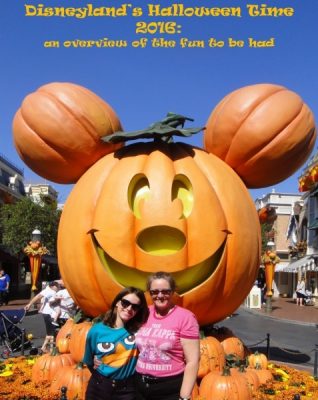 Have you heard? Disneyland has scared up some fun for those of you who are spending time at the Disneyland Resort between September 9 and October 31, and there is definitely something haunting coming this Halloween Time.
I suppose that I should disclose that I love Halloween Time. September and October are wonderful months to spend at the Disneyland Resort.  Generally at this time, the weather is quite pleasant. The crowds of the summer have diminished and there is an amazing assortment of entertainment and color to help get you in the autumn spirit. There are so many opportunities for the average guest at this time, that I thought that I would take you through some of my favorite happenings of the season.
I want to start by looking at a few happenings in the rest of the resort before we head to the 'main attraction' of Disneyland's Halloween Time. As noted above, the Halloween season began at the resort on September 9+. Most of the activities end on October 31 and it is wise to get in quick for those special activities which have limited ticketing.
Beginning at the Disneyland Hotel, guests who book in for 'Afternoon Tea' at Steakhouse 55 can expect their fare to be a bit more frightful. During Halloween Time, several of the high tea selections will transform into tea's suggestive of our favorites of Halloween, Jack Skellington and his crew.  You can make reservations for Afternoon Tea via the website or on 714-781-DINE. Costs vary dependent on the package that you pick. The classic package is $50 per person. If you would like to experience an attractive edible extravaganza but do not want to devote the time (or price) to the Afternoon Tea, then head to Marceline's Confectionery at Downtown Disney. They are sure to have the perfect sweet treat for you.
My next suggestion is to shamble on over to Disney California Adventure. You are sure to scare up a spook or two at the Twilight Zone Tower of Terror. And just for those heading to Disney California Adventure Park, Disneyland Resort has put together a real treat. Who does not just love late check-out when they are staying at a hotel? That is right! Disneyland is offering 'Late Check-Out' to everyone visiting the Tower of Terror Hotel after twilight during Halloween Time.
Visiting the hotel after twilight will boost your fright factor. The Silver Lake Sisters will treat guests to a special show during this event. Dolly, Dottie and Ethel have been performing for years in the rooftop lounge of this, now haunted, hotel. If you are not current on just how interesting their careers have been, check out the walls of the Fiddler, Fifer & Practical Café on Buena Vista Street.
You will be able to participate in your own photo shoot with vintage props in a special marquee. Are you ready for your close up? Once on the attraction, guests will experience the Tower of Terror in a whole new way; but do not expect to see anything. It seems that the lights have failed and you will plunge down the elevator shaft in complete darkness. That is sure to get your blood pumping. 'Late Check-Out' will also offer exclusive merchandise at the end of the attraction. Twilight Zone Tower of Terror is closing on January 2, 2017; this is a great time to visit the old hotel before she closes forever.
Once you have experienced the thrilling drop at 'Late Check-Out', it is finally time to drag your body over to the frightful fun of the Happiest Haunting on Earth. That is right, it is time to head to Disneyland.
Disneyland is known for having a spectacularly fun, family friendly Halloween Time. This year will be no different. Several of the Halloween Time favorites will reappear this year.  You can expect:
The Main Street Pumpkin Festival: where hundreds of pumpkins and happy jack-o-lanterns greet you all down Main Street.
Meet and Greets with your favorite Disney Characters in their Halloween costumes.
Dia de Los Muertos is back again this year. This celebration honors Mexico's Day of the Dead with brightly festive displays in Zocalo Park, Frontierland. You can also head to Rancho del Zocalo for some yummy Mexican seasonal favorites like pumpkin fan. Dia de Los Muertos runs through November 1.
Ghost Galaxy: everyone's favorite blast into space just got a bit spooky (this attraction is scary for some people. The ghost in this attraction is not friendly like the ones found over at the Haunted Mansion. If you have people with sensitivities to this type of fright, you might like to put this attraction on the 'not this year' list).
Haunted Mansion Holiday: Yes, Jack is back this year. He is changing the Haunted Mansion into a joyous celebration of Christmas envisioned by the Halloweenville clan.
Sweet Treats: What Halloween Time would be complete without seasonal treats of sugar and spice (and pumpkin) and everything nice?
Do not be afraid to get your photo take with the enormous Mickey-o-Lantern in town square. He does not bite (and make sure to look at both sides, he has two different faces).
For those who want a little bit more, Disneyland is also offering two added-cost treats and they have tricked them up a bit this time.
This year Disney's Happiest Haunts tour is something completely new. Until the reviews start to come in, we will not know exactly what is in the cards for those brave enough to go along. The tour costs $85 per person and is offered twice daily (10 am and 11 am). During this year's tour, you will not ride any attractions; however, the tour includes one FastPass per person to return later that day to ride Haunted Mansion Holiday, This tour claims to be a history of the Mansion. The tour is limited to 15 people per group and is scheduled to run for 2 hours. You can make bookings up to 30 days before by calling 714-781-8687. As I hear more, I will update the comments to this blog post.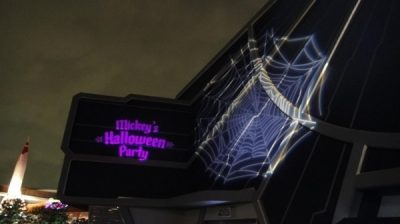 Mickey's Halloween Party is scheduled again this year, for those of you who want to party with the main mouse. Drag out your costumes (check the guidelines, there have been many changes this year) and your trick or treat bag, it is time to roam the park at night looking for the giggling ghosts and smiling specters. This party is a hard ticketed event (you must have special tickets just for the party to enter and to take part in the activities). Check the website for availability and tickets (and you might want to get those tickets early as they do sell out). This year's party will see the return of a few old favorites:
Villains' Square
Trick or Treat Trails
Special Decorations
Lots of Character Meet and Greets including special ones with Characters not commonly seen in Disneyland.
Special Food and Merchandise
And the very best fireworks show: Halloween Screams
This year there is also something new. The Cavalcade is being replaced! Horrors! I know. But wait, Disneyland is getting its very own, full-fledged Halloween Parade. Heralded by the Headless Horseman astride his jet black steed, the parade will bring our favorite villains, such as the Evil Queen from Snow White, Jafar, and Ms de Vil, to celebrate with guests. You will also get to say 'boo' to Jack Skellington and Dr Facilier and his shadowmen. The most talked about characters to debut in this parade are three well known cast members from the Haunted Mansion. Rather than taking a break with the other inhabitants of the Mansion, this year the hitchhiking Ghosts will be seeing you on Main Street. You never know, they may follow you home from there.
If you still have not satisfied your sweet-tooth for Disney Halloween Fare, there is one more offering during the Mickey's Halloween Party. You may book into the Blue Bayou for dinner. The cost is $65 per person ($25 for children) in addition to your party tickets. The dinner includes passes to get into the preferred standing area for the Frightfully Fun Parade and  a keepsake. Booking can be made online.
With all of this hideous hilarity, it is well worth entombing yourself in Disneyland this Halloween Time. I hope to see you there.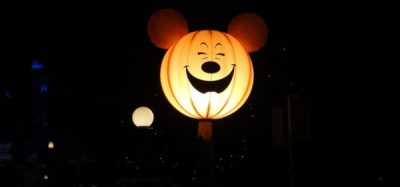 Are you going to Halloween Time? What are you most looking forward to experiencing? Share in the comments.