Disneyland's Gingerbread Recipe — Make It At Home
This post may contains affiliate links for your convenience. If you make a purchase after clicking a link we may earn a small commission but it won't cost you a penny more! Read our full disclosure policy here.
Sharing is caring!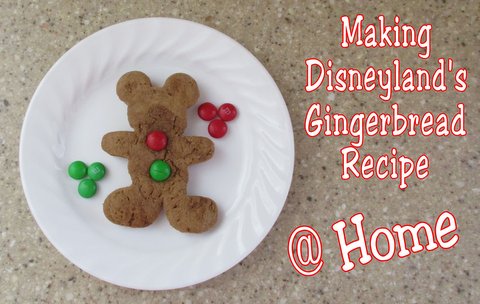 Disneyland has some very addictive gingerbread. It's sold year-round at the bakeries, but our appetites naturally turn to gingerbread this particular time of year. I couldn't wait to try out Disneyland's gingerbread recipe at home and see if it tasted as magical as the real thing. (My notes can be found in italics throughout)
These are best made while wearing a Mickey Mouse apron and listening to some great Christmas music!
Ingredients:
1/4 cup unsalted butter
1/2 cup brown sugar
1/2 cup dark molasses
3 1/2 cups all-purpose flour
1 tsp. baking soda
1/2 tsp. ground cloves
1 tsp. ground cinnamon
3 tsp. ground ginger
1/2 tsp. salt
1/4 tsp. ground cardamom
1/2 cup water
Instructions:
1. In a large mixing bowl, cream the butter and brown sugar. Add in dark molasses and mix until completely blended.
2. Sift the dry ingredients together and add to butter mixture, 1/3 at a time, alternating with the water. Blend well. The dough will be very stiff — make sure you use a heavy-duty mixer.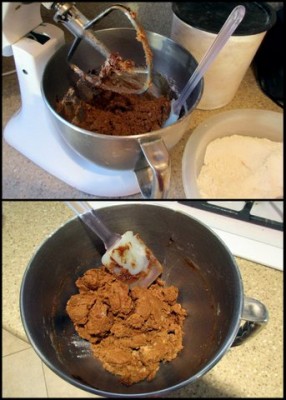 The dough, during mixing and right before being bundled into the fridge
3. Wrap the dough tightly in plastic wrap and chill in the refrigerator at least 1 hour, or as long as a few days.
4. Preheat oven to 350 degrees F. Grease cookie sheets or line with parchment paper (I love using the parchment paper for easy cleanup).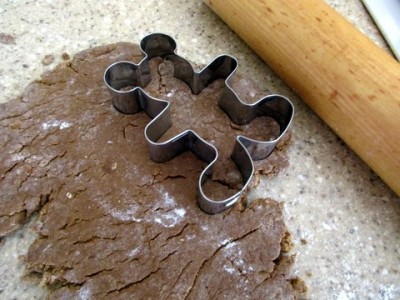 The stiff dough rolls hard but cuts easily
5. Use a floured rolling pin to roll out dough on a lightly floured surface, a third of the dough at a time (don't use too much flour or the cookies will look flour-dusted), until it is about 1/8-1/4 inch thick. Cut into desired shapes.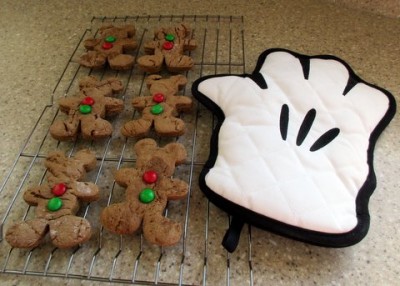 6. Bake at 350 degrees F for 8-10 minutes. Cool on wire racks.
7. Makes around 24-30 3-inch thick-cut gingerbread men.
The hardest part of making these cookies is rolling out the very stiff dough. It did get a bit easier to work with after being out of the fridge for a few minutes. I cut mine out thicker because I like a soft, chewy cookie, and there is less rolling that way too!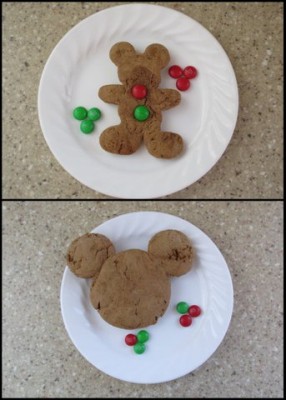 My taste-testers and I agreed that Disneyland's gingerbread recipe made at home is delicious! The gingerbread flavor isn't too strong, and it is complemented by a little frosting if you prefer them sweeter. You can decorate them with candy buttons as shown in the picture, or pipe on a classic gingerbread icing, or frost them like sugar cookies. While no treat is sweeter than one eaten in a Disney park, these make a great substitute at home!
What Disney holiday recipe would you like to try out at home? Share with us your thoughts in the comments or on Facebook or Twitter!
Did you like this article? Make sure to share it with your friends! Check below for easy ways to share!  
Want to visit a Disney Destination? Contact The Magic for Less Travel for more information and a free, no-obligation quote.

Incoming search terms:
disneyland resort gingerbread recipe
disney gingerbread recipe
Disney parks blog gingerbread recipe
Gingerbread cookie Disneyland
walt disney ginger bread recipe
Sharing is caring!
About The Author

VikkiT
I am a lifelong Disney lover who will never quite grow up. I love fireworks, roller coasters, and special Disney treats. My four children and husband have been brainwashed into a love of Disney by regular visits to Disney parks and a home life filled with Disney movies and characters. I love travel, writing, and reading.