This post may contains affiliate links for your convenience. If you make a purchase after clicking a link we may earn a small commission but it won't cost you a penny more! Read our full disclosure policy here.
A First Hand Account of the Happiest Celebration on Earth
May 5, 2005
By Zandra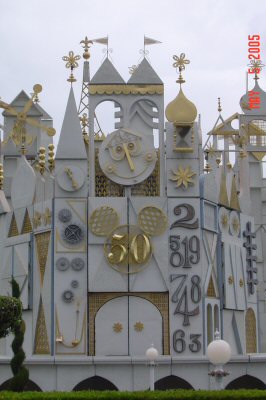 The excitement in the air was almost tangible, or maybe that was the sprinkling of rain that insisted on trying to dampen everyone's spirits, to no avail. By 7:30 Thursday morning, 05-05-05, which is 50 backward three times, there were lines stretching from every Disneyland entrance gate back to the entrance gates to California Adventure. The gates were not scheduled to open for another hour, yet we were all rarin' to go, for that day was the kickoff to the Happiest Birthday on Earth and we were there to be a part of it. Mouse ears were everywhere, both the new golden ears, as seen atop my daughter's head, and the traditional black ears, all with names proudly stitched across the back. But wait! There's a pair of mouse ears with no name! Could it be? Is it? It is! Mickey Mouse himself is at the front gate waving to the masses and we all cheered as loud as we could, despite the fact that most of us could not see him. Finally, we can wait no more and just as it feels like we will never get in, the Disneyland Band appears and starts to play as the gates swing open. After 10 minutes or so, we're in! Well, kind of. We're allowed onto Main Street USA, but no further. This was to be expected and it heightens the drama of the day. While waiting we notice the new decor such as new paint overlays on many of the shops and golden lamp posts with Tinkerbell sitting atop each one. Eventually, it is 9:00 am, the hour we have all been waiting for strikes.
"Whether this is your first time or one-hundredth time, welcome" the familiar message plays, but this time we are welcomed to a birthday celebration like no other. The rope is dropped and the crowd surges forward. At this point, we are directed to go either left or right around the Partners statue. We chose left and found ourselves in front of the entrance to Adventureland. The entire hub area is filled with media booths and we can barely make out the stage at the castle. What we can see are the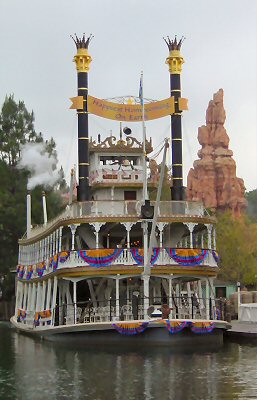 finishing touches of what has been a year-long make-over of Sleeping Beauty's Castle. The new color scheme has been in place for months, but now there are crowns and banners and golden rails. The whole effect is beautiful. While we would love to stay for the ceremony, we know it just isn't feasible since it doesn't start for an hour and we have a 6-year-old and a 3-month-old to think about. The oldest daughter won't mind standing in the drizzle, but this 30-year-old mom does mind. We make the decision to just be glad we are there and go off and see the rest of the park.
After we back out of the mass of people, we go through Adventureland and into New Orleans Square and see the Mark Twain Steamboat. It has one of the 50 semi-hidden golden Mickey Mouse ears with a 50 in the center displayed on top of the wheelhouse under a golden banner that says "Happiest Homecoming on Earth." While we did not intend to search for these hidden Mickeys this day, we do notice quite a few of them scattered throughout the park and had great fun pointing them out to each other for the rest of the morning. Since most people were on Main Street awaiting the ceremony, we were able to take advantage of that and walked onto Pirates in less than 5 minutes. We then decided fast passes for Buzz Lightyear Astro Blasters were in order and came up with our game plan of how to get there since we could not cross Main Street nor go through most of Fantasyland. We went around on Big Thunder Trail and as we entered that side of Fantasyland, we encountered a golden carousel horse that was perfect for picture taking. We also took a picture in a golden Dumbo, Teacup, Mr. Toad car, and an Autopia car. From a distance, we could see there was a golden Peter Pan ship as well. A few of these attractions also have one of the golden vehicles on the actual attraction to ride in. As a side note, this gold is highly reflective and can appear washed out in photos, so be sure to know your camera settings.
As we finished making our way to Tomorrowland, we came upon several of the Happiest Faces on Earth murals most people have heard about. "Be the twinkle in Mickey's Eye!" the ads proclaimed,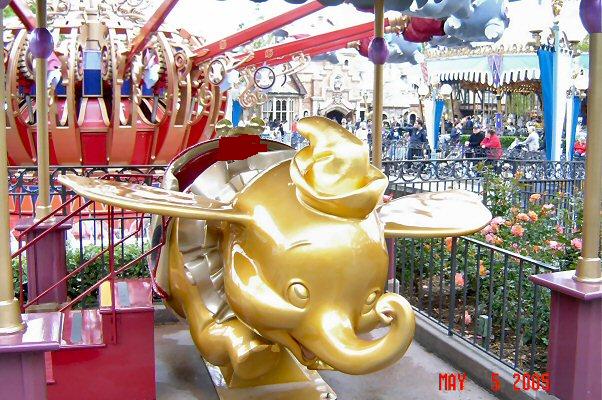 but if you're the twinkle in Buzz's eye, you'll never know it. Some of the murals are at the top of the buildings in Tomorrowland and it would be impossible to find your picture. Still, all the murals are fascinating to look at and definitely warrant some time if you can spare it. Once Zurg was defeated, fast passes not necessary after all, we hit seemingly the only merchandise location in Disneyland without a line at the end of Autopia. Here we find loads of special 50th merchandise and pick up an autograph book, antenna toppers, a trading pin and a Magical Memories pressed penny book. We noted prices for other items that are now on our wish list for future visits such as a license plate holder, hip pack and various hats for everyone's taste. One perk for spending your money is your purchases now come in a blue bag that has the 50th logo.
We now make our way towards the back of the park to see "it's a small world" in all its white, gold, and 50 glory before deciding to brave our way back to Main Street and the exit. On the way, we stopped at the Penny Arcade to press pennies to begin filling the new souvenir book. As we walked out the turnstiles very tired, we reflected on how happy we were to be a part of history. We look forward to returning to find all the hidden golden Mickeys, to scrutinize all the murals, to see all the golden vehicles, and to soak up all the golden magic that only Disney can provide.
Magically Speaking Featured Article
Library of Congress ISSN:1556-3863