This post may contains affiliate links for your convenience. If you make a purchase after clicking a link we may earn a small commission but it won't cost you a penny more! Read our full disclosure policy here.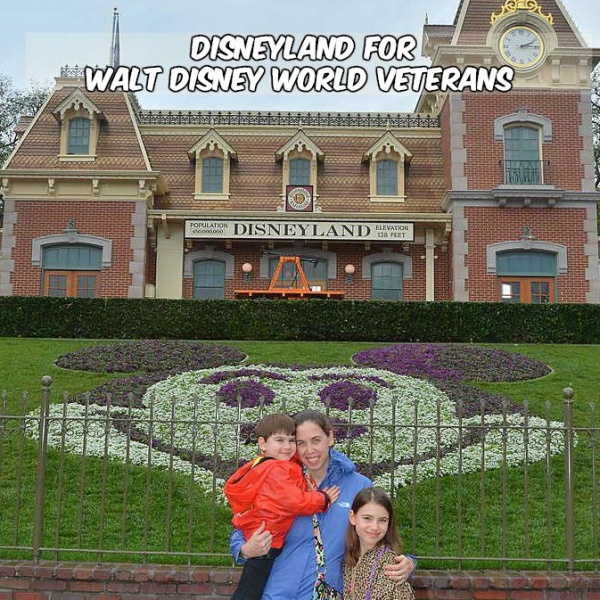 Planning a trip to Disneyland can be a new adventure for even the most seasoned Walt Disney World veteran.  As residents of the east coast, Walt Disney World in Florida is the Disney park most convenient for us to travel to. My daughter refers to it as "our Disney."  We have visited Walt Disney World many times and are quite familiar with all of the planning and preparation necessary for a successful trip. We have mastered transportation to and around the various parks, have favorite rides, resorts, restaurants, and activities, and know what to prepare for and what to expect when we arrive.  
A recent trip to California allowed us to explore Disneyland, which is a much different vacation destination.  I've highlighted some of the differences to help other Walt Disney World veterans know what to expect to have a magical Disneyland experience.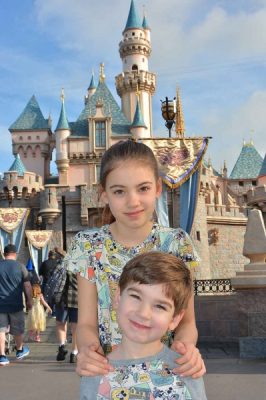 Fastpass:  One of the biggest differences is the FastPass system.  There is no option to make your Fastpass reservations 60 or 30 days in advance.  If you are familiar with the old paper FastPass system that was found at Disney World prior to January 2014, Disneyland still operates by the same system.  All park tickets need to be taken to the actual ride and scanned, where you will receive a paper ticket stub reminding you of your return time later in the day.  When you return during that time window, you will once again scan your park ticket to join the FastPass line. No FastPass reservations are available until you actually enter the park.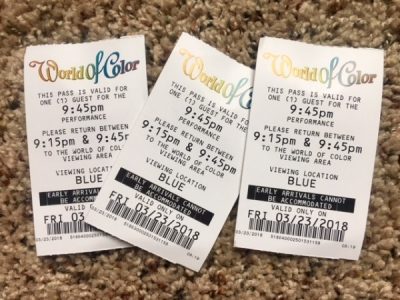 MaxPass:  In 2017 Disneyland launched the MaxPass system, which saves a great deal of both time and footwork when securing FastPasses.  Instead of heading to the attraction to procure your FastPass, you just make your selection in the Disneyland app on your phone.  There is a fee for this service: $10 per person per day. But not only does it save you from running back and forth around the park to pick up FastPasses, it also includes digital copies of all photos that are taken while you are in the park.  Additionally, the wait time between FastPasses is shorter using the app than with the paper FastPass system, allowing guests to secure more passes throughout the day. We were glad we took advantage of this option.
Dining: You can make dining reservations 60 days prior to arrival, and if you have your heart set on a specific meal or location, those reservations are a great idea. There are character dining options both in the park and at the Disney resorts.    There are also many non-Disney restaurants and food options within walking distance of the main gates, but we found the prices to be high, and with the added hassle of getting back through security and ticket lines, we preferred to dine at quick service locations throughout the parks.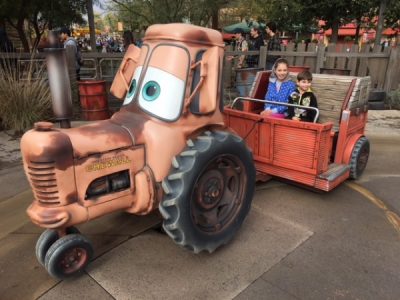 Attractions:  There are some great rides that are unique to Disneyland and Disney California Adventure.  My children especially loved exploring Radiator Springs in Cars Land!  Although there are quite a few rides that are similar to those found at Disney World, each has features that make them unique to Disneyland.  Jungle Cruise, Haunted Mansion, Pirates of the Caribbean, It's a Small World, Space Mountain, and Splash Mountain are just a few that can be found on both sides of the continent.  Although we enjoy It's a Small World in Florida, we fell in love with the original attraction in California. It's a Small World included many of the Disney characters in their native environments (Lilo and Stitch, Ariel, Nemo, Alice in Wonderland, Peter Pan).  Make sure you check out the line queue at the top of the hour for an extra magical display! Even the Disneyland Railroad had some magic between Tomorrowland and Main Street Station that was an extra special surprise.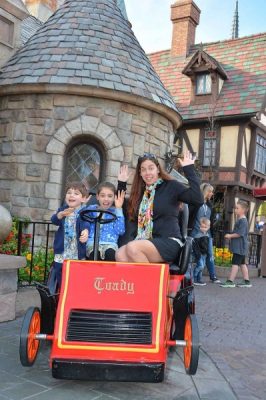 There are also old standards that have disappeared from the Magic Kingdom in Florida but can still be experienced at Disneyland.  We enjoyed revisiting Mr. Toad's Wild Ride, Snow White's Scary Adventures, and my children loved some downtime exploring Mickey's Toontown.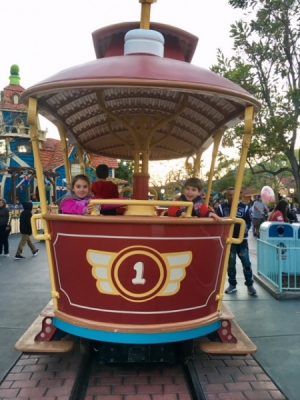 Size:  While Walt Disney World covers about 43 square miles and includes four different theme parks (Magic Kingdom, Epcot, Hollywood Studios, Animal Kingdom), there are only two parks in California (Disneyland and Disney California Adventure).  The California property is closer to 500 acres.

To visit all four of the Walt Disney World parks, I try to plan at least a week for a trip to Walt Disney World.  I spend two days at Magic Kingdom, one day at each of the other three parks (Epcot, Animal Kingdom, Hollywood Studios), one day for Disney Springs, and one to explore the Disney resorts.  Even an entire week isn't enough to experience everything Walt Disney World has to offer.
We planned three days for this adventure and found it was the perfect amount of time to do everything we wanted to do.  We spent two days at Disneyland and one day at Disney California Adventure. The Anaheim resort is a bit easier to tackle in a shorter amount of time.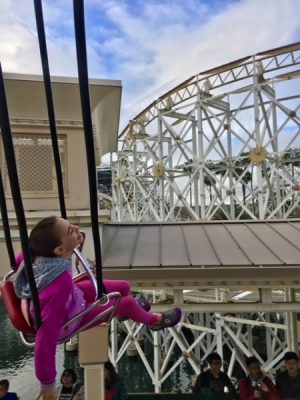 Lodging:  There are three Disney resorts in the Anaheim area, but for the price difference we decided to explore other options.  Unlike Walt Disney World in Florida, there are numerous independent hotels and chains within easy walking distance to the parks.  Disney even recommends many "Good Neighbor Hotels" that are in close proximity of the parks.  We took a shuttle from the airport to our off-site hotel, and were then able to easily walk to Disneyland, California Adventure, and Downtown Disney.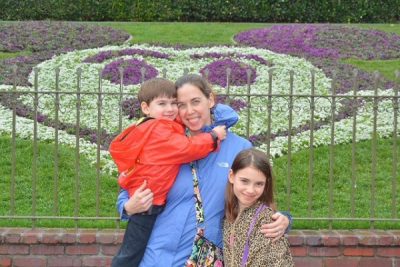 Overall, we had a magical experience exploring Disneyland and California Adventure.  With very little planning and a little research, even Walt Disney World veterans can find a new magical adventure waiting for them on the west coast!  
Do you have any tips for those visiting Disneyland for the first time?  Let us know in the comments or on Facebook.
Did you like this article? Make sure to share it with your friends! Check below for easy ways to share!
Incoming search terms:
https://www themouseforless com/blog_world/disneyland-walt-disney-world-veterans/