This post may contains affiliate links for your convenience. If you make a purchase after clicking a link we may earn a small commission but it won't cost you a penny more! Read our full disclosure policy here.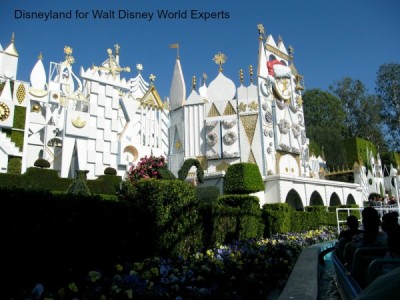 Disneyland's it's a small world at Christmas
Many ardent Walt Disney World fans are choosing to visit Walt's original theme park this year, to celebrate Disneyland's Diamond Celebration. And many of them are confused about where to start their planning. How far out do you need to make your Advanced Dining Reservations? What kind of FastPass system does Disney have? Is Early Entry anything like Extra Magic Hours?
I, myself, had two decades of Walt Disney World trips under my belt before I moved out West and first fell in love with Disneyland. So I know very well all the little differences between visiting Walt Disney World and Disneyland. First of all:
SIZE DOES MATTER
Disneyland is smaller than Walt Disney World. Much smaller. It's 510 acres compared to WDW's 25,000 acres. There are drawbacks to the small size. The city of Anaheim pushes right up against the borders of the resort. A view from the Disneyland Hotel might look over Downtown Disney, or it might look over towards the rooftops of the city. From the top of Mickey's Fun Wheel, you can peek into the ground of the Grand Californian Hotel, Disneyland Park, and the city of Anaheim. The city is right there, reality pushing up against fantasy.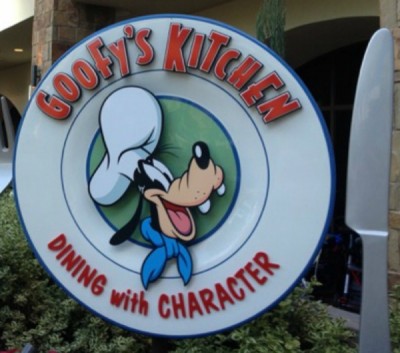 Not staying at the Disneyland Hotel?  No problem – you can walk to Goofy's Kitchen!
However, Disneyland's small size can be seen in a positive light. It takes much less time to travel between the theme parks, the hotels, and Downtown Disney. Less time in transit means more time enjoying everything the Disneyland Resort has to offer. If you want to park hop, you simply walk across the parks' single entrance plaza to the other park. In the time it would take you to exit the Magic Kingdom and wait for a monorail, you could easily leave Disneyland Park and enter Disney California Adventure – all on foot! If you're staying at the Paradise Pier Hotel and want to eat at the Disneyland Hotel, there's no need to take a bus to a nearby theme park and transfer. Simply walk – it takes less than ten minutes. Not to mention that Downtown Disney is located on the walkway between the hotels and the two theme parks. It's all so compact and convenient.
THE MAGIC KINGDOM IS NOT A CLONE OF DISNEYLAND PARK
The first time I visited Disneyland, I made the dumb decision not to grab a park map. I mean, I practically grew up at the Magic Kingdom! I know my way around, right? WRONG. I spent way too much time trying to find the Haunted Mansion because I couldn't figure out where Liberty Square was. And what the heck was Critter Country?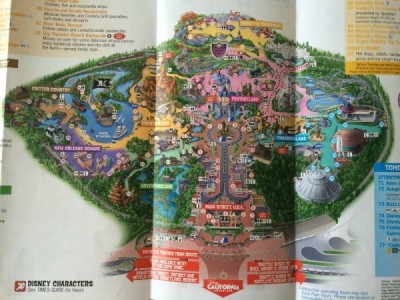 Pick up a Disneyland Park map.  Trust me.
In fact, if you have been to the Magic Kingdom many times, it is even more important to pick up a map. You'll need to know that your favorite attractions might be in completely different locations. And you'll also want to know about those attractions that are only at Disneyland.
While you're at it, take a close look at the attractions in Disneyland that offer FastPass. I once wasted quite a bit of time looking for the FastPass machine at Toy Story Midway Mania in California Adventure, only to remember that they don't have one.
MAKE DINING RESERVATIONS, BUT DON'T STRESS ABOUT IT
When someone says, "You NEED to make a reservation to eat at Be Our Guest Restaurant," they mean you need to pick up that phone 180 days out and cross your fingers. When someone says, "You NEED to make a reservation to eat at Blue Bayou at Disneyland," they mean you need to call a couple of days before. Table service dining at Disneyland is simply not as hard to come by. After all, there is no Dining Plan at Disneyland. People don't have that sense that if they don't book their table service restaurants, they will waste a credit. So if there's a restaurant at Disneyland you are dying to try, by all means make a reservation 60 days out. But if you don't, there's no reason to panic. You'll be able to find someplace to eat on short notice.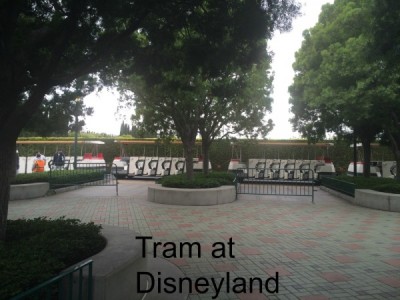 A view of the tram from the Mickey and Friends Parking Structure before 8:00 a.m.
EARLY ENTRY VS. EXTRA MAGIC HOURS
When I stay onsite at Walt Disney World, I usually avoid parks with Extra Magic Hours. When I stay onsite at Disneyland, I almost always use Early Entry. Why? Part of the reason comes down to size. Walt Disney World has more than 25 onsite hotels. Every one of the people staying in those hotels can use Extra Magic Hours to get into a certain park early or stay at a certain park late. That's one out of four parks. If even half of the people eligible for Extra Magic Hours use it, that park will be significantly more crowded on a given day than any of the other three.
Disneyland has only three onsite hotels. Guests staying at these hotels can enter a certain park an hour early each day. Much fewer guests are eligible for this perk at Disneyland as at Walt Disney World. And if the park that offers Early Entry happens to be busy, it is very simple and quick to park hop.
Another reason I love Early Entry at Disneyland is that at times it is REALLY early. In June at Walt Disney World, morning Extra Magic Hours are typically 8:00 a.m. – 9:00 a.m. At Disneyland at the same time, Early Entry is typically 7:00 a.m. Most guests, despite the best of intentions, cannot get themselves dressed and ready to enter a park by 7:00 a.m. I have used a 7:00 a.m. Early Entry to get into California Adventure and walked right on Radiator Springs Racers. And do you know how those commercials show a little kid running up to hug Mickey in an empty park and you yell at your TV, "The park never looks like that!" Well, at 7:00 a.m. Disneyland Park does.
ONSITE ISN'T NECESSARY
When I can afford it, I prefer to stay onsite at Disneyland. The three hotels have great Disney theming, character meals, and offer Early Entry into the parks. They are also all expensive. Disney doesn't have the room here to build Value hotels. So when I can't afford to stay onsite, I have no problem staying offsite. Because there is no "buffer" between the theme parks and the city of Anaheim, many offsite hotels are within walking distance of both parks. In fact, a few of them actually boast a SHORTER walk to the parks than the onsite hotels.
THE WEATHER
Central Florida and Southern California do have some similar weather patterns: the winters are very mild and the summers are HOT. If you're used to Florida weather, however, you should be sure to note some differences. Southern California is a desert, and as such, when the sun sets, the temperature drops quite a bit. It's not unusual to need a jacket at night even in the dog days of August. And in the winter, even on a bright, sunny 70 degree day, night time temps can drop down to the very chilly 40's.
Unlike Central Florida, summer is the driest time of year in Southern California. Rainy days are rare but do occur in the winter. You definitely will not experience anything like the daily afternoon downpours in Walt Disney World in June.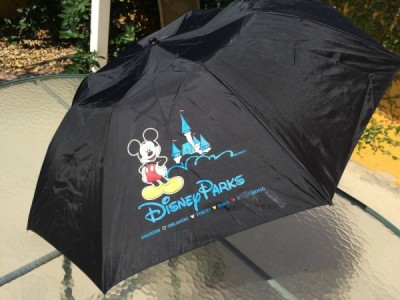 Bring this in winter, not summer!
Southern California also has an unusual weather phenomena that might confuse Disneyland first timers – in the summer, sometimes mornings begin with cloudy overcast skies, and then these clouds dissipate by mid day and the sun shines down with a vengeance. When this happens in May, we call it May Gray. When it happens in June, we call in June Gloom. When it happens in July, we get very confused and can't come up with a good rhyme.
CROWD PATTERNS
For the most part, crowd patterns are the same as they are in Walt Disney World–when kids are out of school, the parks are crowded. However, it's important to remember that the majority of visitors to Disneyland are locals. It's estimated that one MILLION Orange Country and Los Angeles residents own annual passes to Disneyland.
So, on a typical Saturday at Walt Disney World, the worst lines can usually be found at the check-in desks of its hotels, where droves of vacationers are checking in to begin their week-long stay. On that same day at Disneyland, the worst lines will be at the park turnstiles and on the most popular rides, as locals enjoy their day off at the Happiest Place on Earth.
And last but certainly not least: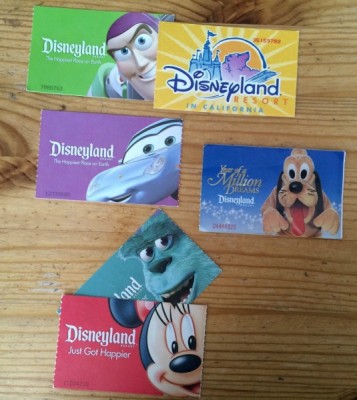 Paper tickets, paper FastPass – Disneyland still does it old school.
DISNEYLAND HAS LEGACY FASTPASS
If you hate FastPass + (I happen to love it) you're in luck. Disneyland still uses the old paper FastPass system. So leave your Magic Bands at home, folks. You'll get a paper ticket and you'll use that to get good old fashioned paper FastPasses.
No matter how many times you've been to The Most Magical Place on Earth, visiting The Happiest Place on Earth will not disappoint you. Seeing Walt's original park and walking where he walked is something any Disney fan would love. And the newly imagined Disney California Adventure offers something for everyone. I hope you get to make it out here and celebrate Disneyland's 60th birthday!
What's your best Disneyland tip for someone who's a Walt Disney World veteran?