This post may contains affiliate links for your convenience. If you make a purchase after clicking a link we may earn a small commission but it won't cost you a penny more! Read our full disclosure policy here.
By Carol Garcia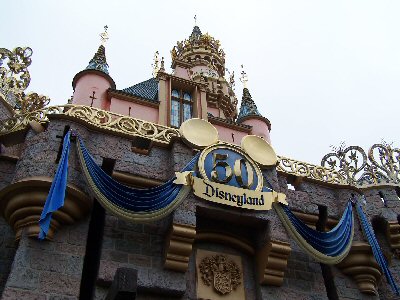 It started out as a typical visit to the in-laws in Las Vegas.  Taking three small children to Vegas for a week isn't exactly my cup of tea, but that's where they are, so that's where we were going.  Then something magical happened.  A post on The Mouse for Less Yahoo Group made mention that Disneyland was a mere four hours from Las Vegas.  That is closer than the Grand Canyon and infinitely more interesting to three kids under 8.
So where to begin planning a Disneyland vacation when all I really know is Walt Disney World (and that I know pretty well)?  Back to the same group of knowledgeable people who started this trek in the first place.  The thing that I learned fastest is that almost everything is different, yet somehow the same about the two places.  That was the prevailing theme through our jaunt to Disneyland.  What follows are my observations between the two parks.
Walt Disney World is a huge place.  It has its own transportation system, among other things and it is really like a city unto itself.  Disneyland is not that at all.  There are two parks, Disneyland and Disney's California Adventure.  If you tire of one park, there is no bus to take to the other.  One simply walks across to the other.  The walk is probably no longer than walking down Main Street.  There are hotels and eateries all around the parks.  Literally right outside the gates.  Driving isn't really necessary, especially for someone used to walking through Epcot.
My first task when planning this getaway was accommodations.  When booking a trip to Walt Disney World, staying on property is paramount for many visitors.  This is not true in California.  There are quite a few Good Neighbor hotels just as close if not closer to the entrance to the parks.  Sure, there isn't that Disney feel, but it becomes less important to me when I can spend five minutes and I'm in the park.  Many hotels have shuttles to get you where you want to be.  There is a nice shuttle area right outside of the gates clearly marked with the offsite hotel names, much like you would see for onsite hotels in Florida.  Some of these buses are free, and some require a small fee, but either way, it works fine.
The next task I have is tickets.  There is a lot less ground to cover in California, so we feel our stay doesn't have to be as long.  Three days is probably ideal to explore both parks adequately with time for some rest by the pool.  The ticket options currently offered on Disneyland's website (www.disneyland.com) range anywhere from a one day hopper to a five day hopper.  There are single day tickets as well, but with the close proximity of the two parks, a hopper may be a very convenient option to have.
When we arrived at Disneyland, we were greeted by a security check.  The nice thing is that one only goes through security once to access either park.  Of course we are there to go to Disneyland and if we get to Disney's California Adventure that is a bonus.  Until we see the line.  I have never seen a line to get into a park like this one (did I mention that it was the day after Easter?).  No matter.  The beauty of this is that we can clearly see that the line is much more reasonable for California Adventure, so off we go.
Disney's California Adventure is themed like a trip through California.  Each section of the park is themed for a different California experience.  As guests enter the park, they are entering Sunshine Plaza with its replica of the Golden Gate Bridge.  To the left is Hollywood Pictures Backlot with attractions such as Playhouse Disney, Aladdin (an amazing stage show), Muppet Vision 3D, the new Monster's Inc dark ride and of course the Tower of Terror.  Also in the Backlot area is Turtle Talk with Crush, which is the same amazing interactive show as the one found in Epcot.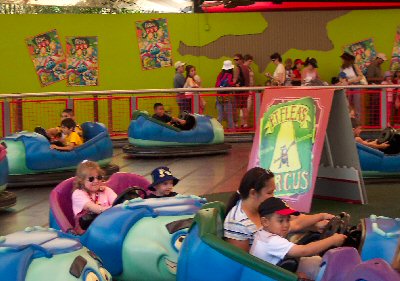 Tuck 'n' Roll's Drive 'Em Buggies
Moving clockwise through the park, "a bug's land" comes next.  Here guests feel as small as bugs as they experience carnival type rides such as bumper cars and a small roller train.  This is a great section for the real little ones who may be too small or too young to ride some of the bigger rides.  My children loved the theming.
Next is Paradise Pier.  This is where the California Screamin' roller coaster can be found.  That is the one that is often shown in pictures with the big Mickey ears on it.  It launches much like the Rock N Roller Coaster does at MGM, but this is outside and has drops.  There are other bigger thrills to be had in this section of the park on rides such as the Maliboomer.  This is a great place to soak up some California atmosphere.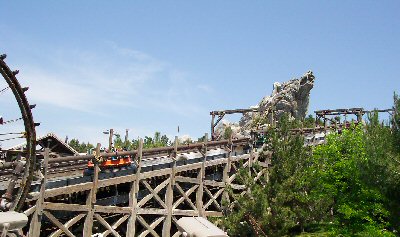 Grizzly River Rapids is cool on a warm day.
The final section of the park is Golden State, home of Grizzly River Rapids and of course Soarin' over California.  Don't forget that in the evening, Disney's Electric Parade, just like the one that used to be at the Magic Kingdom in Florida, is there.  It was a treat to see it again.
While waiting for the littlest one in our group to catch a quick nap in the stroller, I had the opportunity to duck into the Grand Californian hotel.   This hotel actually has an entrance directly into the park.  I got a hand stamp and was able to tour the hotel.  The lobby here reminds me a bit of the Wilderness Lodge in Walt Disney World, but a bit more upscale.  There was a large fireplace and a pianist playing.  A unique mix to be sure.  The pool looks like a lot of fun.  If we were to stay at a Disney hotel in the future here, this would probably be my choice.  The other two Disney hotels, for those keeping track, are the Paradise Pier and the Disneyland Hotel.
After getting a taste of this park, and a refueling stop, we decided to head over to the main attraction–Disneyland.  One advantage of these parks being so close is that I was able to simply push the rental stroller with my sleeping daughter from one park to another.  That alone was worth the price of the rental.  As we approached the gates, it was clear that the lines were not going to get smaller.  They did move rather quickly.  Something that struck me while waiting throughout the parks is the number of locals who visit.  Of course Florida has locals, but it seems to me that the West Coast attracts more.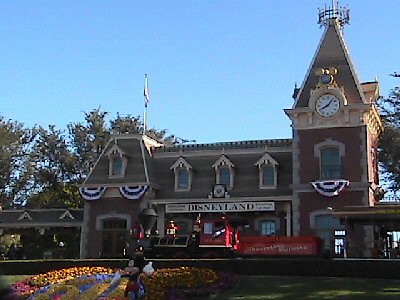 Train station as seen from the park entrance.
Upon entering the park, we finally felt home.  Sort of.  This was clearly Main Street, but it was not the same.  Not in a bad way, just different.  The kids immediately want to go through our usual Magic Kingdom routine and tell their grandparents where everything is, but, much to their dismay, it is not the same.  It is like walking into your house and finding the furniture moved around.  It is clearly your house, but nothing is where it should be.  And then we saw the castle.  Out of all of the differences, this is one I couldn't get used to.  It is, in a word, short.  This is Sleeping Beauty's castle, not Cinderella's castle.  No matter, because the same Disney magic is still there, and that is, after all, why we are there.  Main Street has its usual collection of shops and eateries.  Of course this is still where one can board the train around the park or ride a streetcar or fire engine down to the Castle.  There is also "Great Moments with Mr. Lincoln", and indoor theater presentation (which is on hiatus during the 50th Anniversary Celebration).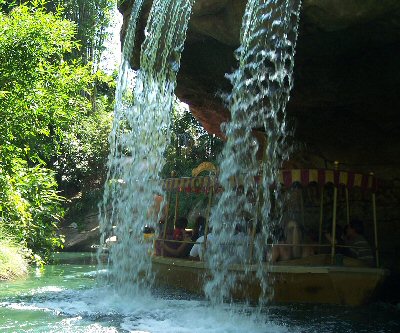 A Jungle Cruise boat views the "back side of water."
From Main Street we enter Adventureland.  Here is the original Tiki Room presentation, for all of you who don't like the new one at Walt Disney World.  The Jungle Cruise with all of its usual corny jokes comes next.  The big treehouse here is Tarzan's not the Swiss Family Robinson's home, and is the home where he lived with his parents.  Last, but certainly not least is Indiana Jones Adventure.  This is not a show, but a ride, with vehicles similar to those at the Dinosaur attraction in Animal Kingdom.  This is an amazingly themed, albeit bumpy ride, with a queue to rival that of Space Mountain in the Magic Kingdom.  Again, an attraction not to be missed.
As we continue to tour, we come to New Orleans Square.  A beautiful, New Orleans themed land not in Florida, but with some familiar faces.  There is a railroad stop here.  But more importantly, Pirates of the Caribbean and the Haunted Mansion.  Both of these old friends are similar, but definitely different than the World versions.  Both of these were great fun, and provided some new experiences.  Also here is the Blue Bayou restaurant.  One of the three sit down restaurants in the park and the only one where the guest boats for Pirates float past.
Following on to another foreign "land" is Critter Country.  Most notable in this section of the park is The Many Adventures of Winnie the Pooh and the ever popular Splash Mountain.
Next we head to Frontierland.  Back in familiar territory, we find Big Thunder Mountain Railroad, the Mark Twain Riverboat and rafts to Tom Sawyer's Island.  This is also the home of the Rivers of America (where the boats are), which is the setting for Fantasmic!  There are many differences between this production and the one which we have already seem.  Again, it is something that should be seen, but be warned that seating fills up early.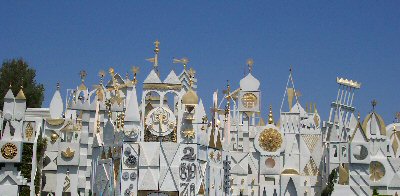 It's a Small World facade.
Finally we are to Fantasyland.  This is the part of the park where we could spend the most time.  Of course there is Dumbo, Peter Pan, Snow White, Mad Tea Party and a Carrousel.  Mr. Toad's Wild Ride, a childhood favorite from the other coast, is still here.  There is Storybook land, which can be toured by Casey Jr.'s train or the Canal Boats (the latter is more fun), Alice in Wonderland, and Pinocchio.  It's a Small World is here in all of its World's Fair splendor (again a favorite that is different here), and then there is the Matterhorn.  This is a coaster similar to Space Mountain in the Magic Kingdom with a totally different theme. This is a Disneyland classic and although the lines were long, they continued to move nicely.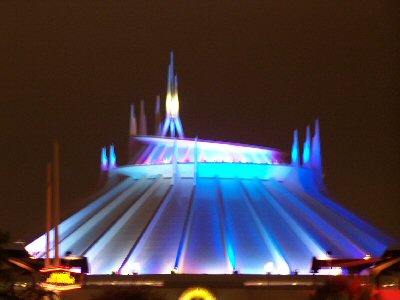 Space Mountain at night.
Toontown is behind Fantasyland.  This is home to walk through attractions featuring various characters and two rides.  Roger Rabbit's Car Toon Spin is a slow moving, spinning attraction.  And Gadget's Go Coaster is a kiddie type coaster.  My young ones could spend a lot of time back here.
Tomorrowland is our final stop.  A newly refurbished Space Mountain is here, with an updated soundtrack, new effects inside the ride and a smoother (but identical) track layout.  Honey I Shrunk the Audience, Star Tours and Innoventions are all here (how did they get here?).  Autopia loads here and puts guests behind the wheel of a two seater sports car.  The monorail loads here for a trip to the Disneyland Hotel or just a round trip (although it is currently under construction and running only in shuttle mode).  It is definitely more of an attraction here than a form of transportation.  New to land in this area is Buzz Lightyear Astro Blasters where guests try to defeat Zurg. Coming soon is the Finding Nemo Submarine Voyage, scheduled to open late in 2007, which is a reimagineering of the original submarine lagoon.
Wow!  What a list.  Of course we did not experience everything on the first trip through.   For someone who goes to Walt Disney World every year, this is still a fun and unique experience to be in the original, the park where the magic began.  And those attractions that we did not get to this time, well, there's always next time.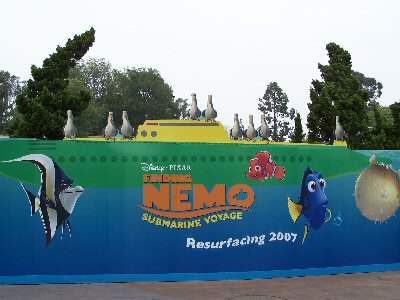 Something to see on the next visit!
Magically Speaking Featured Article
Library of Congress ISSN:1556-3863