This post may contains affiliate links for your convenience. If you make a purchase after clicking a link we may earn a small commission but it won't cost you a penny more! Read our full disclosure policy here.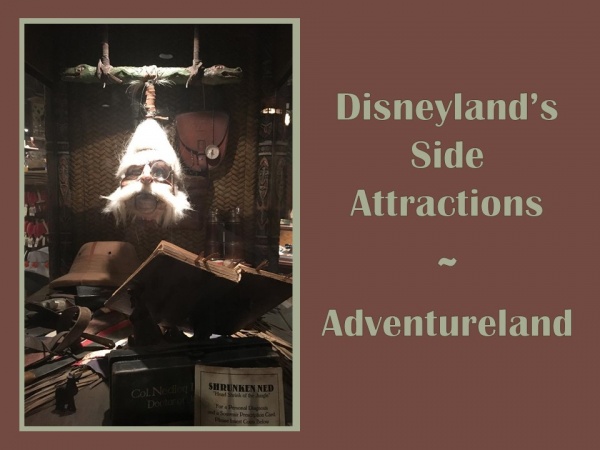 The exotic calls of colorful birds, dense vegetation, treacherous passages, and life-threatening animals marked your voyage on the Jungle Cruise. Now you are safely back in Adventureland, but you fear you may have contracted a deadly jungle fever. What's an intrepid traveler to do? Visit Shrunken Ned, Jungle Witch Doctor, in today's Disneyland's Side Attractions – Adventureland, of course.
In today's blog we leave the near safety of Frontierland behind for a riskier scavenger hunt through Adventureland. So, make sure to get your vaccinations and check your passport is valid. This experience could get rocky.
The jungle Cruise was one of the original Disneyland attractions. Back in the day, your excursion down the main waterways of the southern hemisphere was a disciplined and educated experience. It didn't take long for the education component to take on the more comedic scripts of today.
For an interesting keepsake, ask one of the exit skippers if they happen to have any jungle maps available on the day that you visit. These maps are available online, but the experience of receiving a copy from a skipper is something completely different. Don't be surprised if you are required to perform for your map. One of my favorite experiences was playing "Five Animals" – the skipper rattles off five animals and then you must do physical and vocal impressions of each animal in the correct order. Which may or may not be the order the skipper gave them to you. Here practice at home: elephant, tiger, lion, hyena, giraffe. Best of luck with that last one.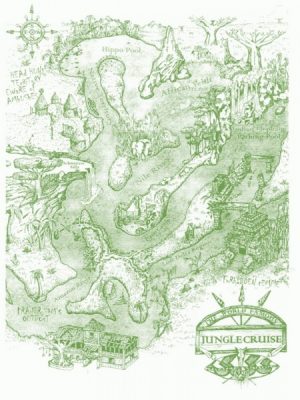 Now that you have a lay of the land, it's time to head over to the Tiki Room. Of course you are going to want to get there early enough to get your Dole Whip and while you are doing that, ask if they have any of the tiki cards available. They make a nice keep sake. Each of the tiki gods in the Enchanted Tiki Garden has been lovingly designed by Rolly Crump and Mark Davis. Stop by so that you have long enough to admire their work before going in to sing along with the birdies. Couple of quick tips: There is rarely a line for the Dole products inside the Enchanted Tiki Garden. Be sure to visit the toilet here as well. I have never seen a line for it and it has always been clean and products filled.
When you head up into Tarzan's Treehouse, look out for a few things.  Watch your children on the first rope walk-way. I have had a few kids bolt because of an 'audio interaction' here. When you get to the rooms of the house, you will hear a happy melody being played, this is the Swiss Treehouse Polka. It was left in during the update from the Swiss Family Treehouse. On your way down, make sure to look through the kitchen while you are trashin' the camp. You might just find some familiar friends there (Mrs Potts and Chip).
Now it is time to go and visit Shrunken Ned. As I've mentioned before, Ned can be difficult to find. He might be on sabbatical or helping the Jungle Cruise tribe with a sick child. But if he is around, he can most often be found in the seating area to the Bengal Barbecue.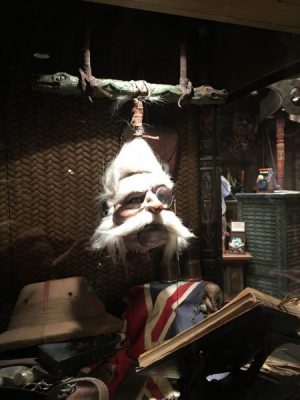 Shrunken Ned is different from the fortunetelling characters. Both Esmeralda and Fortune Red are wax head fortune-telling machines commonly found in sideshows and amusement alleys. They were brought in and dressed up to take their positions in Disneyland. Shrunken Ned was designed and constructed on-site by the Imagineers.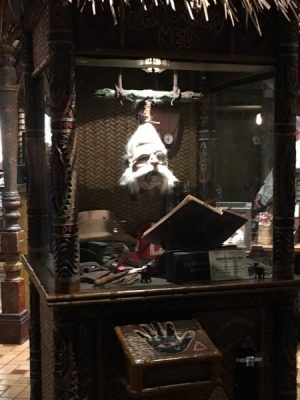 Ned is an audio-animatronic. He is a-head of all the rest because of this. Ned is the local witch doctor and knows just how to fix your ailments. Of course, I'm not a hundred percent sure that his prescriptions are more than 'laughter is good' medicine. After depositing your coin, place your hand on the palm reader. It will take a short time for Ned to read your hand and formulate your treatment plan. He will deposit this below the coin slot. He is definitely worth the change, so stop by the next time you're in Adventureland.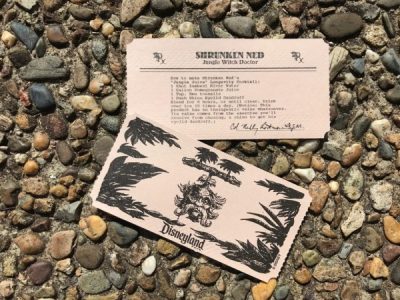 And now it's time for the most dangerous part of our journey today…the return to your normal internet browsing.
Have you stopped to say hello to Shrunken Ned and find out what cure you'll need? Share your experiences in the comments, or on Facebook or Twitter.
Did you like this article? Make sure to share it with your friends! Check below for easy ways to share!