This post may contains affiliate links for your convenience. If you make a purchase after clicking a link we may earn a small commission but it won't cost you a penny more! Read our full disclosure policy here.
We arrived in Paris on Thursday morning, the day before the Disneyland Paris Magic Run Weekend kicked off with the 5K. After a long flight and very little sleep, I expected to be completely out of energy, but my excitement about the weekend was keeping me going. Since our room at the Sequoia Lodge wasn't quite ready when we arrived, we dropped our bags off at the hotel and went straight to the park. After checking out some of the Studios Park, it was time for the race expo to open.
(Note: Disneyland Paris recently dropped "Magic" from the name. It is now known as Disneyland Paris Run Weekend.)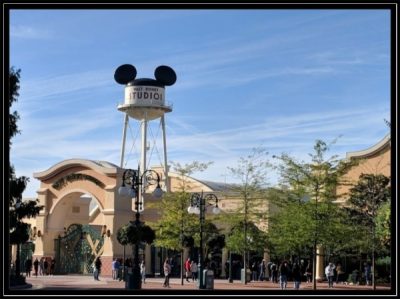 The Expo and Race Bib Pickup
This was the first day of the expo, so there was a huge line when we arrived. Since we were running all 3 races, we wanted to take care of picking up our race bibs early on. Apparently everyone else had the same idea! The line moved at a decent pace though. Once inside, we had to visit several different booths to pick up everything for the 36K Challenge and the Castle to Chateau Challenge.
First, we picked up our Castle to Chateau wristbands. This green bracelet would be our "ticket" to pick up our Castle to Chateau medal once all of the races were done. Next, we hopped over to another line to pick up our race bibs. 36K runners received one bib to wear for all 3 races. Fortunately, it was made of a durable material so that it would hold up.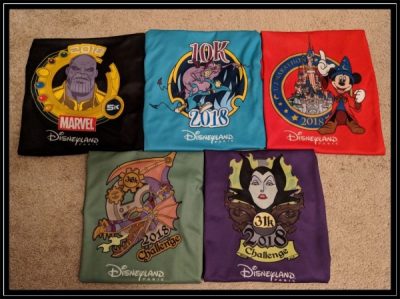 After that, we grabbed our race shirts. We received 5 shirts: one for each race, a 31K Challenge shirt, and a 36K Challenge shirt. I had followed the advice of past runners and ordered shirts 2 sizes larger than I normally wear.  When I tried them on however, they were a bit too big and I decided to trade for a smaller size. I ended up with one size bigger than what I normally wear.
Of course there was a line to exchange shirts and we still had to wait in line to take a photo for our challenge medals. This is where my friend/running partner Lisa and I decided to divide and conquer. She went to exchange my shirts while I waited in the photo line. (Since we were both on the same PhotoPass, we only had to take one photo for both of us)
Once our photo was taken, we had to wait in one last line to activate our PhotoPass. This happened to be the same line that you wait in for merchandise, so I picked up a pin to purchase at the same time.
Whew!  I lost count of how many lines we waited in, but surprisingly enough, things moved pretty quickly. The entire experience, including shopping, took less than an hour and I was glad to have everything we needed for our races taken care of.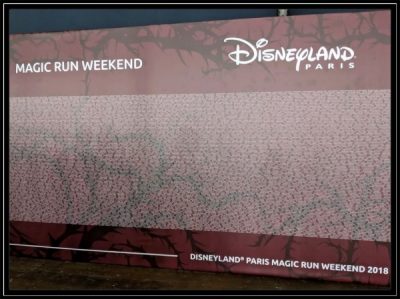 There are a few things about the expo I would like to note. First, it is WAY smaller than the expo for Walt Disney World races. There were a few clothing racks consisting of "I Did It!" shirts, some keychains, hats, and a few other items, but that was about it. Looking at everything took a grand total of 10 minutes. Some things did sell out though, so if you really want an item, buy it early on. If you are willing to take your chances, they discounted a lot of items on the last day of the expo significantly. I am not sure if this will happen every year though.
Enjoying Disneyland Before the Races
With the expo out of the way, we spent the evening checking out Disneyland Park and watching Illuminations before heading back to the hotel. We wanted to be up bright and early to hit the parks first thing in the morning.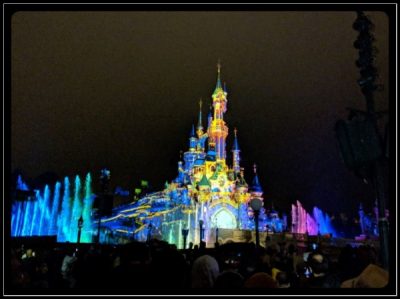 Since the 5K wasn't until 8:00 pm, we had the whole day on Friday to explore Disneyland. The morning started out very rainy, but we didn't let that stop us. We ventured through the gates and discovered that we were completely alone on Main Street!  We took advantage of the opportunity to take pictures with no one in the background before heading to Fantasyland.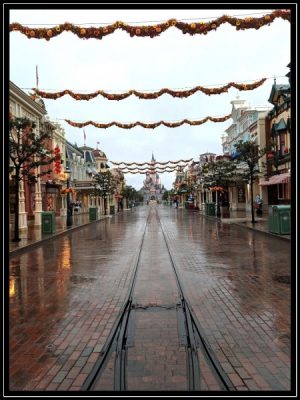 I am not sure why, but the park was dead that day!  We walked onto most rides and rode many things twice. We rode Thunder Mountain 4 times! The rain cleared up after an hour or two, but it still wasn't crowded. It was fantastic!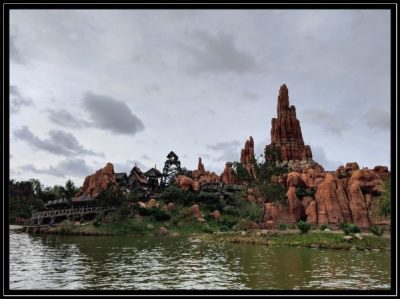 A Little Pre-Race Fuel
At 3:30, we headed over to the Restaurant Agrabah Café for our pre-race lunch/dinner. This restaurant offers a buffet with a variety of Middle Eastern food items. I tried to stick with semi-healthy items and loaded up on some chicken for protein. Didn't skip dessert though! I think we chose the perfect time to visit because we still had plenty of time to get back to our hotel and change for the race. Most importantly, our food had a little time to digest!
Off to the Races
One thing I loved about the races in Paris was that we didn't have to be in our corral over an hour and a half before the race like we do at Walt Disney World. The Sequoia Lodge was about a 15 minute walk away from the starting line, so we didn't even leave the hotel until 7:15 pm. Even though the corral was starting to fill up by the time we arrived, we were relatively close to the front. The pre-race entertainment, which consisted mostly of stretching exercises that no one had room to do in the crowded corral, began right around 7:30. Corral A moved into position at the starting line shortly thereafter.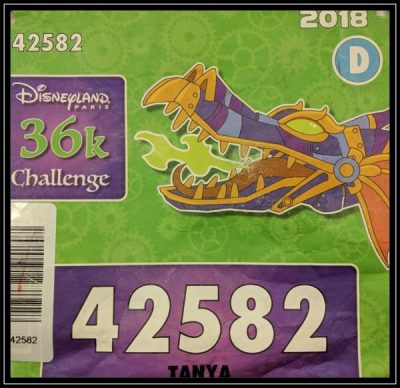 I guess now is as good a time as any to tell you the one thing I really did NOT like about these races. The corral assignments. Although we entered an expected finishing time for the half marathon, there seemed to be no rhyme or reason to the assignments. We were in Corral D, further back than we expected to be. We were supposed to be with runners of a similar pace, but this was definitely not the case. I was next to people who had never run a race in their lives. I was also next to someone who was hoping to finish his half marathon quickly because he had another race immediately following it! It was a mess, but we made the best of it.
Ready, Set, Run!
The 5K started right on time and the first corral was on their way. It was another 15-20 minutes before our wave of runners reached the starting line. Once the announcers gave us the go ahead, we were off!
Here's where the random corral assignments became a problem. Faster runners made a bee line for the course, and more than once, we got knocked into. It seemed dangerous to have some people sprinting, some jogging, and others walking. The good news was, once we made it past the initial start, things opened up and we had no further issues.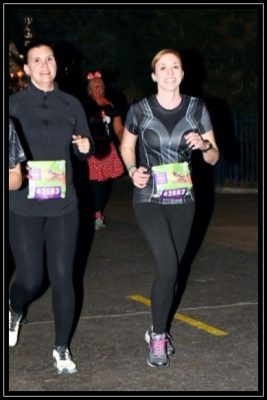 The course took us through Disney Village, Disneyland and the Studios Park, and some backstage areas. It was nice that most of the race was in the parks where we had spectators and Cast Members cheering us on. There was a lot to look at, especially since these parks were very new to me. This race was Marvel themed, so we also encountered some exciting characters along the way.
Character Stops
We weren't sure how much time we had to meet characters, so we decided to skip a few at the beginning. Black Panther was on the course and as much as we wanted to stop, the line was insane! Wakanda Forever looked more like "Wakanda, where you're going to be in line forever", so we kept going.
We finally came across a very cool character location in the Studio Tram Tour area and decided it was worth a stop. When we asked which character we would be meeting, the Cast Member said it was Loki and a "surprise". We weren't sure what that meant, but Loki seemed like a great character to meet and we stayed. As we approached the front of the line, the crowd suddenly erupted into a mixture of cheers and groans as Thor walked out and replaced Loki. Rather than the characters taking short breaks, they were simply swapped out with other characters. We were excited about meeting Thor though and didn't mind the change.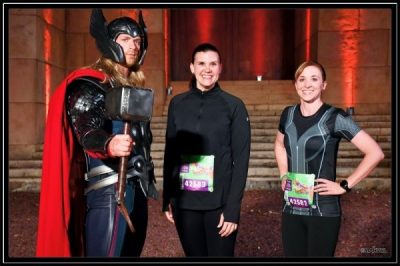 As our turn approached, a Cast Member told us that we could take a PhotoPass picture or a cellphone photo, but not both. They were very strict about this for some reason. Looking back, I find this policy very strange because there didn't seem to be any rule like this for the 10K or half marathon. We chose PhotoPass and a Cast Member scanned each of our bibs. We took one quick photo with Thor and we were on our way again.
The race route then took us through some fun movie props before we entered the set of the Moteurs…Action! Stunt Show Spectacular. There, we jumped into another very long line to meet Captain America and Black Widow. Also a great character stop.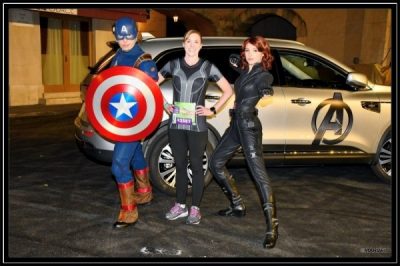 We were close to the end of the race at this point and it wasn't long before we saw the finish line up ahead. So exciting! After were crossed, medals featuring Thanos and the Infinity Stones were placed around our necks. Even though our character stops slowed us down significantly, the race seemed to go by so fast. Our 5K was done!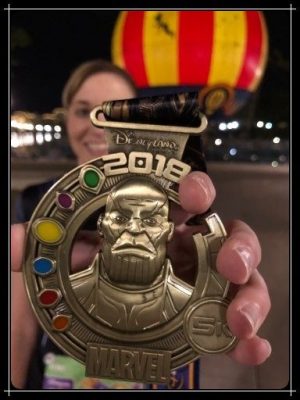 We weren't quite sure where to go after the finish, so we just sort of followed the crowd. I somehow missed the water table entirely, but we did eventually stumble upon volunteers handing out bananas and the customary runDisney snack boxes. We continued walking and eventually ended up in Disney Village and on the path back to or hotel. The post-race area didn't seem super organized, but we didn't get lost either, so it worked…I guess.
I really enjoyed the experience of running a night race. It was different and was a great way to start off the race weekend. Of course, I was wide awake when we returned to our hotel and didn't get to sleep early. Oh well!
With Thanos defeated and my Infinity Stone medal safely tucked away in my suitcase, I set my alarm for the next race. In just a few hours, we would be up and ready to run all over again in the 10K!
Did you run the Disneyland Paris 5K?  Let us know your thoughts about the race in the comments section or on Facebook or Twitter.
Did you like this article? Make sure to share it with your friends! Check below for easy ways to share!
Want to visit Disneyland Paris? Contact The Magic for Less Travel for more information and a free, no-obligation quote.