This post may contains affiliate links for your convenience. If you make a purchase after clicking a link we may earn a small commission but it won't cost you a penny more! Read our full disclosure policy here.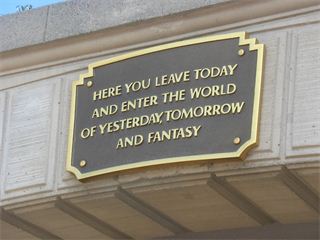 Just like religion and politics, discussing Disneyland and Disney World can sometimes lead to a very heated debate.  Seems some people have strong opinions in one direction or the other.  I've decided that I love both and for very different reasons.  If you've only done one, you may ask yourself, why even bother trying the other?  Hopefully, I can give you a few things to consider.
Size
I love Disney World for it's sheer size.  It's a destination to me that captures me for an entire vacation.  With four theme parks, two water parks and lots of other activities, I can stay on the resort property and never feel compelled to leave although the walking at Disney World can be exhausting.  I love Disneyland because it's intimate.  With just two parks and a smaller version of Downtown Disney and less square footage, I can enjoy the parks as part of a larger California vacation and still feel like I've gotten my "Disney Time".  The smaller size means I can slow down a bit to get from one end of the park to the other.
Economics
Staying at Disney World  allows for many different levels of accommodations and I love that I can still get all of the Disney Magic even at a Value resort or choose a Deluxe resort if I want that extra special touch.  Disneyland offers me the same options with the added benefit of Good Neighbor hotels that are just steps away from the park literally.  Try walking back to a Disney World hotel that's not on the monorail route!  That option can help me cover the difference in  air fare to California than to Florida since I live closer to Florida.
Food
I love the variety of dining at both parks.  Disney World takes the prize here for table service restaurants for sure but Disneyland gets a bit of an edge when it comes to counter service options for me.  The fact that they don't offer all of the same foods makes it fun to visit both to see what's unique about each.
History
Disneyland was Walt's baby.  Just walking around the park you can feel his presence and his moment in history when this park opened.  It will always be special because of that.  It is the original.  Disney World took Walt's dream and broke it open never seeming to lose Walt's ideas about what families wanted.  Disney World is Disneyland 2.0 to me.  Look at how fondly we still think of some of the original Atari games even though we now are waiting for Playstation 4?
Options
Disney World gives my family a chance to spend time at the parks and build in the Water Parks Fun and more option to our tickets so that we can also have days to go to Blizzard Beach, Typhoon Lagoon, Disney Quest or Miniature golf.  We can get tickets to a Cirque de Soleil show or try the Richard Petty Experience or simply lay around the resort pool.  Disneyland gives me the opportunity to try the Adventures by Disney Hollywood Family Vacation One-Day Itinerary tour or book a tour for a day trip through my Magic for Less agent.  Both have unique tours within the parks too.  You can Walk in Walt's footsteps in Disneyland or do a Seqway tour at EPCOT.
If you've only ever tried one park or the other, I encourage you to consider the other.  You'll get the magic at both for sure and might even see why it's tough for me to choose!