This post may contains affiliate links for your convenience. If you make a purchase after clicking a link we may earn a small commission but it won't cost you a penny more! Read our full disclosure policy here.
In preparation for my recent Disneyland trip, I researched some dining and snack options that I might be interested in. This trip to Disneyland will be my first trip as an adult. My husband would agree that I runDisney, so I can eat Disney, lol! I signed up for the Pixie Dust Challenge last year and coerced my mom and sister to come support me. This made for a fun girl's weekend!  But what weekend in the Disney is not complete without a tour of the finest and delicious food offerings?!
I had 10 foods and drinks on my Disneyland Bucket List! They are as follows:
1) The famous Monte Cristo.  These are found at Cafe Orleans in Disneyland.  I've had these sandwiches before at other restaurants, but this really is amazing.  The batter is crispy and mildly sweet with the powdered sugar on top, but is balanced by the savory ham, turkey and cheese on the inside.  This can easily be shared by 2 people, especially when paired with an order of the Pommes Frites.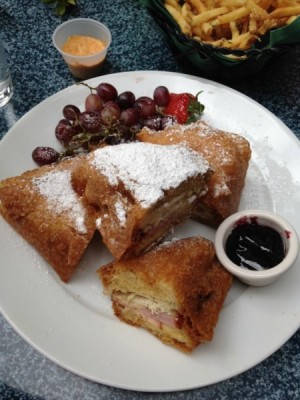 2) The also famous Mint Julep.  I had heard about these, although never had one.  My sister thought it tasted like bad KoolAid, but I rather enjoyed it.  It would have been even nicer as an alcoholic version, but we soon realized that these were of the non-alcoholic type when they came around with a pitcher to offer refills.  I then remembered that they do not serve alcohol in Disneyland (except in Club 33).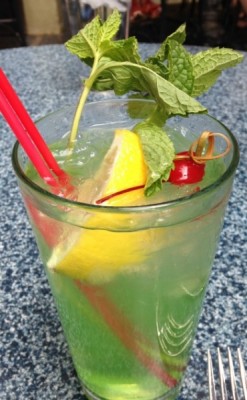 3) The obligatory corn dog.  Need I say more?  Who does not want a corn dog when they are in Disneyland?  This particular one came from the Corn Dog Castle in the Paradise Pier area of California Adventure.  My intentions had been to try one from the Corn Dog cart on Main Street in Disneyland, but I didn't make it back over there, so I settled for this one.  It was good by my standards.  But I am curious to know if the ones are Main Street are really the best?  Guess I'll have to go back, in the name of research and all!  Just as a side note, on the menu, this was priced as a meal and they automatically ask you if you want chips or apple slices, but you can ask for just the corn dog and it will be a little bit cheaper.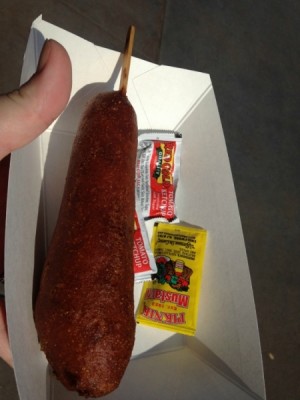 4) Drinks at the Cove Bar.  This is a place that I would say you cannot miss.  It opens at 11:00 am and if you are not in the line at about 10:30 am, then you will likely have to wait.  Our party of 3 was in the area around 10:00 am.  We rode California Screamin' twice and headed over to an already formed line around 1045.  They were taking names and letting people know that it would be about an hour an a half.  A lot of people walked away.  However, if you really wanted to get in, they would take your cell phone number and text you when your table was ready.  You only had about 5-10 minutes to respond so you couldn't go far.  We strolled around the corner to take a peak at Cars Land when I got the message and were able to make it back up to that area in about 5 minutes, but we were booking it.  So, my advice is to try to be there a bit before they open, especially if you have a large party.  We sat at the bar.  I happen to love Moscow Mules so that is what I ordered.  It is a ginger beer brink with a touch of lime and vodka.  My mom had a Pina Colava, which is your basic pina colada with a raspberry puree swirled around it.  My sister had this delicious drink, which she loved, called a Smoked Turkey.  It is bourbon, black cherry bourbon, lemonade and garnished with Luxardo Gourmet Maraschino cherries.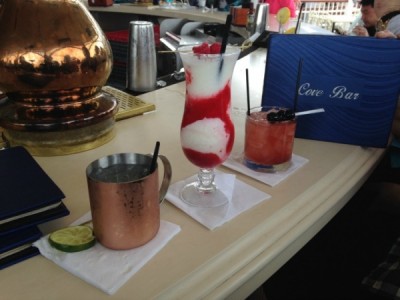 5) Not-so-famous-but-delicious Lobster Nachos from the Cove Bar.  These were amazing.  The chips are house made and covered in black beans, pico de gallo, chipoltle crema, fresh jalopenos and cheese.  For the three of us, it was the perfect amount.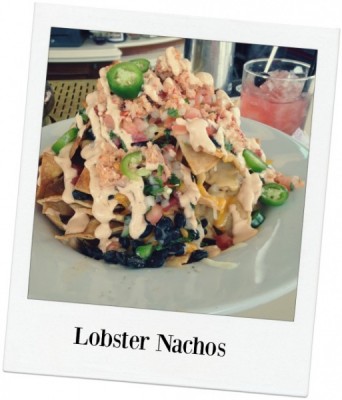 Not on my list of things to try were the Fajita Quesdilla Rolls, but man were they delicious.  These were also at the Cove Bar.  Their whole menu looked delicious though!!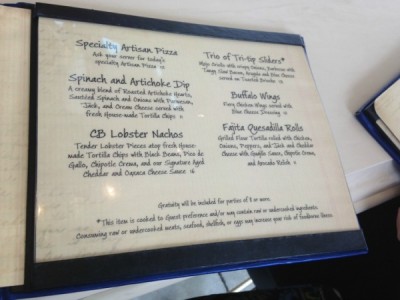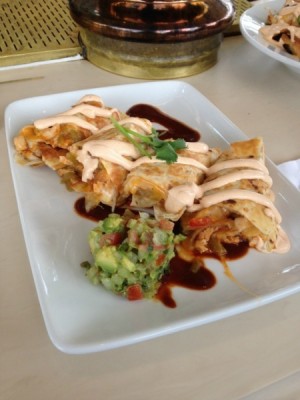 6) Beignets-  These can be found a few places at Cafe Orleans, which is a sit down restaurant in Disneyland.  However, they also have them at the Mint Julep Bar, which is also in New Orleans Square in Disneyland.  This just offers the convenience of not having to do table service to get these beloved treats.  At Cafe Orleans, you can order the full blown dessert, which comes with two dipping sauces, a vanilla and a raspberry sauce, or if it's your birthday, they will bring you one, as seen below.  I had on my birthday button and this came after we got our check.  We were entirely too full to order a whole order, so this was a nice substitute.  During the various seasons though, they also feature other flavors such as pumpkin and gingerbread beignets.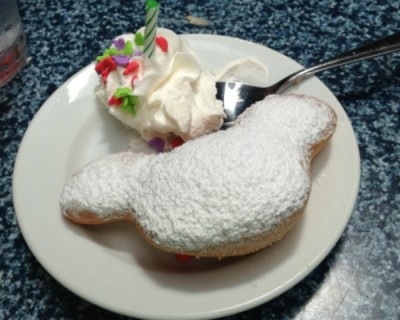 7) Tiger Tails and Bacon Wrapped Asparagus at Bengal BBQ were on my list of things to try, but didn't get to.  This is more strategy though than loss opportunity.  This means I have a reason to go back 😉  Tiger Tails are not to be confused with the delicious orange-colored chocolate covered marshmallow treat on a stick that looks similar to our friend Tigger's tail, Tiger Tails are a nice savory bun that can be enjoyed with several of the meat offerings at Bengal BBQ.
8) Sourdough Mickey Bread- Over in the Pacific Wharf area in California Adventure they offer a bread tour with samples of sourdough bread, hosted by the Boudin Bakery.  Here they make all the bread bowls for the Pacific Wharf Cafe, as well as this adorable treat below.  My family loves sourdough bread, so they were so excited when I brought this home below.  They make these on site as well.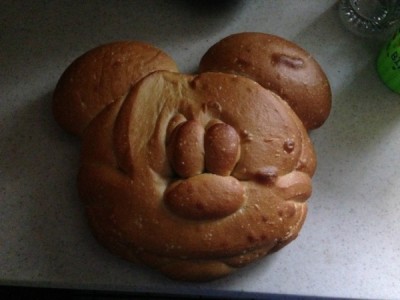 9) Bread Bowl Food- At Pacific Wharf Cafe, you will wait some time to order, but it was so worth it.   I ordered the Chicken Salad in a bread bowl and it was superb.  It included walnuts, cranberries and celery on top of a small bed of lettuce inside the bowl.  But they also offer several soup options as well:  they had Chicken Tortilla as the seasonal flavor, clam chowder or broccoli and cheese.  They also had several other options to choose from such as a Turkey Pesto Club and a Chinese Chicken Salad.  For kids, they offered Turkey Sandwich or Mac'n'Cheese.  Also, there are several other dining options in the immediate vicinity in case your dining party wanted variety.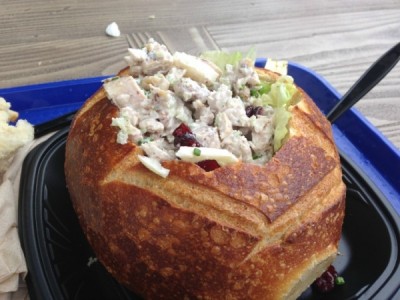 10) Pommes Frites- As mentioned, these beauties are featured at the Cafe Orleans and make a great compliment to the Monte Cristo.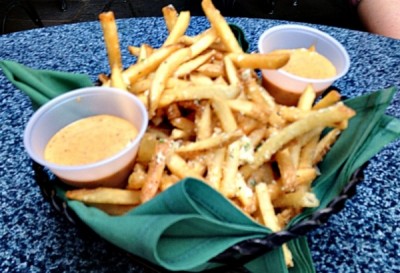 On my last day, I was solo and chose to hang at California Adventure.  After running 19.3 miles over the weekend, I rewarded myself with two different beers.  They offered a few standards and then some local IPA's at various points around the park.  I am a sucker for a good IPA.  They had one called Tower 10 IPA, which was good.  I also enjoyed the Karl Strauss Wind and Sea, which has notes of banana and vanilla in it.
All in all, this was an awesome trip to Disneyland!  It was nice to be able to savor some of the foods from around the parks.  I'm happy to say, I didn't nearly get to see, do or eat it all, so I will have to return at some point in the future.
What are you favorite dishes and treats at Disneyland? Share in the comments!
Incoming search terms:
https://www themouseforless com/blog_world/disneyland-food-bucket-list/
disneyland food blog