This post may contains affiliate links for your convenience. If you make a purchase after clicking a link we may earn a small commission but it won't cost you a penny more! Read our full disclosure policy here.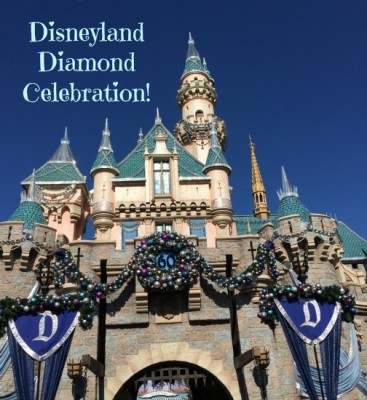 We recently had the opportunity to take our first trip out to Disneyland to celebrate my thirtieth birthday. As longtime Walt Disney World veterans, my family was beyond excited to visit Walt's park. And when we found out that my birthday trip would coincide with Disneyland's 60th anniversary "Diamond Celebration" we were totally thrilled! We had an amazing time exploring Southern California for the first time, and absolutely loved every minute we spent at Disneyland and Disney's California Adventure. So when the time came to pack up and return to the mitten state, we knew that we had to get the perfect souvenirs to commemorate the experience!
If you were lucky enough to visit Disneyland during the Diamond Celebration, then you know that Disney went all out on the Diamond themed merchandise. It seemed like everything sparkled… and we wanted it all! It was incredibly difficult to decide on souvenirs, but when I happened upon the Disneyland Diamond Celebration collection of Dooney & Bourke bags – I fell in love!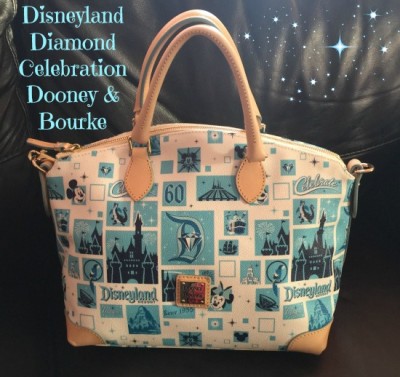 The Disneyland Diamond Celebration handbags are white leather with a blue design featuring the Disneyland Resort logo, "Celebrate," "Magic," the 60th anniversary logo, diamonds, and classic Disneyland icons, such as Sleeping Beauty Castle, Matterhorn Mountain, Space Mountain, Teacups, Pirate Ships, the Haunted Mansion, Maleficent's Dragon, Carthay Circle, Mickey's Funwheel, Mickey and Minnie, and more! Ranging in price from $88 to $268, the collection includes a wristlet, a letter carrier crossbody bag, a crossbody satchel, and a shopper tote.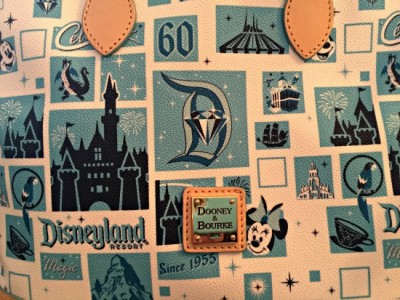 All of the bags are beautiful, and after much deliberation, I finally settled on the crossbody satchel style for $248, as I prefer larger purses and I already have the shopper tote style in the "it's a small world" print. The satchel features light tan leather handles, light tan leather trim on the bottom corners of the bag, and 4 brass "feet" on the bottom to help protect the bag when setting it down. The satchel has small drop handles for carrying by hand, and also includes a long adjustable strap that clips on/off to allow for over-the-shoulder or crossbody carrying. The bag features a zippered top closure, and has several interior pockets (including one large zippered pocket). The satchel is fully lined with navy blue cotton fabric, and light tan leather trim along the tops of the interior pockets. One unique feature of this bag is that it includes an interior key strap with clasp, which will make finding your keys a breeze.
While I haven't started carrying my Disneyland Diamond Celebration Dooney & Bourke satchel yet (it's almost too pretty!) I am confident that this bag will be just as durable and high quality as my previous Dooney & Bourke purchases. What better way to commemorate a once-in-a-lifetime celebration than with a beautiful leather handbag that I'll be able to enjoy for years to come!
Do you have a Disney Dooney & Bourke handbag? What's your favorite style and print? We'd love to hear all about it in the comments!
Incoming search terms: