This post may contains affiliate links for your convenience. If you make a purchase after clicking a link we may earn a small commission but it won't cost you a penny more! Read our full disclosure policy here.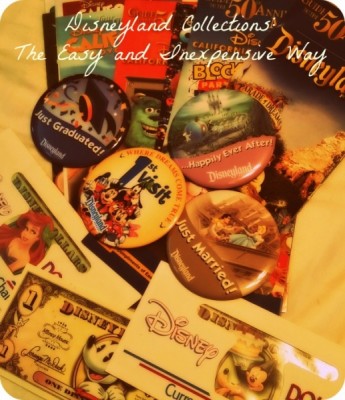 Disneyland collections come in all shapes and sizes. So many things can be collected, from toys to shirts to even artwork. If you have seen some of the great collections out there, it may have inspired you to want a Disneyland collection of your own. With so many great things to collect from the parks it can seem a bit overwhelming to know where to begin. In an effort to help in your quest to collect, here are 5 ideas of things you can collect from the Parks that are fairly easy to obtain and keep, as well as fairly inexpensive.
Disney Dollars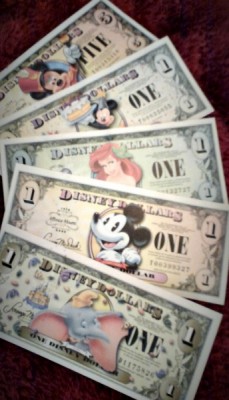 Disney Dollars are the official currency of the Disneyland and Walt Disney World Resorts. They are equivalent to US Dollars and can be purchased at the Guest Relations in each of the Parks or at the Resort Hotels' Front Desk or Concierge. They are available in $1, $5, and $10 amounts. Designs vary on the different dollar amounts, and designs change each year (with a few exceptions), thus giving you the ability to collect lots of different ones over time. You can start collecting these for as little as a dollar. I started collecting just the $1 bills several years ago from each visit I made to the park, noted the date on the envelope, and keep them in a small box. You could also put them in an album or scrapbook as well if you would like to be able to display them
Maps and Schedules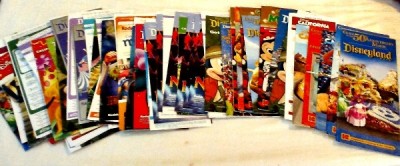 Whenever you go to a Disney Park, there are maps and schedules available at the Front Gate as well as a few other places throughout the Park. The while the information on the inside of the map is mostly the same, except for changes in new/updated attractions, the outside art changes often to coincide with current promotions, which means more to collect. While these offer no monetary value, they can also be a great memento to include in your scrapbooks of your visit to the Parks.
Buttons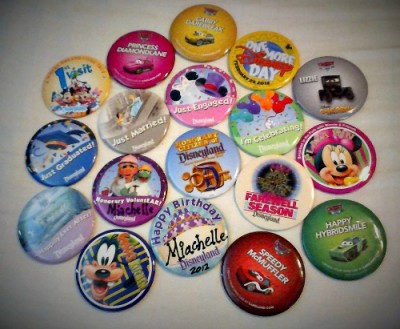 If you have been to any Disney Park you have most likely seen guests with buttons saying "Happy Birthday", "Happy Anniversary", "First Visit", or "I'm Celebrating". These are event or "special occasion" buttons and are available for birthdays, anniversaries, family reunions, just married, honorary citizen, or first visits.  In addition to these event buttons, which can be obtained at City Hall, there are several other buttons offered in other locations. Restaurants that offer a character meals often give buttons to everyone who dines with them, and several locations in Cars Land in California Adventure also have special Cars themed buttons (you might have to answer some trivia to get one of these). These buttons do not cost anything, but are subject to limited availability.
Coin Press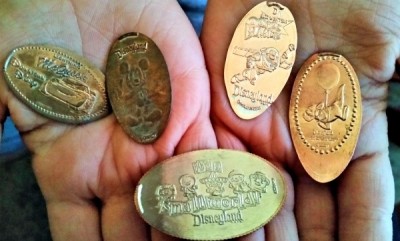 There are several Penny Press and a few Quarter Press machines throughout the Disneyland Resort, including both Parks as well as Downtown Disney and the resort hotels. Each machine offers three designs you can choose from, which typically correspond with the area you are in (i.e Small World designs in the store by the It's a Small World exit). Each penny will cost you $0.51 (2 quarters plus the penny to be pressed), and the quarter press will cost you $1 (must be in the form of 4 quarters). You can also get a special album to keep them for $8.95 (plus tax). These coins make great collectibles and are fun to make! My kids love to pick a design then watch the machine do its "magic". The album is also compact enough that I can keep it in my bag when we go to add to it when we find new machines with different designs.
Autographs and Pictures
If there is one guarantee about Disneyland (or any Disney Park for that matter), it is that there are characters just about everywhere. A fun thing to collect is autographs and photos of each one. There are autograph books that have space to include a photo with them that can be purchased throughout the Parks, but it is also something you could do on your own, or create a personalized scrapbook with them as well. The best part of this collection are memories that come from meeting characters. Some of my favorite Disneyland moments have been watching my kids get to meet the characters they love.
While these collections my not have much in the way in monetary value, they can be a great way to keep a memory of each visit you make to the Disneyland Resort.
What is your favorite thing to collect that is inexpensive from visiting a Disney park?
Incoming search terms:
https://www themouseforless com/blog_world/disneyland-collections-easy-inexpensive-way/