This post may contains affiliate links for your convenience. If you make a purchase after clicking a link we may earn a small commission but it won't cost you a penny more! Read our full disclosure policy here.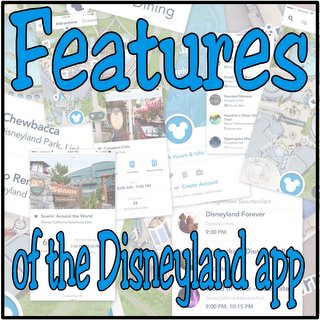 While Disneyland hasn't yet adopted the My Disney Experience tools or MagicBands found at Walt Disney World, they do have a very handy app to help you find your way around the resort. Let's explore some of the Disneyland app features.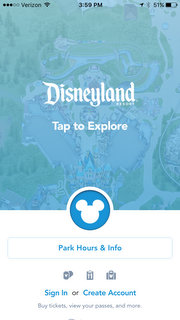 You can find the Disneyland app free in the iTunes store or on Google Play. The first screen that appears when you open the app has two halves (above).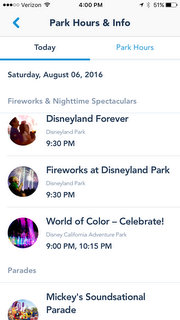 The bottom half allows you to sign into your Disney account (not necessary for many of the app's features), and view park hours and entertainment information for both today and days ahead.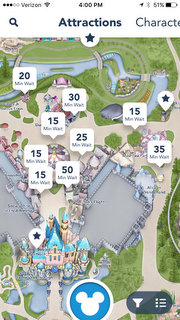 Clicking on the "tap to explore" portion on the top half of the home screen will bring up a map of Disneyland and Disney California Adventure along with a scroll bar at the top for Attractions, Characters, Dining, etc. Each option shows that category's icons on the map. For example, if you were headed into Fantasyland, you could see how long the wait is for each of these classic rides. I'd pick the Mad Tea Party and its 15-minute wait (above).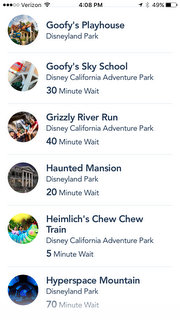 If you prefer to see the attraction information displayed as a list, just click on the bottom right corner of the map. The list can also be filtered to include different criteria.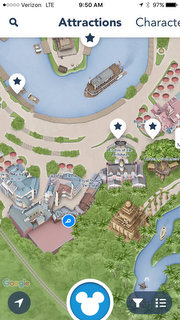 If you're checking the app from inside the park, you'll see a little blue circle on the map where you are standing. Look, I'm in New Orleans Square!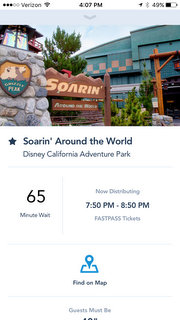 Besides showing wait times, I think one of the app's most useful features is showing FastPass return times. Not sure whether there are FastPasses left for Soarin' on a busy Saturday? Check the app for updated return times before deciding to cross the park. The ride details page (accessed through the Attractions section) also shows height restrictions and closures.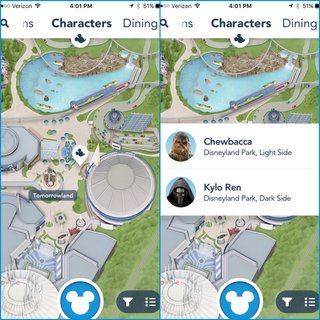 The Character option has Mickey-head icons where character meet-and-greets happen. Click on the icon (left) and who is meeting at that location will pop up (right). Clicking on the thumbnail picture will further show the times for the character.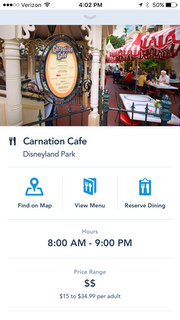 The app has been showing dining locations and menus for some time, but a new in-app feature allows you to book a dining reservation right from the app if you click on "reserve dining" (above). For this feature you will need to sign into your Disney account. I found the menu feature helpful for showing locations and operating hours of some of the smaller dining carts and kiosks.
No one blog article could do justice to all of the app's features. Need to find the nearest restroom? Where in Frontierland land can I get a pressed penny? What time is the next Red Car Trolley show? Check out the bars at the top for Restrooms, Shops, and Entertainment, respectively. Just watch your battery and data usage (no in-park WiFi yet at Disneyland yet).
While it may not eliminate printed maps or Times Guides, the Disneyland app features can help you plan details of your vacation long before you arrive at the parks. Check afternoon wait times at Radiator Springs Racers, look at menus to find something for picky kids, and decide what characters you want to meet, all from home.
Have you used the Disneyland app since it became available? What would you like to see added in future updates?