This post may contains affiliate links for your convenience. If you make a purchase after clicking a link we may earn a small commission but it won't cost you a penny more! Read our full disclosure policy here.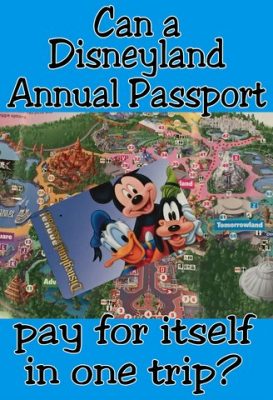 Many Southern California Disney fans who live within driving distance of the parks hold Annual Passports. But what about those of us who live farther away but want to visit the parks? Could we ever justify having a Disneyland annual pass? If you're only going for one trip, would it make sense for one person in your group to get a pass?
If you're not a Southern California resident, you have three options for Disneyland annual passes: Deluxe, Signature, and Signature Plus. Signature Plus has everything – no blockout dates, free MaxPass and free parking, and great discounts on merchandise and food. The Signature level comes with similar discounts and some blockout dates, but let's use the lowest-price Deluxe Annual Pass for our first set of figures.
Currently, a Deluxe AP is $619. A 5-day Park Hopper ticket for an adult is $350. If you plan to visit for 5 days, that seems like a big difference of $269! But there are many ways having one person with an Annual Pass in your group can make you back that upgrade cost.
Potential savings areas
Staying at one of the Disneyland hotels. Disney gives some of its best discounts to Annual Passholders. For example, one spring I booked my family two rooms at the Paradise Pier Hotel for four nights. The savings with an annual pass discount was $450 total, saving me far more than the cost of upgrading one of our tickets to an Annual Pass. The discounts will vary and aren't available during the busiest weeks. But you can always call the Disneyland Resort hotel line and ask them to run the numbers for you, even if you haven't decided to purchase a pass yet. If you book a room with an Annual Pass discount, you only need to show your pass at the hotel the day before checking out.
Discounts on food, tours, and souvenirs. Disneyland's annual pass page details the savings at nearly every restaurant in the resort, including character meals and high-end dining like Steakhouse 55 in the Disneyland Hotel. Passholders also save 15% on tours for their whole group, so if you've ever wanted to "Walk in Walt's Footsteps," this would be the time — a family of four would save more than $65 just taking this tour! Add in spa discounts at the Grand Californian and a few great souvenirs and gifts, and you could probably make your money back on these savings alone.
Coming back, but with a different group. Will you be traveling to California later in the year for business trips, conventions, or to see extended family? Even if the rest of your party isn't getting an Disneyland Annual Pass, you might want one if you can foresee reasons you might be spending more days in Disneyland throughout the next year.
The Math
Using a handy calculator and our graphic, you can map out your savings with a few minutes of pricing, using the Disneyland website, app, and restaurant menus: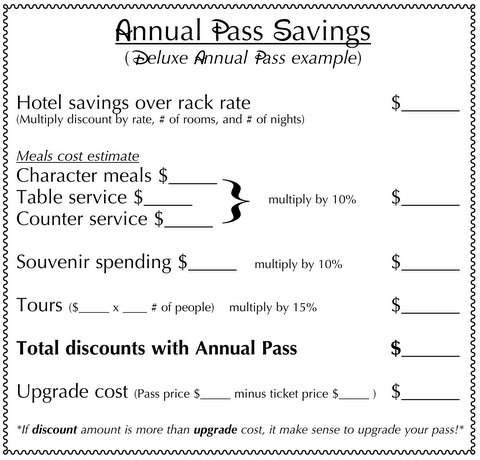 As long as the total discounts with the Disneyland Annual Pass are greater than the cost of upgrading one regular ticket, you can make your money back on one trip! And you hold a pass to get you in the parks for the next 51 weeks!
In a future article, we'll discuss how the large cost of getting your whole family Disneyland Annual Passes might still pay off.
Has purchasing a Disneyland Annual Pass paid for itself for you in one trip? Share your tips and suggestions for how you managed to make it work.
Did you like this article? Make sure to share it with your friends! Check below for easy ways to share!