This post may contains affiliate links for your convenience. If you make a purchase after clicking a link we may earn a small commission but it won't cost you a penny more! Read our full disclosure policy here.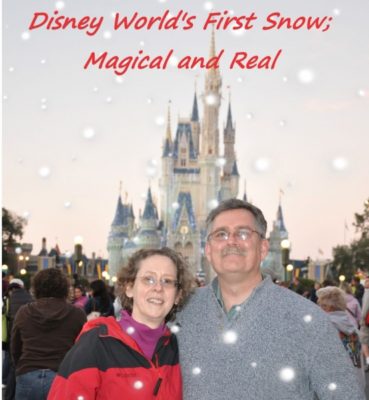 Disney World's first snow – has it happened?  Lots of internet users ask if it snows on Disney World. We've done careful research and found several instances of Snow in Disney World. Plus, we have some advice on what to do just in case it does snow.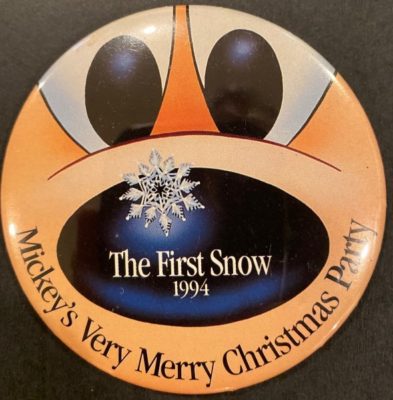 Disney World's First Snow – Disney Magic
We were there when snow first fell in Disney World.  Well, maybe not the first snow fall – even though Disney said it was. According to Disney the first snow happened on December 2nd 1994.  In fact, Snow fell throughout December 1994 as you entered Main Street as part of Mickey's Very Merry Christmas Party. Snow has been falling just about every year since. And, maybe, this was the type of snow Disney was willing to admit to.
However, it is not real snow. Disney's first snow was a bit of Disney Magic they call snoap. The primary ingredient of snoap is soap. While it looked pretty enough, those of us who have shoveled our way out of the house noted the lightness of the flurry and the lack of even the lightest coating of white, We did the traditional thing and caught a bit of the white stuff on our tongues. Snoap, not a good start for our night.
It's been snowing (snoaping) in Disney just about every year since.
Disney World's First Snow – for real
Disney does not publish or track adverse weather events. If you look on the internet you can find listings of snow events in Florida but no mention of Disney World. It stands to reason that if Miami has had a snow fall then Disney must have had one as well. The only question is; has snow fallen on the Disney property since the park has opened. Even stories in the UK headlined Florida snow storm hits Disney World and raises flood fears really talks about snow in Georgia and near freezing temperatures at the park.
After extensive research we did find one first person account confirming Snow in Disneyworld. A Tom Sawyer cast member observed the snowfall on December 23, 1989. This snowfall was listed in the Florida snow events list and was almost five full years before Disney's First Snow (snoap version).
It is also likely that Snow fell on Disney World on January 19, 1977. Florida was hit by a major cold wave with snow falling as far south as Miami.   In Orlando there were reports of snowball fights from snow gathered on cars. But there was no mention of snow in the new park. The Orlando Sentinel pictures display a large volume of snow as well as fashionable period clothing. It stands to reason that some of the snow fell on Disney World.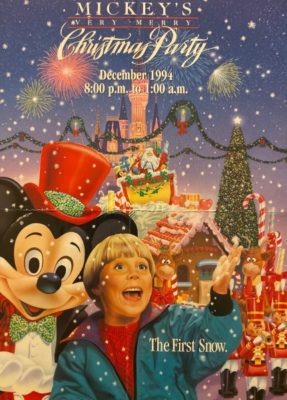 The thought of snow should never stop a Disney World Visit
Apparently it has snowed a few times at Walt Disney World. If it does snow, logic and history indicates that it will snow at night and possibly when the park closes. Plus, the weather in Florida ensures that the snow quickly and completely disappears. Warm clothes should be sufficient to outlast any snow affects. Personally, the thought of standing on Main Street and seeing the castle against behind a flurry of snow would be magical beyond even Disney's power.
Did you like this article? Make sure to share it with your friends! Check below for easy ways to share!
Want to visit the Walt Disney World Resort? Contact The Magic for Less Travel for more information and a free, no-obligation quote.

Incoming search terms:
https://www themouseforless com/blog_world/disney-worlds-first-snow-magical-and-real/
https://www themouseforless com/blog_world/disney-worlds-first-snow-magical-and-real/#:~:text=Disney Worlds First Snow – Disney Magic&text=According to Disney the first just about every year since
https://www themouseforless com/blog_world/disney-worlds-first-snow-magical-and-real/#:~:text=Disney Worlds First Snow – Disney Magic&text=According to Disney the first Mickeys Very Merry Christmas Party
https://www themouseforless com/blog_world/disney-worlds-first-snow-magical-and-real/#:~:text=We were there when snow Mickeys Very Merry Christmas Party
has it ever snowed at disney world
has ot ever snowed at walt dismey world
https://www themouseforless com/blog_world/disney-worlds-first-snow-magical-and-real/#:~:text=According to Disney the first just about every year since
snow at disney world
Walt Disney World January 19 1977 during snow in florida