This post may contains affiliate links for your convenience. If you make a purchase after clicking a link we may earn a small commission but it won't cost you a penny more! Read our full disclosure policy here.
Everyone knows that Walt Disney World is the ultimate family vacation destination, but sometimes, a little couple time is fun, too! To me, Disney embodies romance. It's carefree; it's fun; and it happens to be where I spent my honeymoon more than 20 years ago. So, if you are taking a couples-only trip, or if you have the grandparents in tow and they want to babysit, or if your kids have been begging to try the kids club at your resort, take advantage of this opportunity for a date night.  There are so many great date night spots at Disney World, no matter  what your budget.
Free/Almost Free
Strolling through Disney Springs together is a great date night. Browse through the shops, listen to live music on the waterfront stage and end the night sharing a delectable ice cream sundae from Ghirardelli. Perfect.
One of the most memorable nights of a recent couples-only trip was strolling around the grounds of the Grand Floridian Resort one evening. We walked down to the beach, through the gardens, past the fountain. We looked at all the twinkling lights and then ended the night on a bench on the edge of the water (behind Narcoossee's restaurant)  looking toward the Magic Kingdom where we could see the fireworks.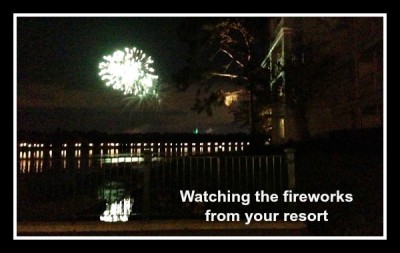 Another practically free, but memorable evening, was bringing a snack (Mickey Rice Crispy treats, of course) and a blanket to the lawn of our resort and watching the Little Mermaid under the stars. Sure, we were one of only a handful of couples there without their kids, but it was a wonderful, romantic evening, nonetheless.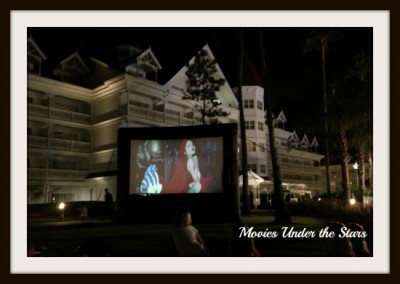 And if you find yourself in the parks, romance abounds if you seek it out.  After grabbing some gelato in Italy, or deliciousness from the bakery in Norway or France, cozy up together to watch Illuminations in Epcot.
Spend a Little
If you are in Disney Springs for the evening, you can take a ride on Characters in Flight, the giant tethered helium balloon that soars above Disney World. For under $20 per person, you can ascend 400 feet in the air for panoramic views of Disney Springs and even glimpse the resorts and parks in the distance.
If before- or after-dinner drinks are something you enjoy, the resorts at Disney World have some of loveliest lounges and small bars, perfect for quiet adult conversation. They are rarely crowded, so they are a nice break from a hectic day in the parks. Two favorites are the Bell Vue Lounge and Mizener's Lounge. The Bell Vue Lounge is found in the Boardwalk Resort. It has wonderfully comfortable furniture and a small bar offering popular cocktails and a few small appetizers on the menu. One evening, we took advantage of the option to take our drinks out to their balcony and enjoy the view and the lovely moon and stars. Also a great intimate date spot was Mizener's Lounge in the Grand Floridian. Just walking  through the spectacular lobby of the Grand Floridian is a treat, but make your way upstairs to the lounge. It's a classic lounge with a menu of cocktails and snacks. What's more, you can enjoy the live jazz being played by the orchestra on the second level of the lobby.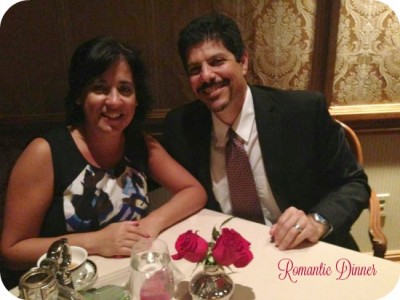 Worth the Splurge
A go-to date night, of course, is going out to dinner together. And the choices are practically endless at Walt Disney World. We have enjoyed so many wonderful meals at the restaurants, it is hard to choose the "best" or "most romantic" spots at which we have dined. When a splurge is in order, you can't do better than a leisurely, delicious and romantic dinner at Victoria & Albert's in the Grand Floridian. We were waited on hand and foot, and course after course was absolutely delicious and beautiful to look at. Hushed music plays while you dine. We were presented with a personalized menu noting our anniversary celebration and outlining our choices for each course of the tasting menu. It was fun to try new things and enjoy the atmosphere. I don't know about you, but I don't have many other opportunities in my life to sample Galilee Osetra Caviar or Braised Oxtail and Cherry Ravioli. I can't say I loved everything, but I can say I tried everything and hated nothing! But we were stuffed! Unable to eat the truffles presented to us at the meal's end (even after we had already had dessert), we were sent home with a copy of our personalized menu, our boxed up chocolate truffles, a rose for me and a fruit cake to enjoy later.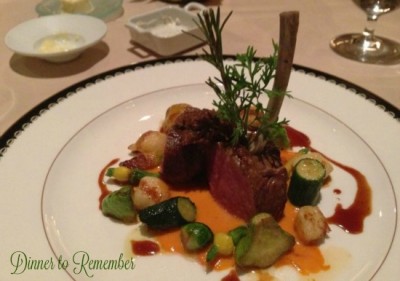 If you want to have a date night that doesn't center around food (yes, I have noticed a theme, here), enjoy the evening fireworks shows at either Epcot or the Magic Kingdom. The catch, you won't be in the parks at all. You can enjoy the spectacular shows from the water aboard one of the Fireworks Cruises offered. The Epcot cruise floats through the International Gateway to view Illuminations. If you prefer the Wishes Nighttime Spectacular in the Magic Kingdom, there is a cruise for that, too. You can cruise around Bay Lake and the Seven Seas Lagoon for a perfect view of the show. The music is piped into the boat so you can get the full experience.
OK, back to food for a second–An extra-special fireworks cruise is the Ferrytale Wishes: A Fireworks Dessert Cruise that includes delectable sweets and beverages (including alcoholic ones). Currently, the price is $99 per adult and advance reservations are required.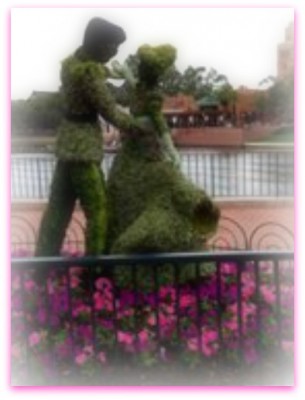 Is it any wonder that Disney World is one of the most popular honeymoon destinations. Romance is around every corner if you know where to look!
What is your favorite way to celebrate romance at Walt Disney World? Let us know in the comments!