This post may contains affiliate links for your convenience. If you make a purchase after clicking a link we may earn a small commission but it won't cost you a penny more! Read our full disclosure policy here.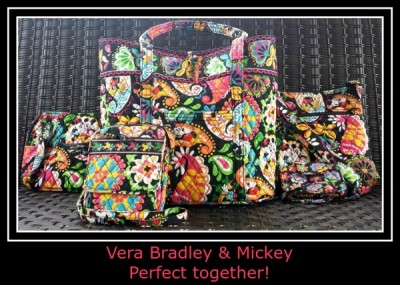 When the Disney Collection by Vera Bradley was announced, I could barely contain my excitement.   I had accumulated a few Vera Bradley pieces over the years, but I had never been a big collector of the products.  That all changed the minute I saw the Disney line.  Three different patterns were announced: Midnight with Mickey, Just Mousin' Around, and Where's Mickey?  I knew immediately that I just had to have one of the Midnight with Mickey bags!  I looked at the the various options online and decided on the exact bag I wanted.  I just had to wait for them to hit the shelves!
I wasn't able to make it down to Downtown Disney the weekend they went on sale, but had a trip planned for a few weeks later.  Much to my disappointment, the bag I wanted was sold out before I made my trip. I checked the Magic Kingdom and Downtown Disney. No bags.  I went home heartbroken.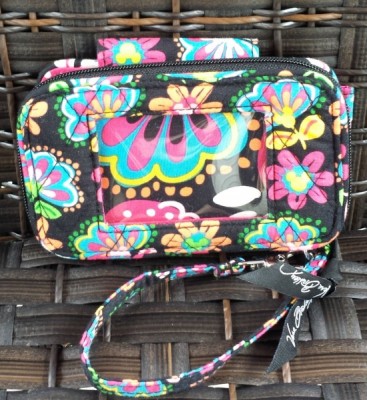 Several weeks passed and a friend of mine took a family trip to Walt Disney World.  Prior to her departure, I begged her to check for the bags.  I practically jumped up and down when she called and said they were in stock, but they were going fast.  She grabbed the one I so desperately wanted, the hipster.  At the last moment, I asked her to also purchase a mini hipster as well. Since I had waited this long, I didn't want to miss out again.
I could not wait for her to return from her trip.  We planned what seemed like a shady transaction outside of her workplace.  "Meet me out front," I texted.  "Bring the bags. I have your money."  I am being a bit dramatic, I know, but I had never been this excited over a bag. When I saw them in person, I was thrilled.  They were everything that I had hoped for!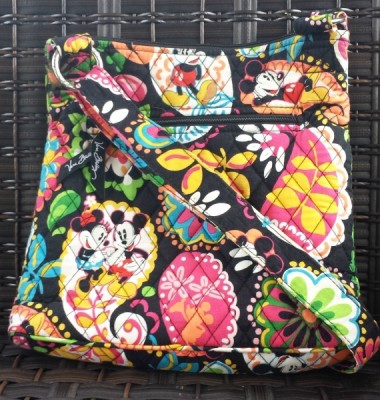 The hipster turned out to be the perfect everyday bag.  I use it as a purse and find that it is big enough to hold just about everything that I need/want to carry on a daily basis.  The strap is adjustable, so you can carry it over your shoulder or across your body.  It has a zippered pocket on the outside and small pockets on the inside. I usually stick my cellphone and keys in the pockets for easy retrieval.
I am pretty hard on my purses, but this one has held up well despite being kicked under the table and tossed into the back seat of my car day after day. It has faded only slightly, something I only noticed when I recently visited Disney World and saw someone with a brand new bag.
I have also been very happy with my impulse purchase of the mini hipster.  I use it primarily when I visit Walt Disney World.  The strap on this one is also adjustable and can be worn across the body.  This keeps everything close to me and I find that I can keep it on for most of the rides.  It is small, but large enough to carry essentials.  There are credit card slots where you can place park tickets, debit, and credit cards.  There is a zippered pocket inside where I stash my cash. There is a clear slot in the front for a driver's license or photo ID.  The only thing that won't fit is a bottle of water, an issue that is easily rectified by purchasing a water bottle clip.  This is definitely my go-to bag when visiting the parks.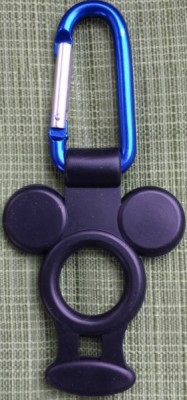 I was so happy with my first two bags that I later decided to purchase the tote. I hesitated to buy this one for quite a while because of the $99 price tag.  I quickly got over my buyers remorse when I realized how useful this bag is!  When I travel, I use this bag for all of my last minute packing items.  The cell phone charger, toiletry bag, and hair straightener are always some of the last things I pack.  I love to just drop them in, grab the bag, and head out the door. It's perfect!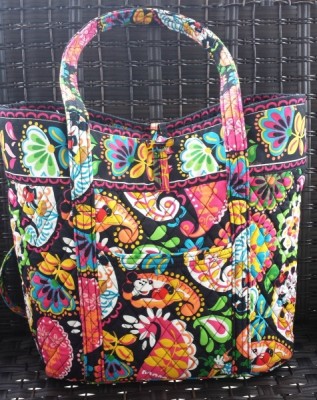 Shortly after I acquired my first few bags, they became available on the Disney Store website.  I soon had almost every item from the Midnight with Mickey line and it seemed my collection was just about complete. And then new patterns were released!  Mickey and Minnie Mouse Disney Dreaming, Mickey and Minnie Mouse Bouncing Bouquet, and Mickey's Perfect Petals are now available at the Disney parks and online.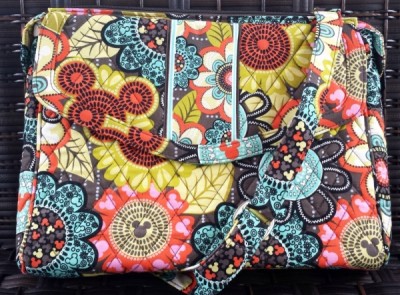 Each bag is made from a unique cut of fabric, so they are not all identical.  If you are able to make your purchase in person, you can choose the bag you like the best.  You won't have this option if you buy online.  I was very happy with my online purchases, but I did purchase my Mickey and Minnie Mouse Disney Dreaming hipster at Downtown Disney instead of online.  I wasn't completely happy with the placement of Mickey and Minnie on the bag, so I went back the next morning.  They had restocked the shelves and I was able to select one that I liked even better and exchanged it.  The bags are no longer in short supply, but you may have the best selection in the morning when new stock is placed on the shelves.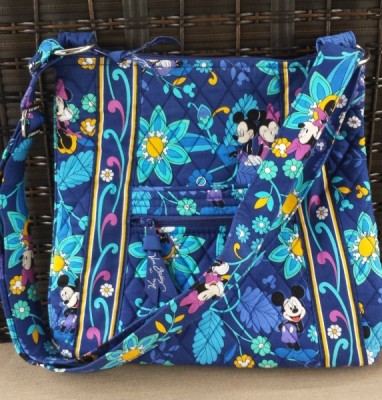 Overall, I have been incredibly happy with each Vera Bradley bag that I have purchased.  So happy in fact, that I hope to someday own every bag in the entire collection.  A girl can dream, right?
Have you purchased any of the Vera Bradley bags?  Have you enjoyed them as much as I have?
Sponsored Ad:  Would you like to help support The Mouse For Less website in continuing their mission of being THE Disney vacation planning resource, while getting a great deal on your very own Vera Bradley bag? The Disney Store is currently offering a very special sale right now (until January 25) where you can save on your next Vera bag! Here's how the sale works,  if you purchase 1 Vera Bradley item, you'll get 10% off; 2 Vera Bradley items and you'll get 15% off; and you'll get 30% off of 3 or more Vera Bradley items! To take advantage of the sale, visit our affiliate link and type in the coupon code: VERALOVE.   Thank you for your support and enjoy your new Vera Bradley bag!
Incoming search terms:
vera bradley disney collection