This post may contains affiliate links for your convenience. If you make a purchase after clicking a link we may earn a small commission but it won't cost you a penny more! Read our full disclosure policy here.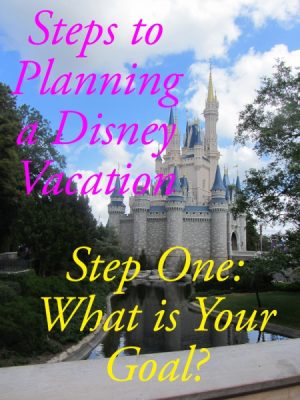 Sometimes it can feel like you need a masters degree in Disney in order to plan a vacation there.  There are so many decisions to make when looking at Disney Vacation Planning, from resorts to food to FastPasses (what are these even) that it can feel completely overwhelming and often make people feel like it is just too much effort to plan, so they don't.
After planning a handful of Disney vacations, and helping those who have asked for help plan their trips, I have realized that there is a process that I use to make the planning seem easier and less overwhelming.   If you are planning a Disney vacation or thinking of planning a Disney vacation, I encourage you to read these series of blog posts "Steps to Planning a Disney Vacation."  Through these posts, I will help guide you through planning a vacation to Walt Disney World.   From resorts to dining plans and FastPasses, we will walk through these steps and make it more magical and less stressful.
Steps to Planning a Disney Vacation – Step One:  What is Your Goal?
The first step to planning any Walt Disney World vacation is to know what your goal of the trip is before making any major decisions.  Knowing your goal right away sets the stage for the rest of the planning decisions.  Here are some different types of goals when it comes to a Walt Disney World vacation.  Read through these and see what type of vacation sounds the most like you and your traveling party.
All Disney.  All Day and Night.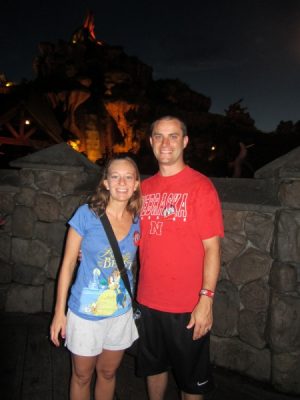 We loved seeing the park transition from day to night
Is your goal to hit the parks running everyday of vacation?  Do you want to be up early and out late without breaks?  This was my goal when my husband and I went for our 10 year anniversary.   I will be honest though by day 5 we had slowed down and slept in.  Many young at heart or those that visit Disney very rarely often go with this method as they want to get the most out of their vacation.  If you are the energetic type this might be the style for you!
Up Early.  Naps.  Relax.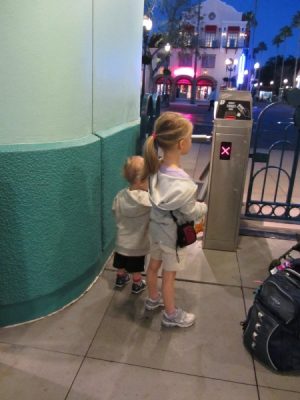 Our kids at the park before the sun was up
Is your family an up early family?  Do you know the kids won't sleep in even though it is vacation?  If this is your family, the plan can be to be hit the parks early but take breaks in the afternoons and play the evenings by ear depending on everyone's behavior.  We did this strategy in 2014 and 2016 when the kids were with us.  I would say it works perfectly for us.  Our kids never sleep in but need naps or quieter time in the afternoons.   It was also nice to not have evening plans as we never felt rushed to go somewhere or stressed that we "had to" get to reservations or "had to" had somewhere even when tired.  If you have a few littles with you, this might be the goal for your trip.
Sleep in.  Stay late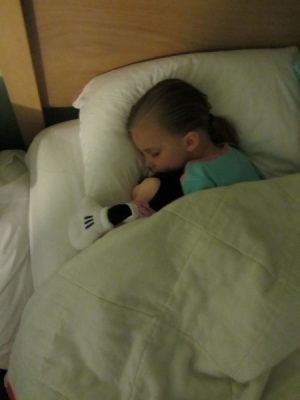 Our princess sleeping in one morning
Do your kids love sleeping in?  Are they night owls?  This plan might be the best for your family.  Allow the kids to sleep in and then head out for the afternoon and evenings.  Take advantage of the parks at night when often times those with younger kids head out.  If you have older kids, this often seems to work well.  Don't force those teenagers out of bed if you don't have to as it might just make for a miserable trip for everyone.  What is there normal?  Then plan around that.
Disney and more.
Are you planning on hitting up Disney and the "other" park?   You need to know this ahead of time to help your planning along the way.  Taking advantage of both parks is great but you need to plan accordingly.  Trying to hit both Walt Disney World and Universal can be done, but it needs some thought regarding transportation, food, and lodging.  If this is something you want to do, just make sure you plan accordingly from the beginning.
Pool Time.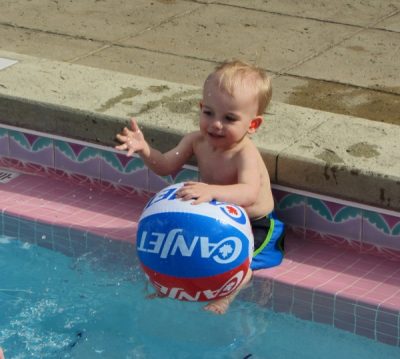 Our kids love having pool time
Is the pool the number one attraction on the list?  Are the parks just an additional bonus for your family?  Are you wanting to make sure you have days that you aren't in the parks?  If pool days are something that your family is considering, make sure you discuss it ahead of time so you can plan accordingly.  Pool days are the best and can often help refresh everyone.
When planning a Disney vacation, it is so important to start with a goal in mind.  Know what you and your traveling party want to get out of your trip because this will help you make decisions moving forward.   Planning for an "all Disney, all day" trip is a lot different than a trip that takes a breaks in the afternoons or sleeps in everyday.  No matter which style of vacation you are, knowing your style ahead of time will help planning.
Look for the next post "Steps to Planning a Disney Vacation:  Step Two Choosing a Vacation Package".
What are your goals for your vacation? And what Disney vacation planning steps would you like to see us cover in this series? Share in the comments!
Did you like this article? Make sure to share it with your friends! Check below for easy ways to share!
Incoming search terms:
https://www themouseforless com/blog_world/disney-vacation-planning-step-one-what-is-your-goal/