This post may contains affiliate links for your convenience. If you make a purchase after clicking a link we may earn a small commission but it won't cost you a penny more! Read our full disclosure policy here.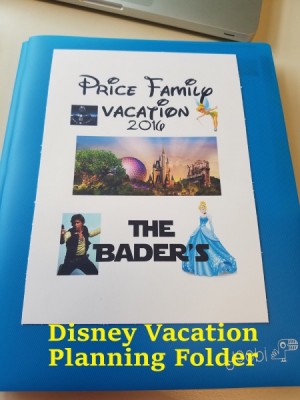 Cover of the Folder
Our family of four recently headed down to Walt Disney World and were joined by my parents as well as my sister and her husband.  Prior to going, I wanted to create a folder for each of them with all the information I thought they might need while we were there.  This was fun for me to do, but also helpful for them as I made most of the plans.  Here are some of the things I included that might help you in your Disney vacation planning.
First of all every family vacation needs a logo of some sort.  I used a picture of the four parks and then downloaded both the Star Wars font as well as what many consider the Disney font.  I used this to create a cover for the folders adding the favorite characters of each.  In this case Cinderella for my sister and Han Solo for my brother-in-law.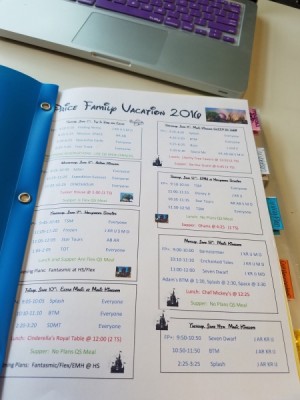 Overview of the Trip
The first page I included was an overview of our trip.  This page broke down each day focusing on:
1.  Which park were we at in the morning,
2.  What FastPasses we had
3.  What dining reservations we had if any for both lunch and supper
4. What evening plans we had.
This was a quick reference page for everyone and provided the major information they would need on the trip.  I figured if they didn't look at any other page they would still know what they needed to.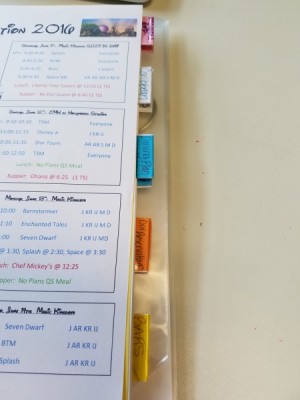 Other Areas of the Folder
I then broke down the rest of the folder into specific sections.  I focused on the following areas:  Magical Express, Caribbean Beach Resort, Dining Plan, Our Reservations, Bars/Lounges, FastPasses, Daily Plans, and other information.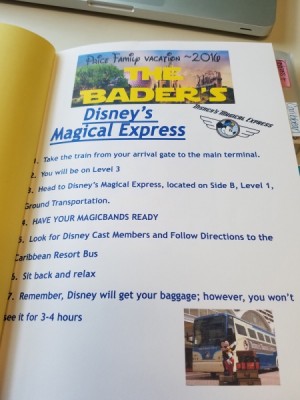 Disney's Magical Express
In the Magical Express section, I provided them with a quick overview of this service.  As none had used this from the airport, I wanted them to have some tips and tricks to make it easier.  Knowing that luggage would be picked up for them; however, they might not see it for a few long hours so pack accordingly is an example of what I told them.  I also provided a map of the airport and directions on how to get to the Magical Express as sometimes I feel that the airport in Orlando can be confusing.  Again, just some easy tips to help make the vacation start off on the right foot.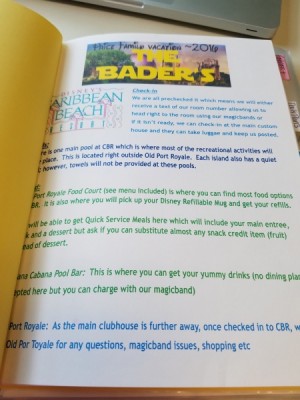 Notes on Caribbean Beach Resort
We stayed at Disney's Caribbean Beach Resort so I dedicated a section to the resort itself as well.  In this section, I provided basic information about the resort's procedures, pools, and dining options.  I did print a menu as well for them to look at, as I assumed we would be eating there our first lunch of the trip.  Again, most of this information was given to us by cast members when we arrived, however, it was nice to have ahead of time as well.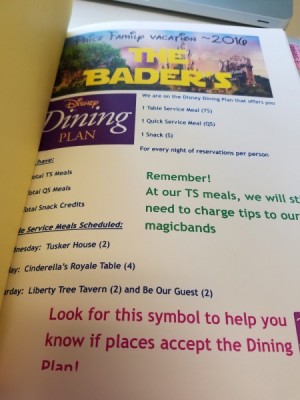 Dining Plan Tips
The next section focused on the dining plan.  My parents had never used the Disney Dining Plan before so I wanted to provide them with a bunch of tips and tricks on how to get the most out of it as well as some information on what was included as it can be confusing.  Knowing what was a good use of a snack credit, that desserts can now be substituted for other things, not to use it on a drink as you can get free water at the parks were all the type of tips I gave them.  On a side note, I was extremely impressed with how helpful all the cast members were when we had questions about the plan.  We really like the Dining Plan and feel like it gives us a lot of choices during our trip.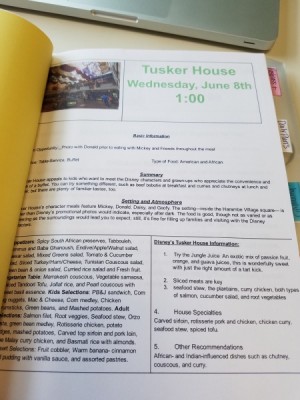 Details On Our Table Service Meals
Our reservations were the focus of my next sections.  We had a variety of different table service meals throughout our vacation and I wanted them to know what each of the different restaurants were known for before we got there.  For each of the restaurants, I provided basic information about it, a summary of what could be found, the atmosphere, the menu and then information and recommendations as to what to have.  I was surprised how much these tips help as often we were hot and tired when we got to the meal so having little tips and tricks already suggested helped us know what to order and what to try.  Although we didn't try all the suggestions, we did venture a little bit and tried new things.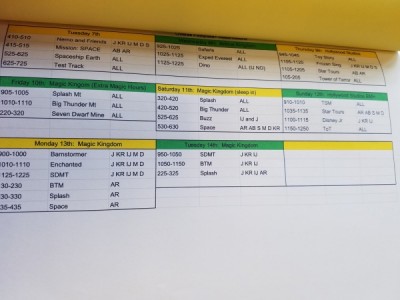 FastPasses
The next section was just a simple and quick print out of our FastPasses.  I listed the times for each of them and for the few that we mixed up and not everyone was riding, I also provided them with who would be riding what ride.  Again, simple and something that we talked about that day but nice to have ahead of time as they didn't make their own FastPasses.
Daily Plans
Daily plans were the next section.  This section is where I put my plans for the day.  I included the ride touring plan that I hoped to follow as well as lunches, suppers and FastPasses.  On the back of this sheet I also provided the hours of the parks, the evening entertainment for all the parks and then the daily entertainment for the specific park we were in that day.
For example, if we were in Disney's Hollywood Studios, I included the times for Voyage of the Little Mermaid, Beauty and the Beast and Indiana Jones.  Now did we stick to these plans exactly while we were there?  Absolutely not.  Did it give us all a general plan for the day?  Yes!  That was the goal.  I didn't want us to be the group that stood in the middle of Main Street at the Magic Kingdom trying to determine what everyone wanted to do.  This gave us a general idea and if people wanted to do it, they did, if they wanted to try something else-they did.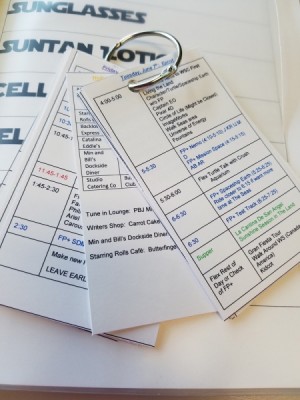 Small Daily Plans
Along with these bigger plans, I made smaller index size plans as well.  These were just a smaller version of the daily plans, but it allowed people to carry them into the parks easier.  My sister, dad and even our little guy liked being able to look at these each day while in the parks.
Journals
I also included journal sheets for them for each day.  I honestly have no idea if anyone actually used them besides me, but I just had spots for them to write their favorite food and rides of the day and then any other thoughts they might have.  Nothing too hard, but a nice keepsake.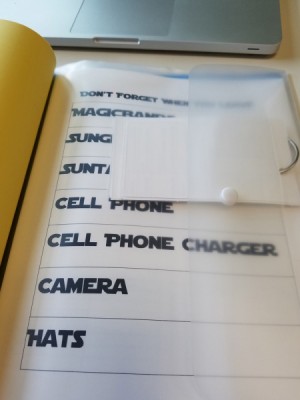 Door Tips
Finally, I included a list for their resort door.  I found having a quick checklist before walking out in the mornings really helped me on previous trips so I made one for their rooms as well.  Nothing too exciting but just a quick reminder each day of those basic things you need.
I really enjoyed making these folders of information for my family prior to our trip.  Some of the information was more helpful than others, but it was all ways to make our trip a little smoother by providing everyone with the information they would need while vacation in Walt Disney World.
Do you make a Vacation Planning Folder? What do you include in yours? Share your tips for keeping your vacation organized in the comments!