This post may contains affiliate links for your convenience. If you make a purchase after clicking a link we may earn a small commission but it won't cost you a penny more! Read our full disclosure policy here.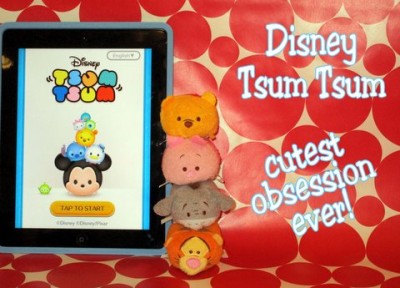 The Disney Tsum Tsum app game and plush are catching on in America! Feed your Disney obsession in the most adorable manner.
The name "Tsum Tsum" comes from the Japanese word tsumu, which translates as "to stack." Indeed Japan, with its love of all things cute and Disney, is where Tsum Tsum was born. In mid-2014, Disney started marketing Tsum Tsum in the United States, and the rest is round, fluffy history!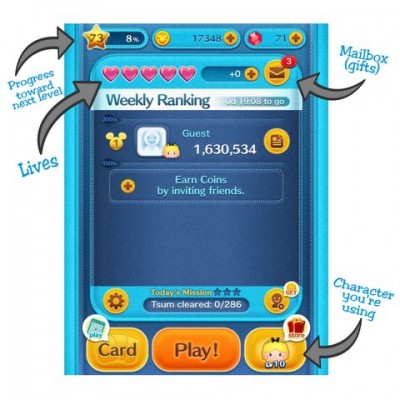 Home screen of the Tsum Tsum app
The app-based Tsum Tsum game holds the attention of young and young-at-heart. I may even play it more than my daughters! The game opens with a short video of animated plush Tsum Tsums. Everything in the game is rounded and bright. Your hearts/lives regenerate every 15 minutes — much quicker than many apps — which is great for impatient little friends. The digital versions of familiar Disney characters really are quite cute.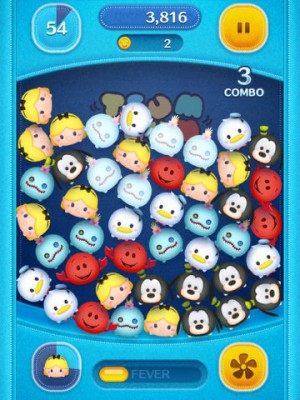 Gameplay is simple — connect like Tsum Tsum with like, for example all of the Plutos in the lower right-hand corner in the picture above. The more you connect, the higher your score. There is a short tutorial in the app settings on how to play the game. The music does get repetitive but can be muted.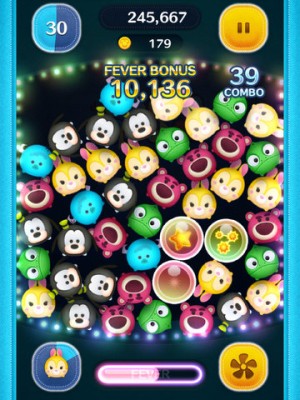 Advanced players can manipulate fever time, bubbles, and bonus items to increase their score. If you create and connect a Line account, you can gift hearts to your connected friends and play almost indefinitely!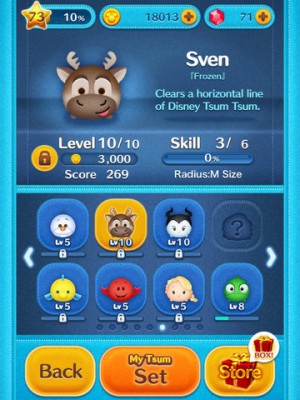 Each character (that you can "earn" with coins) has a different skill that affects the stacking game in a new way, for example: stopping time, creating bubbles, or clearing a vertical line of Tsums. Disney releases new characters every few weeks, including seasonal characters like Mickey Mouse pumpkins or the Fab Five in Christmas hats!
The Tsum Tsum app is available in the iTunes store or on Google Play. It is free to download but does have the option of in-app purchases.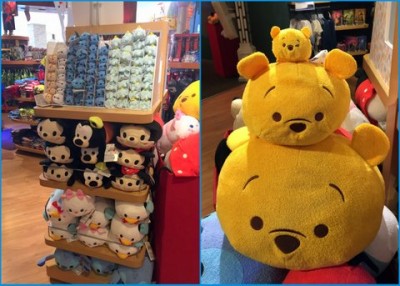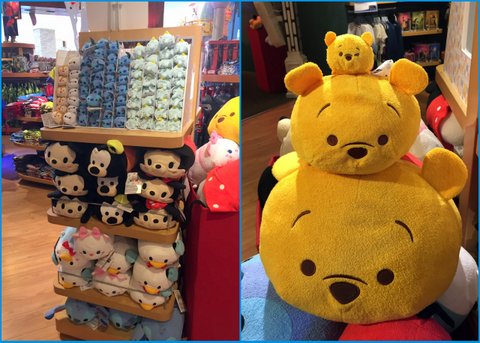 A recent Disney Store selection, with mini, medium, and large Tsums stacked up
If you think the digital characters are cute, wait until you see (and squeal at) the plush real-life Tsums. Currently, the stuffed animals can be bought at the Disney Store, the Disney store online, and Target. The can also be found in the large Disney stores at Disney Springs in Walt Disney World and Downtown Disney at Disneyland Resort.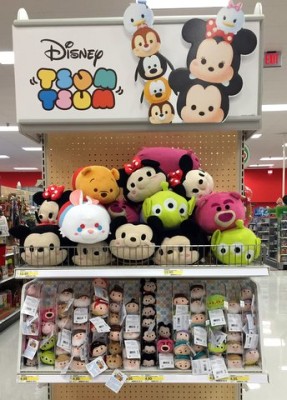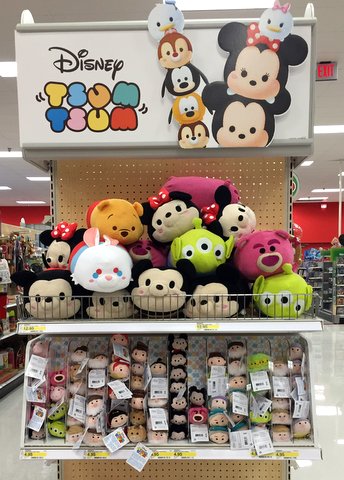 Target's Tsum Tsum display is usually an endcap in the toy section
The plush are super-soft and pill-shaped. The largest size is about the size of a Pillow Pet. The mini size is just under 4 inches long. Prices are same across all of the stores: mini $4.95, medium $12.95, large $24.95. As with the app, Disney releases new stuffed Tsums often. Marvel characters are new and a Peter Pan set is coming (my daughters will be getting some of those for Christmas … shh!)
If you love Disney and can handle the cuteness overload, check out Tsum Tsum, both in the store and on your mobile device!
Do you love Tsum Tsum? Are you a collector of the plush? What's your highest score?