This post may contains affiliate links for your convenience. If you make a purchase after clicking a link we may earn a small commission but it won't cost you a penny more! Read our full disclosure policy here.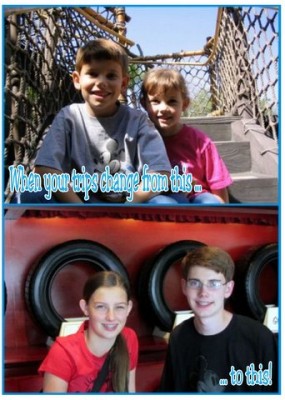 You may have already noticed, but the Disney vacation you're taking with your teens is nothing like the trip you took with them as preschoolers. Your Disney trips will naturally evolve as your children grow up. Here are some of the ways:
Not-so-surprising. It's pretty easy to hide a surprise trip from someone who can't read. For an older child, you might have to notify teachers, coaches, bosses, etc., making a morning-of reveal impossible.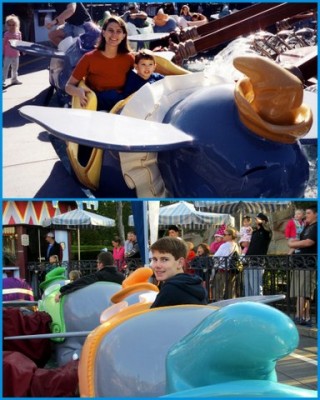 Your planning partner. If they've been to a Disney park enough to navigate without a map, they probably want some say in what they ride and where they eat. Family traditions become even more firmly entrenched when a second generation starts insisting.
Extra expenses. You'll pay the adult price for park tickets and character meals once Junior turns 10. And what teenage boy is ever satisfied with only one Mickey bar for a snack? One unanticipated cost would be booking a pricier room setup that allows him to have his own bed.
Cross-country travel. Braving a plane flight to see the other coast's Disney park is a much more manageable thought when your child has grown into a more seasoned traveler, and you know they'll remember that once-in-a-lifetime visit.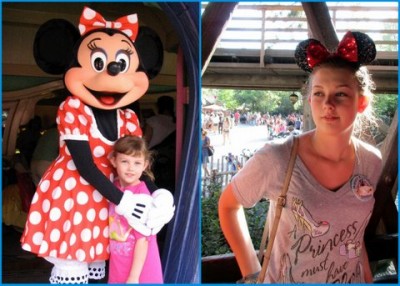 Packing light. Gone are the days of carseats, diapers, loveys, playpens, and high chairs. Your children can schlep their own backpacks, suitcases and park bags. On the downside, no stroller to carry water bottles and purchases.
Friends welcome. The idea of taking someone else's child along seemed terrifying when they were 6, but at 16 bringing a buddy might seem like a rational idea. They get a ride buddy and you might sneak in a date night with your spouse.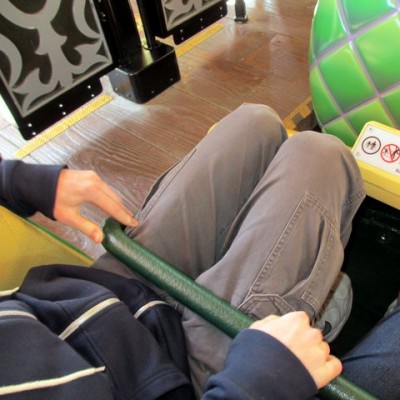 6-foot-1 legs won't fit into the Gadget Coaster (or Barnstormer)
Who's scared now? If you've always successfully avoided riding the Tower of Terror "for their sake," you might find them dragging you onto an elevator this time around!
Night owls. Nobody likes getting up early, especially teenagers. Rope drop gets harder as they get older and would prefer to sleep in, but nighttime shows and evening Extra Magic Hours open up new ways to see the parks.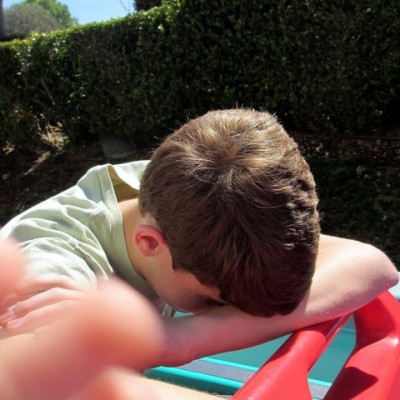 "it's a small world" might have been his favorite Disneyland attraction at age 4, but now he'll only ride under protest
Outgrowing old favorites. With a new love for more intense attractions, you might not spend much time in Fantasyland. Driving tiny cars in Tomorrowland isn't going to have much appeal now that they have a real driver's license.
Say cheese. Little kids want you to take their picture with a favorite character. Teens might still wait in a character line, but they'll want a selfie. Then they'll immediately need time to tweet and Instagram it, with hashtags.
Cheating on Disney. With the rise of Harry Potter lands near both American Disney parks, older kids might vote to spend part of their vacation time with a certain young wizard.
Bye-bye. Band trips, friends' invitations, cheer festivals, and other special events might take them to the parks without you. Traveling as a whole family definitely gets harder as they get older!
What has changed for your family as your Disney-loving kids have grown?