This post may contains affiliate links for your convenience. If you make a purchase after clicking a link we may earn a small commission but it won't cost you a penny more! Read our full disclosure policy here.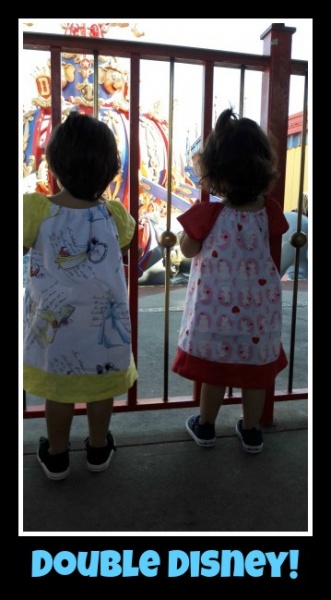 Double the Disney with not ONE single regret!
I have 2 year old twins. When they were 1 year old, I decided that I was going to take them to Disney for the first time that December. I wanted to do a Christmas Disney trip for their Christmas and my 40th birthday (I am a Christmas Eve baby).
I started writing pages and pages of notes of what I had found. Best parks for little ones, where to eat, what to pack, where to stay. I found each new question an exciting researching journey and I was obsessed for a year! I loved finding the answers to my questions and planning each day at the parks. It was such a fun process and I couldn't get enough.
When I told my family about my trip, I was met with "Are you crazy? Taking 22 month old twins to Disney? They won't remember and that is a waste of money". At first, I felt upset and sad that this was an actual reaction and started to second guess myself. Then I came to the conclusion that this is MY family and I was going to have an amazing experience for their second Christmas and my 40th birthday. They may not remember but I will and I will hold on to those memories forever.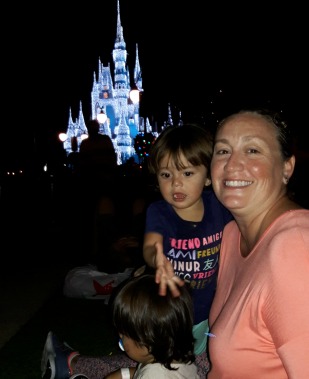 Getting ready for Wishes
Here is my how to do it list:
First thing I did was pick dates. I signed up for a paid website that showed crowd calendars and  let you plan your days at the park. I was going to be prepared since I would be traveling internationally with twins and my boyfriend (who was a Disney newbie). I looked for the lowest crowds historically for the month of December.
Christmas Family photo in Front of the Castle
Then I started researching resorts. I did have the option to stay off site but since the twins were so small, I wanted to stay close enough so that we could be back in the hotel for naps/meltdowns/or just off days. My biggest concern was our massive stroller. I love my Double Bob and I was bound and determined to take it with me (and I am so glad I did). I had this huge fear of folding up the stroller each time we did transportation. I travel a bunch with my twins and I know how heavy and awkward that stroller is. Obviously, the monorail was my first choice as you can roll strollers right on board. However, that was WAY out of my price range. So I had read on the Disney Mom's Panel that you can roll your stroller on the bigger boats. I was now on a mission to find resorts with boats. Disney's Wilderness Lodge! So that ended up being the right resort for us since we were focusing on three days at Magic Kingdom and one day at Animal Kingdom. (PS: the Wilderness Lodge is beautiful at Christmas!)
PLAN PLAN PLAN – Now when I was a kid, growing up in Florida, we just winged it. Went to the parks with no idea of what we were going to do. Fastpasses and dining reservations didn't exist. Now that I was the adult (the only one having ever been to Disney) and I was in charge, I was going to get a plan together. I planned each park with great detail! I looked at maps, plotted out rides and was determined that we were not going to be running around the park looking stark raving mad! For Magic Kingdom, I planned by "lands". I drew lines on my park maps to show the best walking paths and what rides we could ride next to each other. I focused on two "lands" a day. Fantasyland and Tomorrowland one day and Frontierland and AdventureLand the next day. THEN we did a Christmas Party.
Christmas Party with Talking Mickey
FASTPASS EVERYTHING – I absolutely love FastPass+! Another thing I was stressing about was waiting in line with little ones. It literally gave me anxiety. So when my 60 day mark was up, I fastPassed the normal hard rides for mid morning and then the minute we scanned our bands for the third FastPass, I was on my phone looking for the next FastPass and so on. We FastPassed almost everything. The only ride we didn't FastPass was Pooh and there was an interactive line so that was nice. The only meet and greet we didn't FastPass was Minnie and Daisy at Pete's Side show Circus. That was the longest wait we did at 30 minutes!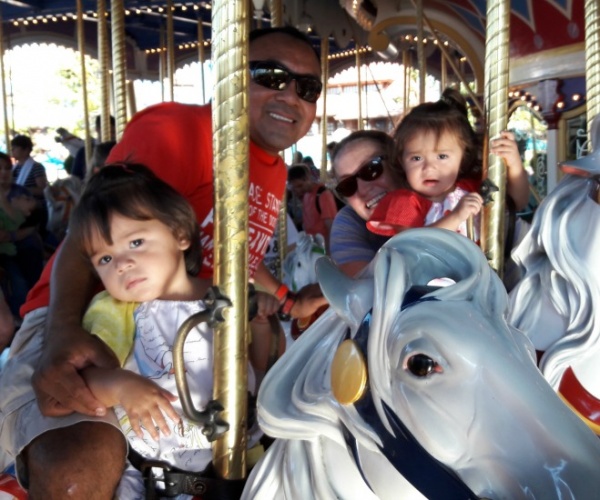 Family ride – Prince Charming Regal Carrousel
Advance Dining Reservations – we were on the Disney Dining Plan and I LOVED it. It was so nice to not have to worry about cost and the kids ate off our plates. It was heaven. Also, I really liked having a reservation at a place so we could sit down and not have to hover over people looking for a table. I can see when the kids are older, not wanting to waste time at a Table Service but it really helped us calm down and get a break in. One twin was even asleep at Be Our Guest for lunch our first day. No biggie! We asked for the potato soup to go for her and she ate it when she woke up.
Bring your own snacks and drinks! This is a life saver with little kids. I took goldfish, cereal boxes, cheese (wrapped in wax), mini cookies and other snack items plus small kid size water bottles. These saved us so much time from standing in line to get a drink. There is always a line at Disney and this helped with meltdowns as when a 2 year old asks for water, waiting is not always a great option. Haha.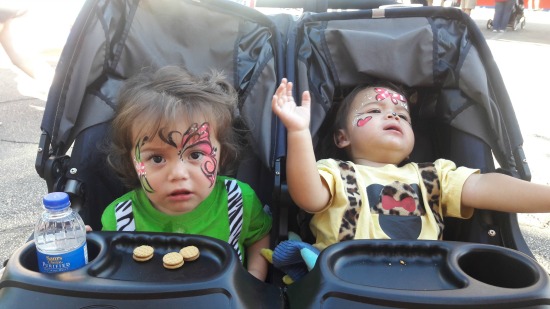 Snack break at Animal Kingdom with Face Painting in DINOLAND
Plan to take breaks. I know that sounds funny to actually plan your rest time? However, you really need to expect to stop everything you are doing and rest, get a drink, snack, sit in the shade, got back to your room, whatever. While everyone is having a good time, you tend to forget it is a lot of a toddler to take in. So much to see and activity going on!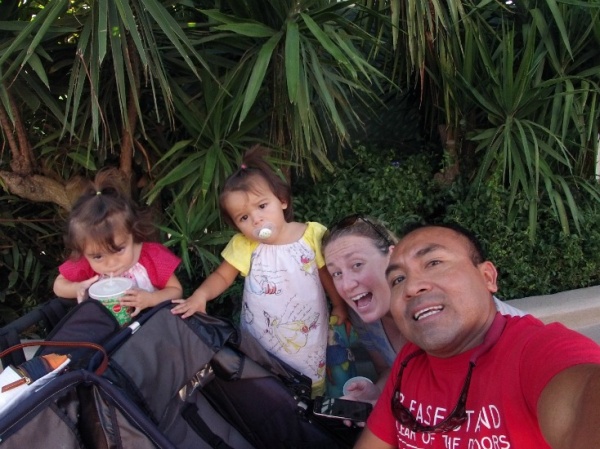 We needed a break in Tomorrowland with a drink!
Ask questions! There are so many wonderful places on the web to ask questions, no matter how silly or trivial. My favorite is the Facebook group for The Mouse For Less Disney Travel Discounts Savings and Planning. Everyone is so helpful and there are many different outlooks to help you decide how you should plan your vacation.
I am so happy I pulled this trip off and had a wonderful, magical experience with my new family. Now I am off to plan my next trip with the twins – January 2018!
Have you ever planned a trip with multiples? What suggestions do you have? Let us know in the comments! 
Did you like this article? Make sure to share it with your friends! Check below for easy ways to share!