This post may contains affiliate links for your convenience. If you make a purchase after clicking a link we may earn a small commission but it won't cost you a penny more! Read our full disclosure policy here.
If you are anything like me, you end up coming home from every Disney trip with a whole bunch of park maps, bags, receipts, stickers – even ice-cream wrappers. Basically, if it says Disney or has a picture of The Mouse, I am keeping it. And the Mickey head confetti? I am so not ashamed to scoop that up and keep it in my pocket …
But what do you do with all these odds and ends you collect? You could put them into a Memory Box. Which then probably gets put into the closet where it gathers dust and is never opened again.
Or, you could turn all this paraphernalia into a beautiful scrapbook. Not only will you enjoy making it, you will be able to relive the most magical moments of your trip every time you flip through the pages.
As with all hobbies, you can do this on a budget, with just your memorabilia, photos and a note book or photo album to stick it all into. Or, you can go all out and spend a fortune on a proper scrap book, Disney themed backing paper, borders, stickers and embellishments.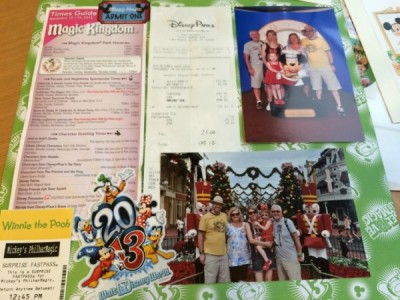 Firstly, you need the actual book you are going to stick your collection into. I have used both regular A4 sized notebooks and larger ready-made scrapbooks, it is up to you. One tip is to make sure that the paper is not too thin, you do not want it to rip as you are trying to turn the pages.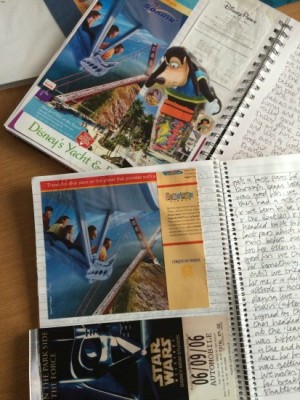 Next, think of how you want to theme your pages. Will you use coloured backing paper matching the colour scheme of each park? Will you mount your photos, use extra stickers to decorate pages? One tip is to cut out pictures from holiday brochures and the information that Disney send you in the mail. Basically, keep everything you have with the WDW logo, you might be able to use it.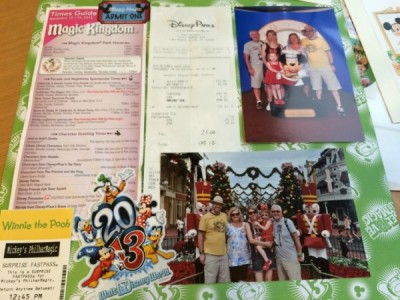 If you are going to buy things, you can sometimes do this ahead of time and save money. For instance, if you know you are going next Halloween, look out for pumpkin and fall themed craft items in November/December when they will likely be on sale. If not, there are ton of places you can buy things from, both shops and online. In the US I like to get supplies in Target, Michael's and JoAnn craft stores, and in the UK, Hobby Craft, The Works and www.scrappingthemagic.co.uk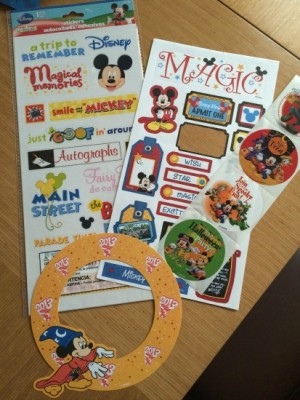 You also need to gather up the things that you have brought home and group them together. I have always displayed mine as a journal, so in date order, but you can chose whatever theme you like. You can do it by park, or character, any way you like.
Once you have grouped your items together, and printed and photos you wish to use, you need to make sure they fit onto your page. Do NOT stick them straight down without trying them first, or you may find the one thing you wanted to include the most won't fit, or that expensive backing paper you've bought can't be seen. Be sure to play around with the presentation. You don't have to make it all fit onto one page – if it looks messy or squashed, use two pages instead. There is a balance between too much and too less on a page to make it eye-catching.
Once you have worked out exactly what you want on each page, and the format you are using to display it, you can now stick them down and if you wish, add extra stickers and embellishments.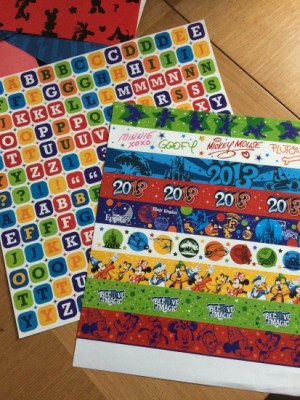 One of my most important tips is do not rush it. I take months to complete mine, because I really enjoy sitting down in total peace and quiet, with all my kit spread around me and just taking my time. I find it very relaxing, and the end product is something the whole family enjoy looking at.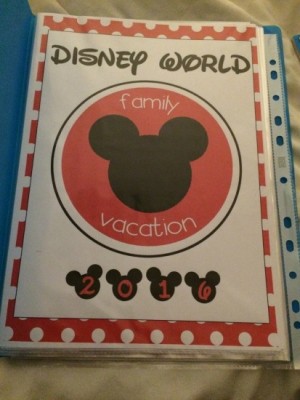 If you have kids, you could get them to help, or, you could get them to make one of their own. This can be fun during the holiday, as they will need to collect things and keep a journal of what they have done. It could even be turned into a cool homework project!
Most important of all though – is to have fun. Scrap-booking is a very personal thing, and so long as it is something that makes you smile every time you flip through and see your photos with Mickey, then you have done a great job!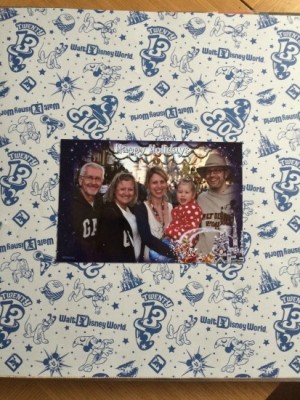 What are you best scrapbooking tips? Share in the comments section!
Incoming search terms:
https://www themouseforless com/blog_world/disney-scrapbooking-101/