This post may contains affiliate links for your convenience. If you make a purchase after clicking a link we may earn a small commission but it won't cost you a penny more! Read our full disclosure policy here.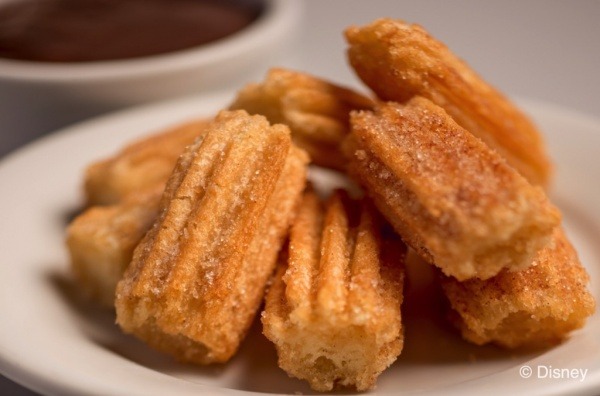 One of the results of staying at home during the coronavirus pandemic is that more and more families are cooking in their kitchens. And, of course, Disney recipes from the theme parks have made their appearance on social media. Here are three of my favorite dishes.
Disney Parks Churro Bites
Ingredients (Serves 4)
1 cup water
8 tablespoons butter
¼ teaspoon salt
¾ teaspoon ground cinnamon, divided
1 ¼ cups all-purpose flour
3 eggs
1 ½ cups vegetable or canola oil
½ cup sugar
Directions
Combine 1 cup water, butter, salt, and ¼ teaspoon cinnamon in a 1 ½-quart saucepan over medium heat. Bring to a rolling boil.
Reduce heat to low.
Add flour and stir vigorously until mixture forms a ball. Remove from heat and let rest for 5-7 minutes.
Add eggs, one at a time, and stir until combined. Set aside.
Using caution, heat oil in a medium skillet or 1-quart saucepan over medium-high heat or until temperature reaches 350?.
Spoon dough into a piping bag fitted with a large star tip. Pipe a 1-inch strip of dough over saucepan, cut with knife, and drop into hot oil. Repeat until churro bites fill saucepan with room to fry.
Fry churro bites until golden brown. Remove with a slotted spoon or mesh spider strainer.
Drain churro bites on paper towels.
Mix sugar and remaining ½ teaspoon cinnamon in a medium bowl. Toss in churro bites until coated. Place on serving plate and serve with favorite dipping sauces. Click here for a print-at-home version of this recipe!
Mickey Mouse-shaped Beignets
Ingredients (makes 10 large Mickey Mouse-shaped beignets or 2 dozen small beignets)
½ teaspoon dry yeast
¼ cup warm water (105°)
¼ cup sugar
2 tablespoons vegetable shortening
½ teaspoon salt
½ cup heavy cream
1 egg
4 cups all-purpose flour
½ cup boiling water
Vegetable oil for frying
Powdered sugar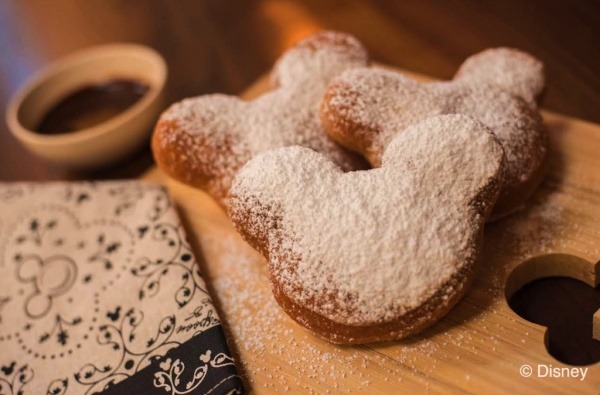 Directions
Sprinkle yeast over ¼ cup warm water in a small bowl, stirring to dissolve. Let stand for 5 minutes.
Combine sugar, shortening, salt, heavy cream, egg, flour, and ½ cup boiling water in a large bowl; stir in yeast mixture. With the dough hook attachment of an electric mixer on medium speed, mix the dough just until combined and smooth. Let dough rest for 30 minutes.
Roll to ¼-inch thickness and cut individual beignets with a Mickey Mouse-shaped cutter or cut into 2 ½ to 3-inch squares. Cover with a towel and let dough rise until doubled in size in a warm, draft-free area, about 1 to 1 ½ hours.
Using caution, heat 3 inches of vegetable oil to 350°F in a deep, heavy pot over medium-high heat. Fry beignets until golden brown, about 2 to 3 minutes, turning as soon as they brown on one side. Remove with tongs and place on paper towels to drain. Dust warm beignets with powdered sugar and serve immediately. Click here for a print-at-home version of this recipe.
And Disney Cruise Line also shared a yummy recipe. If you are looking into a special night for mom and dad, the Palo Chocolate Soufflé is the way to go. While it requires some cooking skills, fear not, the recipe comes with a how-to video. I recommend that you dress up, light candles, and opt for some soothing music. I love Johann Sebastian Bach, and fans will remember that his Toccata and Fugue in D minor was used in Fantasia. And there is always Bella Nota from Lady and the Tramp.
Palo Chocolate Souffle
Ingredients (Serves 6)
3 tablespoons butter, plus more for greasing the soufflé cups
6 tablespoons sugar, plus more for dusting the soufflé cups
1 cup milk
3 tablespoons all-purpose flour
3 tablespoons Dutch-processed cocoa
2 ounces (2/3 cup) semisweet or bittersweet chocolate, melted
4 eggs, separated
Vanilla Sauce (recipe follows)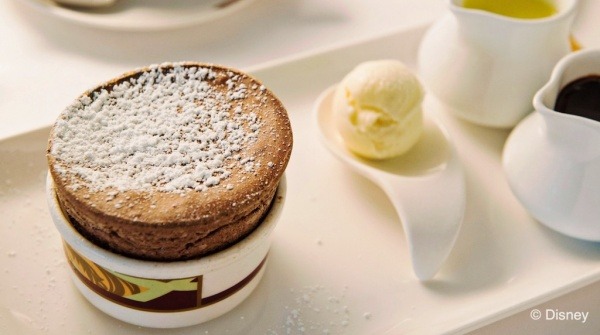 Directions
Preheat oven to 350°F.
Set a full kettle of water on to boil.
Butter 6 (4-ounce) soufflé cups and coat with sugar; set aside.
Bring milk to a boil in a small saucepan. Meanwhile, melt 3 tablespoons butter in a medium saucepan over medium heat. Add flour and cocoa, and beat with a whisk until a smooth, paste-like consistency. Reduce heat and cook for 1 minute.
Slowly add hot milk, whisking until smooth, and then blend in melted chocolate. Let cool for 5 minutes; stir in egg yolks.
Beat egg whites in a separate bowl until frothy. Slowly add 6 tablespoons sugar, 1 tablespoon at a time, until stiff, glossy peaks form. Stir a heaping spoonful of egg whites into the chocolate, and then fold in the remaining whites just until combined.
Pour batter into prepared soufflé cups. Place cups in a large baking dish and add enough boiling water to reach halfway up the sides of the soufflé cups.
Bake for 20 minutes. Serve immediately with warm Vanilla Sauce.
Vanilla Sauce Ingredients
1 ¼ cups heavy cream
¼ vanilla bean, split lengthwise
3 tablespoons sugar
2 small egg yolks
Directions
Bring cream and vanilla bean to a low boil in a saucepan over medium heat.
Combine sugar and egg yolks.
Add 2 spoonfuls of boiling cream to egg mixture and stir well; then pour back into the remaining cream and continue to cook over low heat, stirring constantly, 3 to 4 minutes.
Food is comforting. Until the parks open again, it is nice to bring some Disney magic into our homes. If you try any Disney recipes we would love for you to share pictures of your efforts with us.