This post may contains affiliate links for your convenience. If you make a purchase after clicking a link we may earn a small commission but it won't cost you a penny more! Read our full disclosure policy here.
I want to thank Disney Publishing Worldwide Applications for allowing me to try out this new app for the purpose of the review below.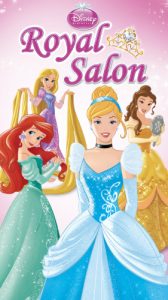 I was recently asked to try out the new Disney Princess Royal Salon app from Disney Publishing Worldwide Applications, and I have to say that if you have a young girl, she will definitely want you to buy this app.  It is like paper dolls on steroids.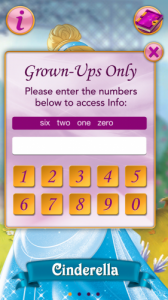 But let's start at the beginning.  The information area of this app is a grown-ups only area.  I think this is a nice touch because your children won't accidentally be stuck over in the more information and advertising area.  This is also where the details of this app are kept.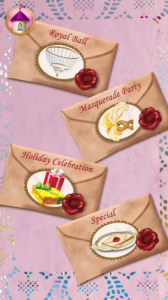 The premise of this app is that each of the above four princesses (Cinderella, Belle, Ariel, and Rapunzel) has received four different invitations.  Your daughter will be able to choose which princess she wants to help get ready and which event to attend.  Your daughter will take the princess through the following four stations:  Hair Styling, Dress-Up, Accessories, and Sparkles.  When the princess is ready, your daughter can send her off to her royal event and even add a picture of the princess to her "scrapbook".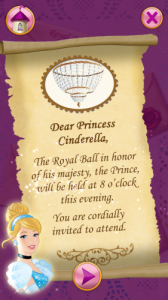 So, I started with Cinderella and the Royal Ball.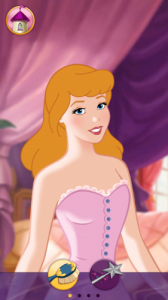 It's easy to sweep Cinderella's hair into an up-do.  This section is limited to a predetermined style and seems to be different for each event.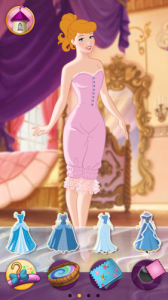 This is the area that I had most fun in.  I was able to choose one of four different dress styles, and then, I was able to change the color and pattern.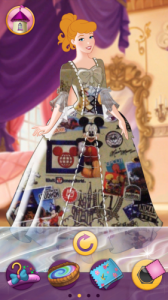 One of the coolest things is that I could use my iPhone camera to insert my own pattern.  What a cool way for a child to make the princess' dress the same pattern as her own!   I didn't take screenshots of the Accessories or Sparkles area.  There were quite a few different Accessories available to choose from.  When one is clicked, it shows up in a blank spot and must be dragged to the correct location.  This is where I had the most problems.  I found the small items hard to drag and line up, but I have a feeling that smaller fingers might have an easier time with this.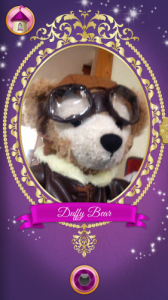 When entering the scrapbook area, I was prompted to personalize it, so the scrapbook became Duffy's.  This just seems like such a cool feature for a young girl to be able to make the scrapbook her own!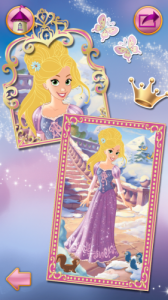 Here is the scrapbook page that was created after I dressed Rapunzel for a holiday dinner.  Your daughter could really fill this scrapbook with a lot of different photos.  With the ability to customize fabric choices for dresses, this app could be a never-ending source of fun for a young girl who loves Disney Princesses and dress-up.
The Disney Princess Royal Salon app is available for iPhone and iPad, but please make sure you have the specific model and iOS version that this is compatible with.  I personally tested mine with an iPhone 5.  This app may seem a little pricey at $4.99, but I think that for all the options available, it is worth it.
Disclosure:  I received the above app free of charge for the purpose of this review.  I received no other compensation from Disney, nor was I required to write a positive review.  All opinions are mine.  
Sponsored Ad:  Would you like to help support The Mouse For Less website in continuing their mission of being THE Disney vacation planning resource?  You can do so by purchasing Disney Princess Royal Salon from our affiliate link.
Incoming search terms:
https://www themouseforless com/blog_world/disney-princess-royal-salon/