This post may contains affiliate links for your convenience. If you make a purchase after clicking a link we may earn a small commission but it won't cost you a penny more! Read our full disclosure policy here.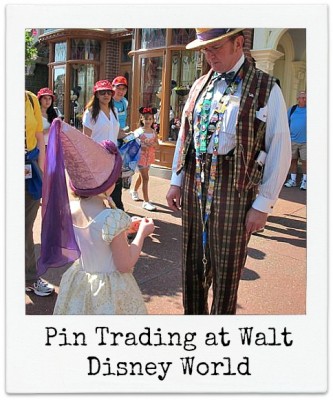 If you've ever been to a Walt Disney resort or theme park, you might have noticed the plethora of shops and displays dedicated to Disney pins. These pins encompass everything from characters to resorts, theme park attractions to special events, and beyond. If you're wondering what's so special about these pins, then this is just the post for you!
Disney pins are sold throughout all of the Walt Disney parks and resorts, and generally range in price from $7.95 to $14.95. Not only do these pins make excellent, cost-effective souvenirs, but they can also be traded for other unique (and sometimes rare) pins. There are Disney cast members throughout the parks and resorts who have pins available for trading. You can spot these cast members by their colorful pin displays – typically worn on a hip lanyard, but sometimes on a corkboard or other object (check out the "pin-ata" at the Coronado Springs gift shop!). There are also "official" pin-trading locations designated on the parks maps.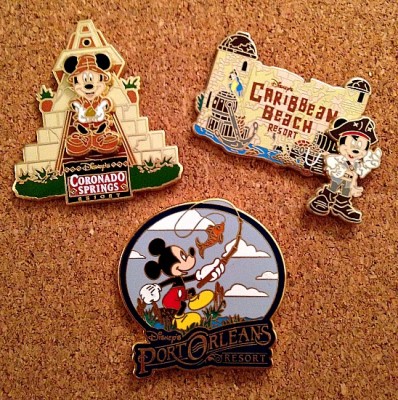 Once you've spotted a pin-trading Cast member, you can trade up to two pins with them. You can trade as many pins as you'd like throughout the day, however the general rule is that you can trade a maximum of two pins per cast member, per day. In order to be deemed "tradable," the pin must have a post-style backing and feature the Disney copyright on the back; buttons cannot be traded. As long as your pin meets all pin-trading guidelines, a cast member cannot decline the pin based on personal preference – they'll accept any Disney trading pin in exchange for the pin of your choice from their selection!
One of the easiest ways to get started on your pin-trading adventure is to purchase a pin-trading starter kit. These kits are sold in most Disney gift shops, and typically include a lanyard and set of 6-10 pins. If you're planning to trade, my recommendation would be to purchase the most inexpensive set available – it doesn't really matter if you're particularly fond of any of the pins that come in the set, as you're going to trade them anyway! This makes it easier to part ways with your newly purchased pins when you spot a must-have, perfectly "you" pin on a pin-trading cast member! Keep an eye out, because more often than not, Disney gift shops will feature a starter set available at a discounted price with a minimum purchase. You can also purchase pins individually, but I'd suggest saving those one-off pin purchases for special souvenir pins that you're planning to keep, as it's typically much pricier than purchasing a set.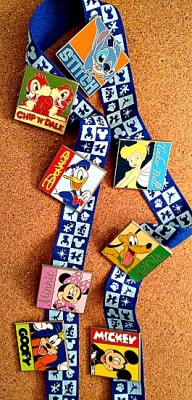 You might find yourself wondering, "Why would I want to trade my Disney pins, when I could just buy them?" and there's a perfectly good reason. As many amazing pins as Disney has for sale, there are even more "Hidden Mickey" pins that are only available through trading. As the name indicates, these pins feature a small hidden Mickey icon somewhere on the face of the pin, and these pins are exclusive to pin-trading cast members. The majority of the Hidden Mickey pins are part of a set, with countless sets available. The challenge is that one cast member will not have an entire set to trade (and even if they did, you can only trade two pins per cast member); so finding all of the pins in your set can take a while! This makes pin trading even more exciting, because you can head out with a goal in mind!
For instance, one of the first pins that I traded for was a Mad Tea Party Teacup with Snow White on it. I thought the pin was really cool, and I had to have it! Once I traded for it, I flipped it over, and saw that it was number 4 of 6 – yes, that's right, there is a whole set of Mad Tea Party Teacup Princess pins! I've since collected 3 of the 6 pins, and still enjoy the fun challenge of trying to find my 3 missing princesses.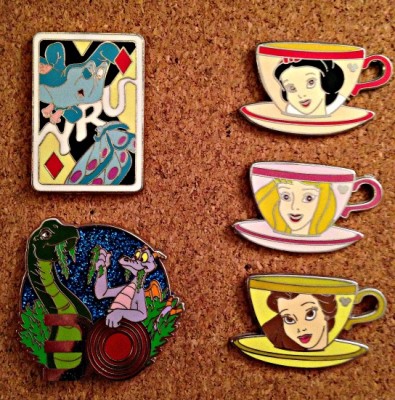 Not all of the pins available for trade are Hidden Mickey pins, since the pin-trading cast members are constantly collecting new pins from guests as part of the exchange. When you're trading for non-Hidden Mickey pins, you can find some rare and exciting pins that are no longer available for sale in the Disney shops. For example, our daughter traded for what we thought to be an odd looking pin with the caterpillar from Alice in Wonderland on it. In the middle of questioning her on her interesting pin choice, she flipped it over and we saw that it was a Limited Edition of 200. As a huge EPCOT fan, Scott was bummed to miss Epcot's 30th Anniversary (and all of the merchandise that came with it), but was excited to trade for an EPCOT 30 pin from Cast Member Scoop Sanderson on Main Street USA a few months later.
Pin trading makes for an exciting activity throughout your time at the parks and resorts, and can help liven up your downtime while waiting in queue or walking to and from attractions. Pin trading is also great for kids – they can choose their favorites and build their own unique collection, which is a rewarding and memorable challenge for all ages. My final recommendation is that if you plan to wear your pins (on a lanyard, a bag, or on your clothing), purchasing locking pin backs is a worthwhile investment. The rubber Mickey head backs that come with the pins have a tendency to fall off, and nothing puts a damper on your day like realizing you've lost your favorite pin!
Now that you know more about pin trading are you planning to try it? Have you traded pins before? Do you have a favorite Disney pin? We'd love to hear your thoughts on pin trading!
Incoming search terms:
https://www themouseforless com/blog_world/disney-pin-trading-101/