This post may contains affiliate links for your convenience. If you make a purchase after clicking a link we may earn a small commission but it won't cost you a penny more! Read our full disclosure policy here.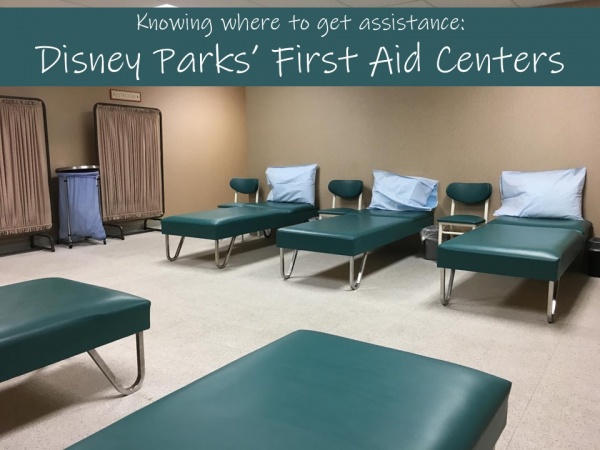 No one really wants to face sickness or injury on their Walt Disney World or Disneyland vacation; however, accidents do happen, and people do get sick. But don't look at this as a tragedy. Revel in the hospitality of Disney. My family is accident prone and an illness magnet. When they come down with an ailment, the first place I head is the Disney Park First Aid Centers.
Finding help when it's needed
Each Disney Park has its own First Aid Center. Each center's clearly marked on the park map. If you can make it to the first aid center, then do so. If your family is experiencing a major injury or illness, seek out the first Cast Member you can find. They will usually be heading your direction anyway, as Disney has an excellent emergency procedure. This includes calling for help if it is needed in case of severe injury. For those sprains and strains, the Cast Member will escort you back to First Aid via a wheelchair (or sometimes a golf cart, depending on your location and which park you are in).
Entering the First Aid Center
If you are being escorted by a Cast Member (this will be a registered nurse who has come to assess your accident), follow their lead and comply with their requests. They are efficient, courteous, and want to get you back out into the park to continue to enjoy your experience as soon as possible.
If you are coming in under your own power and not expected, here's what to expect. As you walk in the door, a Cast Member, who is behind the admissions counter, will greet you. There will be places to sit and a water dispenser in this room.
You will be asked to sign in and to give a detailed account of what is wrong, when it happened, and where. This is when you explain that your child was watching the fireworks and got ash in her eye; or that your husband has been walking a lot more than usual and has developed a painful blister. My favorite is that you have the beginnings of a migraine with visual disturbances. Of course, you can change these up or use your own health problem. You can expect the nurses to be very sympathetic and to know just how to handle these common issues.
What the First Aid Centers can do at the time of emergency:
The First Aid Center can dispense over the counter pain killers, band-aids, and salves for minor injuries. They also have eye irrigation for foreign bodies in the eyes. I found this amazing, but ash in the eye is a common issue after Illuminations at Epcot. My daughter was one of two people to come in after the same performance. The First Aid Cast Members can also wrap joints and help with lost teeth (again, something that is not that uncommon in the parks).
The First Aid Centers cannot dispense pharmaceutical medications, nor do they carry cold and flu medications. They can direct you to the nearest pharmacy. Many of the shops in the hotels carry the basics in over the counter medication including cold and flu tablets.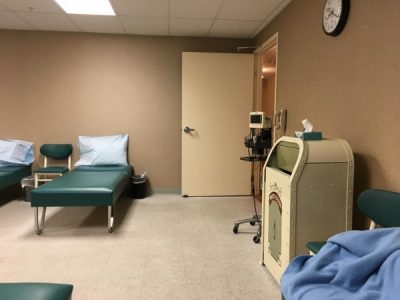 What if it isn't a band-aid fix:
The first aid centers have a bed room. This room is designed for those who have taken ill and need to rest. There are blankets and a loved one can come in with you while you try to recover. The Cast Members check in on you regularly and offer support as they can. In my case, a glass of water and some pain killers followed by a 50-minute nap in the air conditioned bed room got me back on my feet and I was able to enjoy Fantasmic! before heading back to our hotel.
In the case of greater illness, Cast Members will call an ambulance and send you to the local hospital.
Prevention is better than cure:
As wonderful as the Cast Members are at the First Aid Centers, never having need for them is a better use of your Disney time. There are a few things that you can do to decrease your changes of visiting.
Blisters: wear well broken in, supportive footwear. Make sure to wear well-fitting socks and to keep your feet dry. Use preventative foot powder and bring a change of socks in case your feet get wet (I'm looking at you, Splash Mountain). When you get back to your hotel room, remove your shoes and socks. Wear a second pair of shoes, slipper, or flip-flops. Also, consider a foot bath.
Illnesses: obviously, there is only so much you can do to prevent illness when people may be sneezing or coughing on you in the lines; however, good prevention such as washing hands thoroughly before eating and after using the bathroom are always good ideas. We have also made it a practice not to run our hands over the rails in the lines and to wash our hands after playing in the hands-on play areas and interactive attractions at the parks.
Heat exhaustion: heat exhaustion is a common complaint at the parks. Often guests are having so much fun that they forget to take care of themselves and their children to prevent this illness. You are walking a lot, so even on cool days, make sure that you keep your water levels up. Seek out shade and cool areas whenever possible. Try to limit those enticing sugary snacks and drinks. If someone in your party begins to experience headache, dry mouth, profuse sweating, or irritability (not related to the length of the lines), it might be a good idea to take them to someplace where they can cool down, have some pain relief, and a big glass of water.
Low-level Fireworks: As I mentioned above, ash in the eye from the low-level fireworks in Illuminations happens. The best advice given by Cast Members: stand upwind of the fireworks. If during the show, the wind changes and moving location is not possible, looking down and closing your eyes might be the only options.
I hope that you never have need to visit the First Aid Centers at the Disney Parks, but knowing that they are there, how they can assist, and what to expect when you are there, will hopefully ease your concerns about using them. As one of the Cast Members told me after our fourth visit in five days, "We are here to support you. To make sure that you enjoy your time with Disney. We hope that we don't meet you, but if we do, we want to make sure that you have the best disaster experience ever."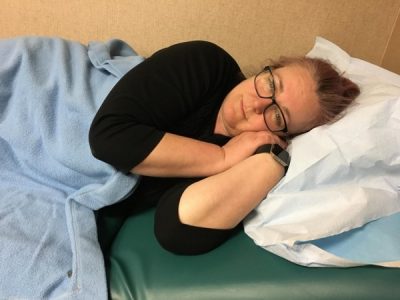 Have you had to make a stop at the First Aid Centers at the Disney Parks before? What are some tips you can share? Share in the comments below or on Facebook or Twitter.
Did you like this article? Make sure to share it with your friends! Check below for easy ways to share!
Want to visit the Disney Theme Parks? Contact The Magic for Less Travel for more information and a free, no-obligation quote.

Incoming search terms:
https://www themouseforless com/blog_world/disney-parks-first-aid-centers/
disneyland first aid
Disneyland first aid room