This post may contains affiliate links for your convenience. If you make a purchase after clicking a link we may earn a small commission but it won't cost you a penny more! Read our full disclosure policy here.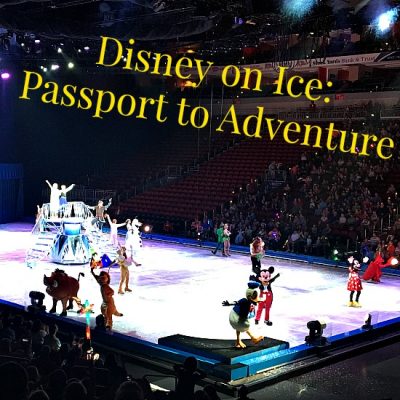 Have you ever considered taking your family (or just yourself!) to Disney on Ice but weren't sure what to expect?  That's exactly how I've felt for a while now!  I always look for ways to get a dose of Disney and I thought this might be perfect for that.  I finally took the plunge and took my two year old son and we were not disappointed!
Know Before You Go
If you're reading this blog then I'm guessing you're the kind of person who likes to plan ahead.  So here are some things you should know before buying tickets and getting to the venue!
Disney on Ice produces several different shows.  Currently there are five different shows listed on the website.  Before you buy tickets, make sure the show you're considering fits your party's interests.  For example, I have a two year old boy who really isn't interested in princesses, so I wanted to make sure our show wasn't too princess-heavy.  You can read about each show by clicking on the title on the Disney on Ice website.
Everyone in your party aged 2 or older will need a ticket to the event.  Children younger than 2 can attend for free as long as they sit on your lap.
The shows last about 2 hours in total (including a 15-20 minute intermission).
There are occasionally discounts on tickets for Walt Disney World annual passholders.  The last time this was offered was in the winter of 2015, but always check to be sure!  You can check on your Annual Passholder home page or the most recent Mickey Monitor to see if a discount is offered.
Consider bringing a jacket.  The show we attended was held in a very large basketball stadium so we didn't necessarily need them.  But if your show is in a smaller venue (or if you're close to the ice) you may need it!
Most tickets are very reasonably priced – but make sure to bring some extra cash for all the souvenirs your kids will beg you to buy!  The light-up, spinning Olaf toy I bought for my son cost nearly as much as both of our tickets combined!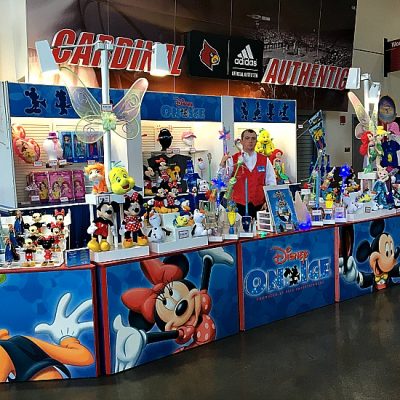 Passport to Adventure
The show we attended was Passport to Adventure.  The general premise is that Mickey, Minnie, Donald, Daisy and Goofy are traveling around the world to find adventure!  In the process, they make their way through four different Disney movies.  In each location, they meet characters from those movies who go through several iconic songs with plenty of fun ice skating tricks thrown in!
The show opened with an "it's a small world" segment.  The performers were dressed in costumes that resembled the dolls from the attraction and they skated to the iconic song!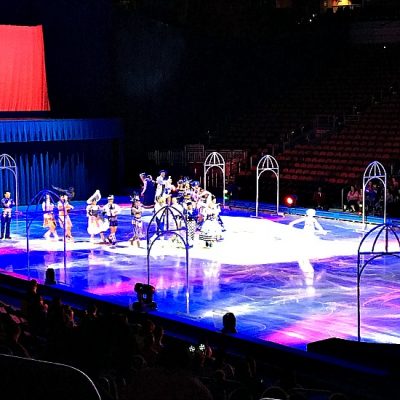 The Lion King
After the "it's a small world" segment concluded, Mickey and friends came out and told us our first destination – Africa!  In Africa we met Pumbaa, Timon, Simba and Nala and they performed a few songs for us.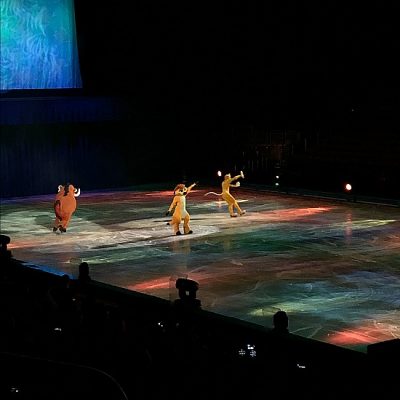 Peter Pan
Mickey and friends came out again after the Lion King segment to let us know that our next destination was London!  We visited the Darling family at their home then travelled to Neverland with Wendy, John, Michael and Peter Pan.  In Neverland we met the Lost Boys and even had a showdown with Captain Hook himself!  The pirates in this section were probably my son's favorite part of the entire show.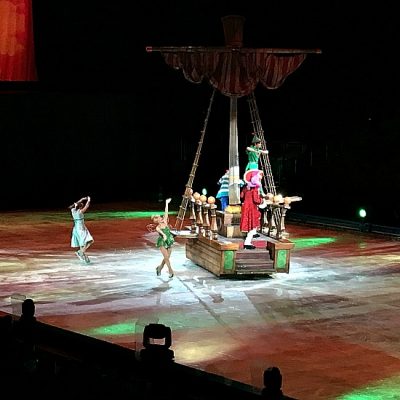 The Little Mermaid
After we defeated Captain Hook, we had a 15-20 minute intermission.  When we came back Goofy told us he really wanted to visit the beach, so off we went!  At the beach we met Ariel and all her friends – we even got to meet Prince Eric!
Frozen
Mickey and friends got a little hot while visiting the beach, so to cool off we travelled to Arendale!  Anna, Elsa, Kristoff, Olaf and Hans performed several songs for us during our visit.  My son and I were a little disappointed that neither Sven nor the trolls made an appearance, but this part was definitely a fan favorite!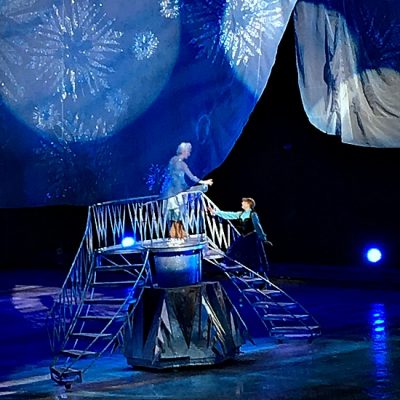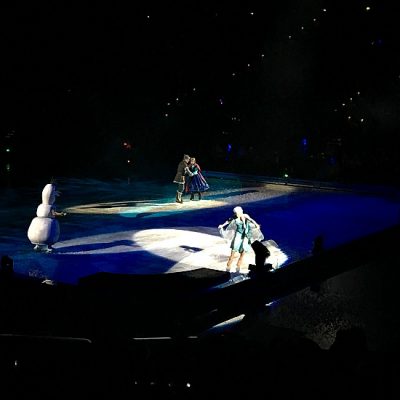 Finale
At the very end of the show all of the main characters from each scene came out at once!  This was a great way to end the show since all the kids got to see their favorite characters one more time.  There were some pyrotechnics during the finale (that shot down from the ceiling).  My son loved them, but if your child is a little skittish you may want to be prepared.
After attending one Disney on Ice production, I would absolutely go back!  It's a great value for Disney-quality entertainment.  If it seems like something your child would enjoy, check the schedule to see when a show is coming to a city near you!
Have you attend a Disney on Ice production? What did you think? Share your tips and thoughts in the comments.
Did you like this article? Make sure to share it with your friends! Check below for easy ways to share!
Incoming search terms:
disney on ice passport to adventure 2018
https://www themouseforless com/blog_world/disney-on-ice-passport-to-adventure/