This post may contains affiliate links for your convenience. If you make a purchase after clicking a link we may earn a small commission but it won't cost you a penny more! Read our full disclosure policy here.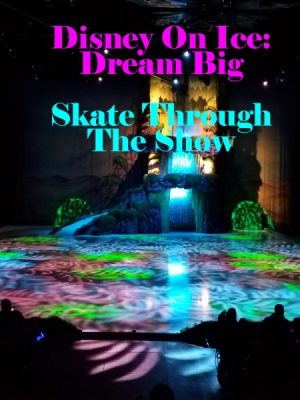 Is it hard for you to get to Disney? Is your magical trip not for a few years?  Skate along with us as we experience the magic through Disney on Ice.
Getting down to Walt Disney World can be difficult when living in Iowa.  This means we try to find magic whenever we can.  Each year we have the opportunity to see Disney On Ice.  This year the focus was Dream Big.  A great message for all dreamers both young and old.  Come along for the adventure as we skate through Disney On Ice.
Guests are welcomed to the show by Tinker Bell, Mickey and Minnie.  Together they introduce the theme of dreams, adventure and heroes.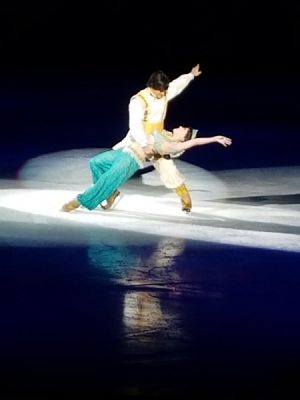 Aladdin and Jasmine
Aladdin is the first adventure of the night.  Along with Abu, Aladdin tries to escape the streets of Agrabah.  With the wishes from the Genie, Aladdin captures Princess Jasmine's heart.  Together they see the world as they skate along together dreaming big.
Snow White and her prince
Head to the wishing well with Snow White as she dreams of a prince.  Sing along with the seven dwarfs as they dig in the mines for jewels.  You will then see Snow White's dream come true as her prince comes to her and the skate the night away together.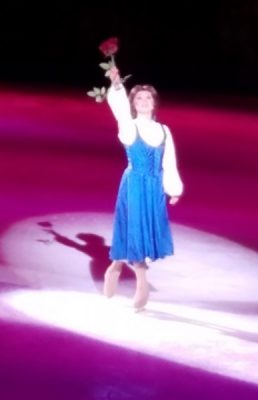 Belle
Belle dreams of an adventure bigger than her village.  She becomes a guest at the castle where they encourage her to continue to dream big and choose adventure.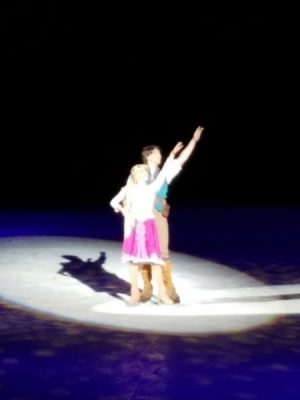 Rapunzel and Flynn
Travel along with Finn and Rapunzel as she goes on an adventure of lifetime.  Escaping the tower walls, Rapunzel is able to see the floating lanterns of her dreams finally up close.  Through this experience she is able to realize that there is more to life than what she ever knew possible.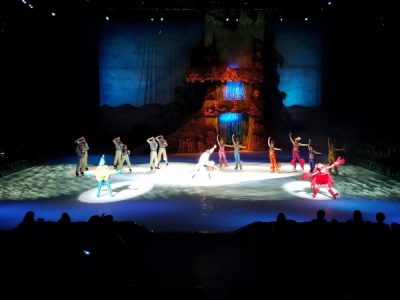 Celebrating a win with Ariel and Eric
Discover the dreams of both Prince Eric and Ariel as they strive to experience more than what their world provided.  As Eric dreams of more than being a prince and Ariel wants to experience that land beyond her ocean waters.  When their worlds come together, their hopes and dreams come together to allow them to defeat Ursula and keep Ariel human.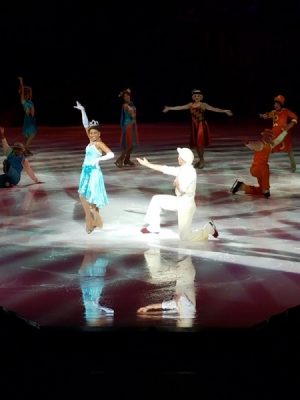 Get up and dance with Tiana
Get up on your feet as Tiana and Prince Naveen dance to the beat.  Dream along with Tiana as she works hard to make her dream of a restaurant of her own come true.
Maleficent 
Beware though, as with every dream comes those that will try to stand in the way.  Aurora was so close to finding her prince but Maleficent stood in the way.  A fire breathing dragon comes to life on the ice as it attempts to stop the prince from getting the Aurora.  With great perseverance and a little help from some fairies, her prince is able to overcome the obstacles and kiss her awake to her dream.
Cinderella's dream to go to the ball comes true even if it is just for a short time.  She enters the floor in a beautiful carriage that sparkles along the ice.  Dance along with Cinderella and Prince Charming as they discover love in one another.
Two sisters come together in the final story of the evening both will different dreams.  One dreams of seeing the outside world and opening the gates of their kingdom that have been closed for so long.  The other sister dreams that her secret will be safe from those around her.  Travel with Anna and Elsa the sister of Arendelle as they experience pain, fear, snow and finally true love.  Throw in some warm hugs from Olaf, a joke or two from Kristoff and it is a perfect way to end the show.
Tinker Bell
To wrap up the show, Tinker Bell, Mickey and Minnie brought back all of the princesses for one final spin on the ice.  This was a magical way to see all the princesses and princes together as they skated around for the audience to take in the magic one last time.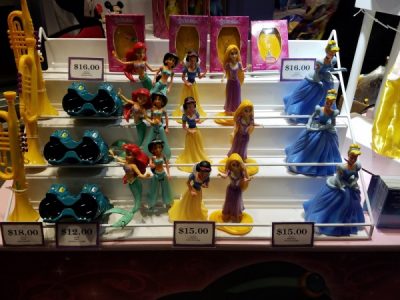 Toys for sale
If you are wanting to take some of the magic home with you, there were numerous options for souvenirs.  You could purchase a program that would capture the moments of the show for your with photos or you could grab a snow cone in a magical princess or Mickey cup to take home.  From plush dolls and t-shirts to toys, crowns and swords there was something for every princess and prince that stopped by the store.
More souvenir options
a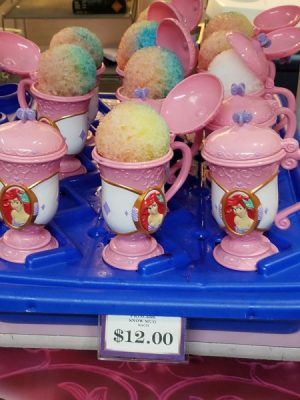 Delicious icy treat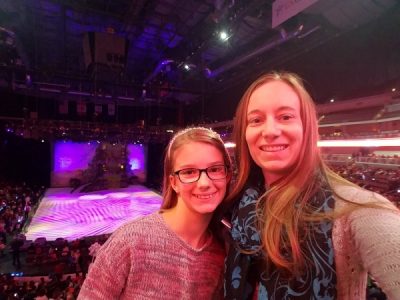 Enjoying some Disney Magic in Iowa
If heading to Disney is hard for you to do, look for those options close to home that might help bring the Disney magic to you.  Disney On Ice:  Dream Big was a magical experience that helped fill that Disney spot for a little longer.
Have you been to a Disney on Ice show? Share your thoughts in the comments.
Did you like this article? Make sure to share it with your friends! Check below for easy ways to share!