This post may contains affiliate links for your convenience. If you make a purchase after clicking a link we may earn a small commission but it won't cost you a penny more! Read our full disclosure policy here.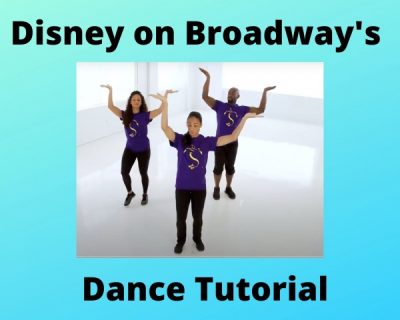 Dancers from Aladdin on Broadway teach the choreography to Arabian Nights
These days, we're all spending more time than we'd like to in front of a screen. But what if you could use that screen time to get up and get moving, and enjoy some Disney magic while you're at it?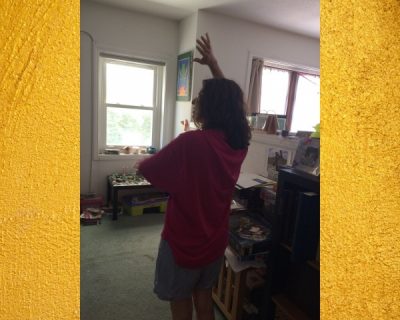 Learning the arm movements
Disney found a way to help us do just that. In a series of videos, Disney on Broadway will teach you the choreography from some of the dance sequences in their hit shows.

In the video we tried, a dance captain, Nikki Long, leads a 17 minute video in which she shows us the choreography for the Arabian Nights sequence from Aladdin. My daughter and I watched this on our television in our living room so that we'd have plenty of room to dance.
Keep in mind that I am not a good dancer. I've sung all my life, and even when I was cast in musicals, directors found interesting ways to exclude me from the dance sequences. ("Uh, in this scene, Connie is not at the big dance. She's, uh, in the library…studying.")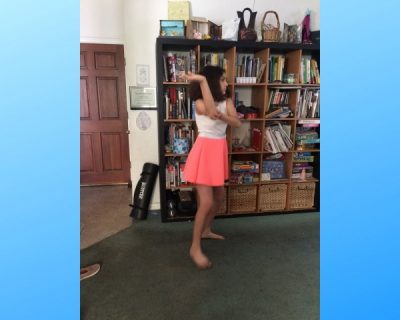 run-through of the first half
But in the name of family togetherness, and to show my daughter that I'll try things even if I don't think I'm good at it, I agreed to dance along with her. The very first thing you'll see in this video is the sequence we're about to learn as it was performed on Broadway. (Onscreen, it looks like such a short sequence – basically the chorus of Arabian Nights to the end of the song, which is maybe a minute long. But actually learning the dance takes a long time!)

Next, we're encouraged to wear comfortable clothing (check) and to put on sneakers. Well, my daughter tried it in sneakers and it felt uncomfortable. We were on carpet, so we decided to try it barefoot, and it worked for us. If you're going to do this on a hard floor, I'm sure that athletic shoes or dance shoes will be more comfortable.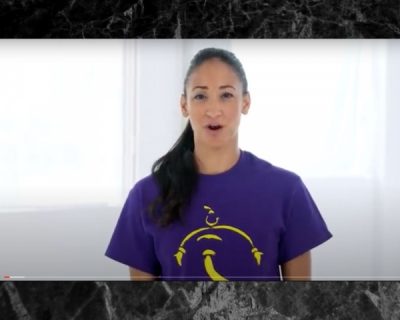 Nikki Long, our dance captain
Ms. Long takes her time in this video, repeating the dance moves often, and taking things step by step. First she shows us how to move our feet for a certain move, and only when we'd repeated that a lot does she add the arm movements.

Two other Broadway dancers from the show, Jennifer Rivas and Donald Jones, stand slightly behind Ms. Long and do every move that she does. They break down the dance into smaller segments, and Ms. Long says the lyrics to the song as each move is performed so you get an idea of the timing.

Afterwards, we put the whole thing together to music. Throughout the entire video, we are encouraged to not stress about not getting the moves right; the object is to get up, get moving, and have fun.
Have you done one of these tutorials? What did you think? Share in the comments or on Facebook or Twitter!
Did you like this article? Make sure to share it with your friends! Check below for easy ways to share!  
Want to visit a Disney Destination? Contact The Magic for Less Travel for more information and a free, no-obligation quote.

Incoming search terms:
How to Dance (Disney)
https://www themouseforless com/blog_world/disney-on-broadways-dance-tutorial/