This post may contains affiliate links for your convenience. If you make a purchase after clicking a link we may earn a small commission but it won't cost you a penny more! Read our full disclosure policy here.
From Our Magically Speaking Newsletter Archive – subscribe today!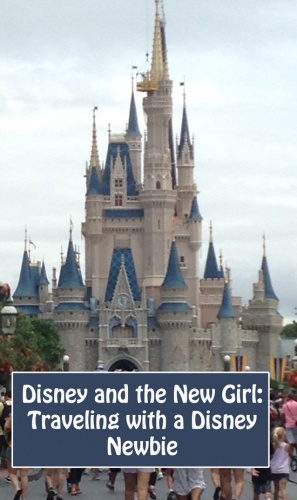 By Roye Ann Morris
One of my favorite things to do is to make a visit to Walt Disney World with someone who has never been, or who hasn't been in many years. As 2015 begins, our family is again planning a trip with a friend who has not been to the parks since she was a young girl. After taking a friend last year who also had not visited in quite a long while, I came up with a list of some do's and don'ts when planning a trip with a relative "Disney Newbie"! Here are a few things I wish I had thought of before we were in the middle of our vacation!
DO discuss your vacation style with one another before leaving! Maybe multiple times. My best friend and I knew a lot about each other, but having never taken a trip before, we didn't really know anything about how we approached vacations. My style, especially at Disney, is to pack as much into every day as possible. I assumed that she would want to see as much as possible since she had not been to the parks in so long, and there were so many new attractions to see. I discovered while we were in Magic Kingdom on our third day that she was much more laid-back than me (it only took me three days!), and had to readjust my expectations. If we had talked about that before the trip, my plans would have been much different, and the disappointment I had to deal with over not riding every ride and seeing every show would have been alleviated.
DO make your plans for rides and restaurants together, even if your friend says she is confident that you will make perfect plans without her input! I know a lot about Disney, but I knew very little about what type of rides she would be interested in, or what foods she would like to eat. I planned our day at Hollywood Studios around riding Toy Story Midway Mania, only to find out as we were getting in line that my friend has vertigo issues! Because we had already ridden Star Tours, she was unwilling to risk ruining the rest of her day by riding Toy Story. As this is my absolute favorite attraction at Hollywood Studios, I was terribly disappointed. You definitely don't want mistakes like that to spoil your day!
DO discuss in depth your likes/dislikes when it comes to how to spend your day at the parks. My friend had requested having afternoon tea at the Grand Floridian, so I had made reservations on the day we were spending at Magic Kingdom. My plan was to spend the morning hitting all the rides, then count tea as our late lunch. After a few rides, my friend made it clear that Magic Kingdom was not her favorite(how did we not talk about that before our trip??), and that she would rather spend several hours at the Grand Floridian shopping and people watching while waiting for our reservation time. Again, I had to readjust my expectations of the day, and spent a few minutes feeling resentful about all the rides I was not getting to ride. In the end, afternoon tea was lovely, but communication about expectations would have made the day much different.
DON'T forget to share the things you know about crowd levels, eating times, and food choices. My friend was happy to let me make restaurant reservations, but I didn't think to tell her that eating meals early to avoid crowds was wise, so our counter service meals were a little hectic. Next time we will talk about ALL meals before we hit the parks, not just the table service ones!
DON'T let your friend wear flip flops to the park in February if you are coming from a city where it's cold and you haven't worn them for three months! My friend lives in flip flops all spring and summer, but walking around Magic Kingdom in them after not wearing them for a while caused a major blister on her toes, and we spent an hour walking back to the First Aid Station and waiting in line for BandAids. Which leads me to my next point….
DON'T walk all the way back to the First Aid Station if you just need BandAids! When we stopped to ask a cast member where the First Aid Station was, he told us that every shop has them behind the counter; you just have to ask for them. This was news to me! There is a charge if you get them at a shop, while at the First Aid Station they are free, so you have to consider whether it is more important to save the few dollars or to save time. On the plus side, the nurse at the First Aid Station was very kind, and there was a nice area to sit down in the quiet and let my friend rest her feet.
DON'T forget to plan some things that you love to do, even if they might not be tops on your friend's list. I got caught up in wanting to do everything that I thought she would like, and didn't plan on doing any of the things that are usually "must do's" for me. After all, you are both there to have fun!
DO plan some down time when you are not in the parks. Although we were sharing a room, it was large enough that we didn't feel crowded, and it gave us valuable time each evening to be in our own space, even if it was just our separate sides of the room! You don't have to be doing something every single minute, and the quiet time each night made the next morning easier.
 DO share your 'getting out the door' routine. It may seem silly, but knowing how your travel companions approach getting ready in the morning is important. My friend and I are polar opposites in this respect. I like to get up a little early, have coffee and breakfast in the room, and have a few extra minutes to do make-up and hair. My friend is the jump-out-of-bed, grab-a-protein-bar-and-go type of person. Had I known that, I wouldn't have stressed over whether to wake her up so we would be out the door on time!
And last, and to me, the most important:
DO share all your love for and knowledge of the parks with your "Newbie", but DON'T get your feelings hurt if they don't seem interested in everything you are sharing. The parks can be overwhelming on your first trip, but all the things they see and hear will come back to them as they think back over their trip and have time to process all the information. We still talk about our trip and laugh over the missteps and mistakes, but we would go again if we had the chance!
Introducing "Disney Newbies" to the wonderful world at the Disney parks is one of my favorite things to do! Hopefully some of these tips will make any trip with a Newbie a vacation to treasure!
Magically Speaking Featured Article
Library of Congress ISSN:1556-3863