This post may contains affiliate links for your convenience. If you make a purchase after clicking a link we may earn a small commission but it won't cost you a penny more! Read our full disclosure policy here.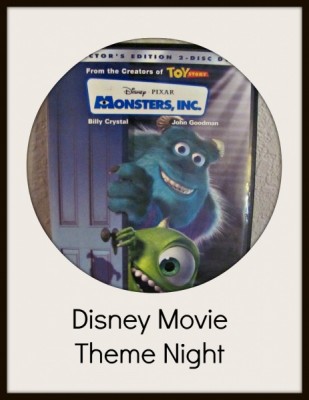 What exactly is a Disney Movie Theme Night?  If you ask my kids, they'd tell you it is one of their favorite things that needs to happen more often.  For me, it's a great way to gather our family together for a night of fun and memories.  A Disney Movie Theme Night is a whole evening of fun activities and food that compliment a chosen movie.
The first step of throwing a movie night, begins with picking a movie.  For this post, I chose Monsters Inc., as this is a family favorite that we hadn't watched in a few months.  Now with a movie in mind, it was time to come up with some crafts or fun games we could do.  I also had to think about how I could incorporate the theme into our dinner and dessert.  If you need some inspiration, do an internet search and then adjust the suggestions to fit your family.
Once I had a plan in mind, I needed to decide when we would do this.  I chose the Saturday before Easter so we could include the egg coloring into the plans.  With my husband on board, we gathered and shopped for the items we would need to have for our first movie night.
Saturday arrived and I put up the schedule and also the Laugh Meter for the kids to see.
#1: Randall's Color Changing Eggs
I set up the table for egg coloring by putting down newspaper for spills, getting the egg dye put in glasses and then spoons for getting the eggs out of the glasses.   I called the family out to the table and the egg coloring began.  Each kid was given 6 eggs to color.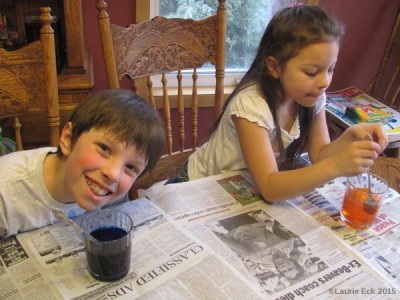 When we were done, the kids helped me clean off the table so we could move onto the next activity.  Time to check our Laugh Meter and we colored in some of it.
#2:  Dinner
We had Boo's Baby Meatloaf (meatloaf cooked in muffin pans), Mr Waternoose's Lumpy Grumpy Potatoes (mashed potatoes with skins on & left lumpy), Sulley's Sauce (applesauce with blue food coloring added) and Celia's SSSsssoda (any soda).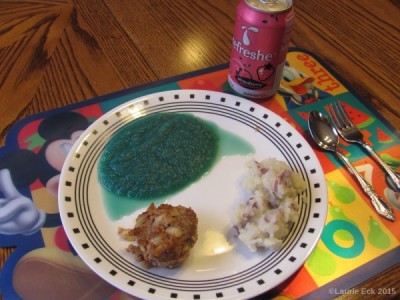 The kids thought the blue applesauce was weird, but it didn't keep them from eating it.  We finished our meal and added colored more in on our Laugh Meter.
#3:  Monster's Inc. Movie
Time to sit down and watch the movie.  I'm a fan of the Pixar division of Disney and really like this movie.  I fell in love with Sulley, the large, blue, fuzzy monster and his best friend Mike, the round, green, one-eyed monster.  Sulley & Mike make up the #1 Scare Team collecting screams that power Monstropolis.  The two friends are put to the test as they help Boo, a human child, get back home.  The movie is full of jokes and gags that will keep everyone laughing.  Make sure you watch all the way through the credits.  We checked our Laugh Meter, when the movie was over, and filled it in more.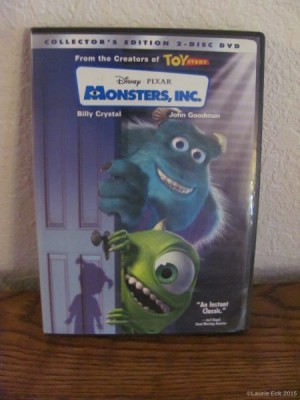 #4:  Roz's Paperwork
I set up the table with paper, crayons, dice and pre-made slips of paper with different features written on them. (arms, legs, eyes, noses, mouths, horns and ears).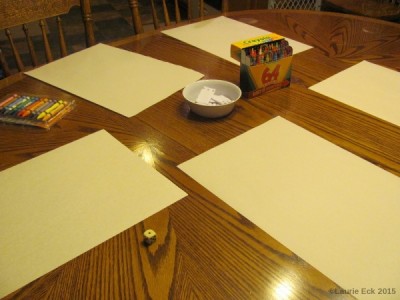 The family joined me and I explained that we would be drawing a monster.  First thing to do is draw a body shape…..nothing else.  Each person can have a dice (or you can pass one around) and then I chose a slip of paper to see what we would be adding to our monster.  Everyone rolls the dice to see how many of that feature they would have to draw onto their body shape.  So if I pulled horns, the first person would roll the dice.  Let's say they got 4, they would draw 4 horns.  The next person would roll and they got 1, they would only draw one horn.  This continues until everyone has rolled the dice.  After everyone has added the horns, you pull the next slip of paper and start the dice roll around the table again.  Continue doing this until you've added all the features to your monsters.  Since everyone is going to roll different numbers, this will make every monster unique.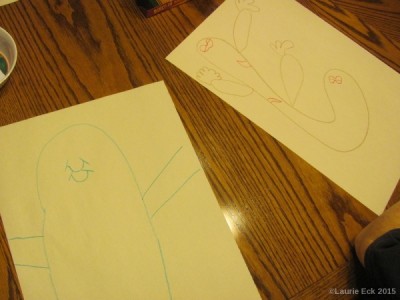 We displayed our masterpieces for about a week, which was a great way to remember our fun night.  We checked our Laugh Meter and we were getting close to having our tank full!
#5:  Mike's Monstropolis Sundae
I set up the table with a large bowl filled with vanilla ice cream, a large dish with different candy toppings, chocolate syrup, caramel syrup, whip cream and individual bowls and spoons.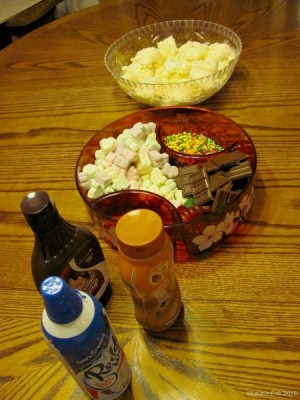 This sundae is over the top and the kids reactions when they realized they were going to be adding all these different things to the bowl was priceless.  Each person got to add an item.  We started with the chocolate syrup, then the caramel syrup and then the kids picked Swedish Fish, Nerds, Gummy Life-Savers, Hershey Chocolate Bar pieces and marshmallows to add to the bowl.  We then topped the concoction off with an entire can of whip cream!  The kids laughed and licked their lips in anticipation of tasting their creation.
We served everyone a bowl of the sweet sundae and even with our two grown sons joining us for dessert, we were unable to eat it all.
After dessert, we checked the Laugh Meter one last time.  It was full (and so were the rest of us)!!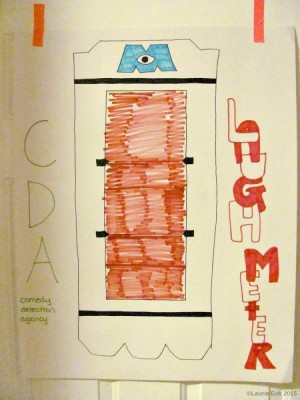 We had a very fun night and it was a great way to spend quality time with our children.  The kids still talk about our first theme night and look forward to being surprised by another one in the near future.
What movie will inspire you to try this at your home? Have you ever done a themed movie night before? What are your tips?