This post may contains affiliate links for your convenience. If you make a purchase after clicking a link we may earn a small commission but it won't cost you a penny more! Read our full disclosure policy here.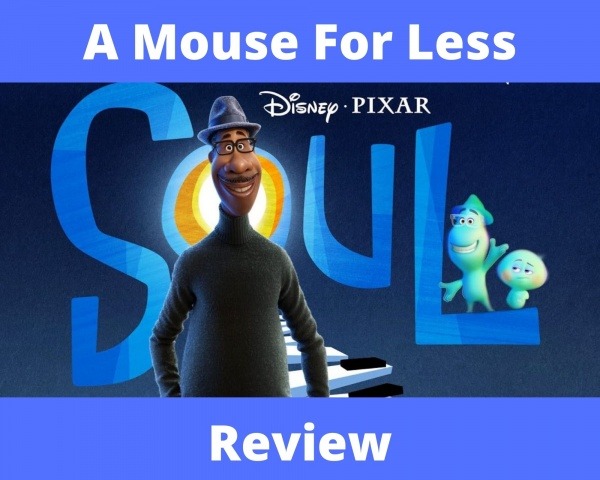 Now Streaming on Disney +
Did you ever think to yourself "Why am I the way I am?" Or maybe "What's more important: nature or nurture?" Or perhaps, like me, you find that you have to stop doing something that you always felt was your life's purpose because of the pandemic, and you can't help but wonder "Who am I if I can't do this one thing?"

These are questions that philosophers have been asking since recorded history. And the newest film from Pixar, Soul, now streaming on Disney+, also asks it. And instead of giving us pat, easy-to-digest answers, it lets a beautiful story unfold.

The story begins earlier than you might think, with an out-of-tune middle school band playing the iconic "When You Wish Upon a Star" opening that always accompanies the Disney logo. From there, we meet this middle school band, along with their teacher, Joe Gardner (voiced by Jamie Foxx). Joe has not given up on his dream of becoming a professional jazz pianist, but he takes a part-time job at a middle school to pay the bills.

When Joe gets the chance of a lifetime to gig with one of his jazz idols, he is overwhelmed with happiness. So much so, in fact, that he accidentally walks right into an open manhole and plunges to his death.

Dark? Nah. This is Pixar.

Joe finds himself on his way to the Great Beyond, where souls find their final resting place. But through a series of mishaps, he also finds himself to the place where brand new souls are trained for their eventual journey to Earth. He finds himself in charge of Soul #22 (voiced by Tina Fey), an especially recalcitrant soul who has absolutely no desire to go to Earth.

To say anything else about the plot would ruin your own experience of Joe and 22's journey, but suffice to say they both have life-changing experiences that fill them with awe, wonder, and new sense of who they are.

Since Joe is a jazz musician, I have to point out how great the music is in this film. The jazz music was written by Jon Batiste, better known to many audiences as the bandleader for The Late Show with Stephen Colbert. The ethereal, new-age sounding music of the realm of souls was written by Trent Reznor and Atticus Ross, both from Nine Inch Nails.

I cannot remember the last time I saw a film that was so thought provoking and made me look at my life in such a contemplative way. It is uplifting without feeling sappy, inspiration without being preachy, and feels very authentic.

Once you are done with the film, be sure to see the Extras that are attached to it. Here, you can watch directors Pete Docter and Kemp Powers, along with writer Mike Jones, talk about the settings for the film. You also get a glimpse into the music making and meet the voice cast, who talk about how they connected to the story.

Soul is a film for the entire family, a film that makes you realize that animation is fully capable of asking huge questions and showing us a different way to view our world.
Have you seen Soul yet? What did you think? Share with us your thoughts in the comments or on Facebook or Twitter!
Did you like this article? Make sure to share it with your friends! Check below for easy ways to share!  
Want to visit a Disney Destination? Contact The Magic for Less Travel for more information and a free, no-obligation quote.

Incoming search terms:
https://www themouseforless com/blog_world/disney-movie-review-soul/