This post may contains affiliate links for your convenience. If you make a purchase after clicking a link we may earn a small commission but it won't cost you a penny more! Read our full disclosure policy here.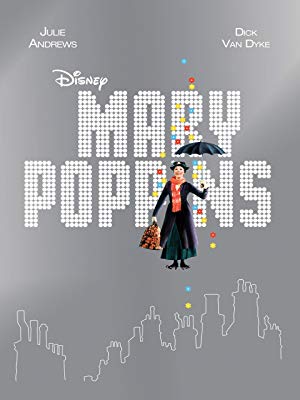 Based on the first four installments of P. L. Travers's eventual eight-part Mary Poppins book series, Disney's Mary Poppins was theatrically released on August 27, 1964. The live action-animation hybrid musical adventure, deemed by many the magnum opus of Walt Disney's filmmaking career, is 139 minutes in length. A live action drama depicting the true story of Walt Disney's prolonged struggle to obtain film rights for Mary Poppins from Travers, Saving Mr. Banks, was theatrically released in the United States on December 13, 2013; a sequel to the original film, Mary Poppins Returns, was theatrically released on December 19, 2018.
Glory
Mary Poppins marked the Disney debuts of both Julie Andrews and Dick Van Dyke and is notable for the brilliant soundtrack of Richard and Robert Sherman. Andrews's portrayal of Mary Poppins earned her the Oscar for "Best Actress" at the 37th Academy Awards on April 5, 1965, and the Sherman Brothers concurrently secured Oscars for "Best Song" ("Chim Chim Cher-ee") and "Best Music Score—Substantially Original." On that same night, Peter Ellenshaw, Eustace Lycett, and Hamilton Luske shared an Oscar for "Best Special Visual Effects," and Cotton Warburton earned an Oscar for "Best Film Editing." The five Academy Awards won by Mary Poppins remain a Disney record. As of 2019, only one other Disney movie, Touchstone Pictures' Who Framed Roger Rabbit (1988), has garnered as many as three Oscars.
Mary Poppins was the last Disney film to be nominated for "Best Picture" at the Academy Awards until Touchstone Pictures' Dead Poets Society received said nomination in 1990, and it was the last Disney film that incorporated animation to receive a Best Picture nomination until Beauty and the Beast in 1992. These three films lost the Best Picture Oscar to My Fair Lady, Driving Miss Daisy, and The Silence of the Lambs, respectively.
At the time of its release, Mary Poppins's 139-minute run time was the longest run time for any Disney film, surpassing the 134-minute length of Pollyanna (1960). Mary Poppins's record in this regard was broken by the extended versions of The Happiest Millionaire (1967), which ran to a minimum of 144 minutes.
Securing the Rights
Walt Disney first seriously attempted to secure the film rights to Travers' Mary Poppins books in December 1944 after witnessing his daughter Diane laughing through and enjoying them. Disney promised his daughter that he would make a Mary Poppins film, but Travers refused Disney's repeated requests until 1959, when she was enduring financial and personal turmoil. Even then, Travers demanded and received script approval rights, an agreement that threatened to derail the project until the night of its release. (1)
Plot Summary
In 1910 London, the Banks family of 17 Cherry Tree Lane, which consists of father George Banks (David Tomlinson), a banker at the Fidelity Fiduciary Bank; mother Winnifred Banks (Glynis Johns), an active suffragette; son Michael Banks (Matthew Garber); daughter Jane Banks (Karen Dotrice); maid Ellen (Hermione Baddeley); and cook Mrs. Brill (Reta Shaw), seemingly endures a disastrous setback when Michael and Jane's nanny, Katie Nanna (Elsa Lanchester), quits because of the children's insubordination. Nanna is the sixth nanny in four months to quit the job. Desperate to procure a nanny that will maintain a firm hand with the youngsters, Mr. Banks, who seemingly cares more about money and traditional deference than about his children, prepares an advertisement calling for a strict nanny. Concurrently, however, Jane and Michael create an advertisement of their own, which, in contrast to their father's criteria, requests a nanny that will let them have some fun. Mr. Banks destroys the latter advertisement and throws the shredded paper into the fireplace, but the pieces miraculously amalgamate and ascend, and a nanny that fills the children's desires, Mary Poppins (Julie Andrews), comes to apply for the job. As the other applicants had been literally blown away in a sudden wind change, Mr. Banks has no choice but to hire Mary Poppins.
Upon her employment, Mary Poppins indeed has fun with the children. For example, the nanny, Michael, and Jane, along with the enthusiastic street performer, artist, and chimney sweep Bert (Dick Van Dyke), explore whimsical locales, such as an animated fantasyland and the home of Poppins's eccentric Uncle Albert (Ed Wynn). The children still have to complete their chores and take medicine, but Mary Poppins makes even these dreadful activities tolerable.
Unfortunately for all involved, however, Mr. Banks becomes disgusted with the suddenly cheerful disposition of his household, and the children fear that Mary Poppins will be sacked. Will this "practically perfect" nanny keep her job long enough such that Mr. Banks becomes as happy as the rest of his family?
As the Mary Poppins books largely consisted of vignettes connected only by the leading role of Mary Poppins, Disney needed to find a way to create a coherent plot. This relevant thread would arise from the distant nature of the Banks parents and the resulting importance of the title character in fostering happiness for Jane and Michael. (2) Additionally, the setting of the story was moved back about twenty-five years, from the Great Depression-era to the Edwardian era; this change in setting facilitated many of the film's grandiose dance numbers and songs, most notably "Sister Suffragette," whose content would have been anachronistic in the 1930s. (3)
Mindset
As expressed in the song "Spoonful of Sugar," many aspects of life are what you make of them. A mundane task such as cleaning one's room, for example, can be tolerable and even fun if you ponder positive thoughts. Similarly, although wealth can lead to happiness, money does not guarantee happiness. Thus, the wealthy Mr. Banks is often depressed, while the poor Bert is always happy. Order and deference are important aspects of society, but you have to have fun sometimes; you have to laugh sometimes…though perhaps not to the extent that Mr. Dawes Sr. (Dick Van Dyke) does in the film's closing moments.
Casting
Walt Disney hit a proverbial home run by casting Dick Van Dyke as Bert and Julie Andrews as Mary Poppins, but both choices were risky, for Van Dyke had only appeared in one full length movie—Columbia Pictures' Bye Bye Birdie (1963)—previously, and Andrews had never appeared in such an effort. (4)
Disney decided to include Van Dyke in Mary Poppins after reading an interview where the actor bemoaned the dearth of family-oriented movies, which were, of course, Disney's specialty. (5) Interestingly, Van Dyke was not satisfied with merely portraying Bert. In addition to that major role, Van Dyke insisted on also filling the minor role of Mr. Dawes Sr., the chairman of the bank, and he paid Walt Disney $4,000 for the honor. (6) Van Dyke was named a Disney Legend in 1998.
Although Van Dyke's performance was great overall, it was not, like Mary Poppins, "practically perfect in every way." His attempt at a cockney accent was flawed at best and is often considered among the worst executions of an accent in the history of cinema. (7)
Prior to casting Andrews as Mary Poppins, Walt Disney had considered Bette Davis, Mary Martin, and Angela Lansbury for the role. Glynis Johns, who Walt Disney wanted to play Mrs. Banks, was not seriously considered for the title role, but miscommunication convinced Johns that she was going to play Mary Poppins. Disappointed though Johns was, she agreed to play Mrs. Banks if she could have a musical number. The song "Sister Suffragette" was written for this purpose. (8)
Andrews, who was named a Disney Legend in 1991, first came to Disney's attention after her appearance on the March 19, 1961 episode of the "Ed Sullivan Show." On that episode, Andrews sang "What Do the Simple Folk Do?" from the hit Broadway musical Camelot, a performance that impressed both Disney songwriter Richard Sherman and screenwriter Don DaGradi. After consulting with Sherman and DaGradi, Disney quickly flew to New York to see Andrews on Broadway and convinced her to come to California to tour Disneyland Park and investigate Mary Poppins's storyboard and songs. The quality and style of the Sherman Brothers' music enthralled Andrews and was perhaps the ultimate factor in her signing on to play Mary Poppins. (9)
Andrews' decision to play Mary Poppins was the upshot of a snub by Warner Brothers and resulted in tense situations during the 1965 film industry awards season. Prior to accepting Disney's offer, Andrews, who had portrayed Eliza Doolittle in My Fair Lady on Broadway, was passed over for the same role in Warner Brothers' 1964 film version of My Fair Lady in favor of Audrey Hepburn. In making this decision, Warner Brothers' studio head Jack Warner said, "In my business, I have to know who brings people and their money to a cinema box office. Audrey Hepburn had never made a financial flop." (10) Although My Fair Lady was named Best Picture at the 1965 Academy Awards, Andrews was named Best Actress, an award for which Hepburn was not even nominated. Two months earlier, after edging out Hepburn for "Best Actress—Musical or Comedy" at the 22nd Golden Globe Awards, Andrews had amusingly praised Jack Warner for snubbing her and, thus, allowing her to portray Mary Poppins. Said Andrews: "Thanks to a man who made a wonderful movie and who made all this possible in the first place." (11)
Story Progression: The Sherman Brothers and Travers
The two people most important to the advancement of Mary Poppins's plot were Richard Sherman and Robert Sherman, the songwriting brothers who first came to Walt Disney's attention through a number they wrote for the Mouseketeer Annette Funicello on "The Mickey Mouse Club," composed songs for such Disney classics as The Absent-Minded Professor (1961), The Parent Trap (1961), Summer Magic (1963), and The Sword in the Stone (1963), and were named Disney Legends in 1990. (12) Ward Kimball, one of Walt Disney's "Nine Old Men," said in a 1989 interview that "Walt always thought that a song should advance the plot," and such was the case with the Sherman Brothers' soundtrack for Mary Poppins. (13) The duo, in a process called "Shermanizing," pondered a relevant story or plot point and wrote a song to further the concept at hand. Thirty-two songs were written by the Sherman Brothers for Mary Poppins, fourteen of which— "Sister Suffragette," "The Life I Lead," "The Perfect Nanny," "A Spoonful of Sugar," "Jolly Holiday," "Supercalifragilisticexpialidocious," "Stay Awake," "I Love to Laugh," "Feed the Birds," "Fidelity Fiduciary Bank," "Chim-Chim-Cher-ee," "Step in Time," "A Man Has Dreams," and "Let's Go Fly a Kite"—were included in the final product. (14) Years later, Walt Disney's nephew Roy E. Disney praised the Sherman Brothers' storytelling ability, saying, "Walt was all about story—he was a great storyteller—and both Bob and Dick are great storytellers, too." (15)
One of Mary Poppins's most popular numbers, "A Spoonful of Sugar," was created specifically to enhance the film's plot. This tune replaced one of the Sherman Brothers' favorite songs, "Through the Eyes of Love," when Julie Andrews objected that the latter song was too didactic for Mary Poppins's personality. (16) Similarly, a song written specifically for Admiral Boom (Reginald Owen) was cut because Walt Disney did not believe it advanced the story, though the song's melody was incorporated as a theme for the admiral. (17) One of the deleted songs from Mary Poppins, "The Beautiful Briny," was thereafter incorporated into Bedknobs and Broomsticks (1971). (18)
Throughout the songwriting process, the Sherman Brothers, much to Travers's anger, changed aspects of the books to make the scenarios more relatable to American audiences. Most importantly, because nannies, though relevant in British tradition, were largely foreign to United States culture, the Sherman Brothers needed to find a reason to justify a nanny's presence in the movie; as such, in a decision that also allowed Disney to unite the disparate vignettes from Travers's books, the Sherman Brothers changed the Banks family from the relatively harmonious clan from Travers' works to a dysfunctional household with a distant mother and an unpleasant father, who needed a third adult to watch their children. (19) Travers disliked the change in Mr. Banks's character, a sentiment that originated in the author's own troubled childhood. As Richard Sherman said years later: "She resented the fact that the father had been made into a flawed character who changes during the course of the film. She'd made him the hero, an idyllic man, and wanted that preserved; her own father had been a drunk." (20)
Besides her criticism of Disney's version of Mr. Banks, Travers proved to be a general nuisance to Mary Poppins' development. Indeed, the author disliked seemingly everything about the film except the casting of Julie Andrews as the title character. (21) Travers objected to the dialogue; criticized the inclusion of music, though she enjoyed "Feed the Birds"; and pressed for the elimination of the movie's animated elements even after the film's August 27, 1964 Hollywood premiere. (22)
Story Progression: Bill Walsh
In addition to the Sherman Brothers, Bill Walsh played a major role in the development of Mary Poppins. Walsh, the legendary Disney producer and screenwriter, not the legendary football coach for the San Francisco 49ers, was heavily responsible for the creation of Mary Poppins's dialogue. (23) Walsh, who was named a Disney Legend in 1991, came to Walt Disney's attention while working as a public relations man and joke writer for Edgar Bergen during production of the Disney package film Fun and Fancy Free (1947) and thereafter served as a producer for Disney's popular ABC-TV series "Disneyland" and "The Mickey Mouse Club" as well as for many of the studio's live action movies, including Westward Ho the Wagons! (1956), The Shaggy Dog (1959), and The Absent-Minded Professor. (24)
Music
The Sherman Brothers' fourteen songs arose from various influences, including ideas from colleagues, Victorian and Edwardian era British music, and personal experiences. The Oscar-winning "Chim-Chim-Cher-ee," which is my favorite song in the movie, originated from the first of these methods—Don DaGradi provided the Sherman Brothers a sketch of a chimney sweep while the composers were developing Bert's character. (25)
For their part, "Supercalifragilisticexpialidocious," "Fidelity Fiduciary Bank," and "Step in Time" were inspired by Victorian and Edwardian era British tunes: Harry Champion's 1909 song "Boiled Beets and Carrots," the operettas of Gilbert and Sullivan, and the British music hall song "Knees Up Mother Brown," respectively. (26)  The last tune was recommended to the Sherman Brothers by Disney's famed British-born matte artist Peter Ellenshaw, who received an Oscar for his special-effects work on Mary Poppins and was named a Disney Legend in 1993. (27)
The film's Edwardian era music greatly appealed to Julie Andrews and was among the biggest reasons why she accepted the role of Mary Poppins. Years later, Andrews recalled: "My background, my early years, were all in music hall and vaudeville. My stepfather sang, my mother played the piano for him, and so I had the opportunity to stand in the wings and watch thousands of wonderful performers—vaudevillians and comedians and acrobats. So when I saw the sort of 'rum-tee-tum' quality of the music and got the feeling of what fun Mary and Bert could have together, it appealed instantly. I kept thinking, yes I recognize that. Maybe I could bring something to it that would connect. And it certainly connected and resonated with me." (28)
Finally, "A Spoonful of Sugar" and "Let's Go Fly a Kite" arose from the Sherman Brothers' personal experiences. The former number was inspired by a visit from Robert's son Jeff to his school nurse to undergo polio vaccination. When Robert asked Jeff whether the procedure hurt, the son answered in the negative, noting that "You just took it with a lump of sugar that they put on a spoon." Meanwhile, "Let's Go Fly a Kite," the film's closing number, was inspired by the Sherman Brothers' memories of their father's hobby of making kites and flying them with his sons on weekends. (29)
The soothing "Feed the Birds" was arguably Walt Disney's favorite song from any of his films. Even after the release of Mary Poppins, Disney summoned the Sherman Brothers to his office on Friday evenings specifically to play "Feed the Birds" for him. (30)
Special Effects
Mary Poppins incorporated a myriad of special effects, including the amalgamation of animated and live action features, audio animatronics, matte paintings, and wirework.
During Mary Poppins's "Jolly Holiday" scenes, human actors and animated creations appear on screen simultaneously. This effect was created by placing an orange sodium vapor process screen behind the actors during filming. Through this process, the camera picked up everything except the orange color, and the animators were thereafter able to insert their creations amidst the live actors and simple sets. (31)
Coordinating the animated and live action elements of Mary Poppins was not always easy. On this note, Disney animator Frank Thomas recalled his struggles to incorporate the film's famous dancing penguins with Van Dyke's dancing such that the penguins didn't get stomped on: "I'd get the film of Dick actually doing the dance—here's his feet flying all around and stepping on my penguins. I had them duck and I had them jump and I had them get out of the way any way I could." (32)
As visually impressive as Mary Poppins's live action-animation hybridity is, this concept was hardly new to Disney productions. On the contrary, Disney had first amalgamated live action and animated elements in his "Alice Comedies" of the 1920s, and he thereafter used similar effects in The Three Caballeros (1945), Song of the South (1946), and So Dear to My Heart (1949). After Disney's death, hybridity was used in Bedknobs and Broomsticks, Pete's Dragon (1977), and Who Framed Roger Rabbit.
The bird that lies on Mary Poppins's hand while she sings "A Spoonful of Sugar" was an audio animatronic. (33) Such robotic creatures, which ranged in scope from small birds to a life-sized replica of Abraham Lincoln, were being quickly developed by Disney at the time for both Disneyland Park attractions and for attractions at the 1964 New York World's Fair. "Walt Disney's Enchanted Tiki Room," an audio animatronic bird show that still delights visitors to Disneyland Park, had debuted on June 23, 1963.
Peter Ellenshaw contributed over 100 matte paintings to Mary Poppins. (34) These paintings, which are especially appreciated during the opening credits, the closing credits, and the beginning of the "Step in Time" sequence, add depth to the background of the film's London setting, which was completely constructed at Disney's Burbank, California studio.
The film's numerous flying scenes, including the segment where Mary Poppins descends with her umbrella, the portion of the "Jolly Holiday" segment where the players gallop on free-roaming carousel horses, the "I Love to Laugh" tea party scene, and the "Step in Time" dancing scene, were accomplished by dangling the actors from wires and quickly altering both the distance and the angle of the camera shots so that the harnesses would not be visible. (35) In one scary moment towards the end of filming, Andrews fell out of her harness while being lowered and crashed to the stage. More amusingly, the acrophobic Matthew Garber was given a dime for each flying take he completed. (36)
Relationship to Other Disney Films
Mary Poppins was the ninth of nineteen Disney films to be directed by Robert Stevenson, who was named a Disney Legend in 2002. Stevenson had previously directed Johnny Tremain (1957), Old Yeller (1957), Darby O'Gill and the Little People (1959), Kidnapped (1960), The Absent-Minded Professor, In Search of the Castaways (1962), Son of Flubber (1963), and The Misadventures of Merlin Jones (1964) for Disney; and he subsequently directed The Monkey's Uncle (1965), That Darn Cat! (1965), The Gnome-Mobile (1967), Blackbeard's Ghost (1968), The Love Bug (1968), Bedknobs and Broomsticks, Herbie Rides Again (1974), The Island at the Top of the World (1974), One of Our Dinosaurs is Missing (1975), and The Shaggy D.A. (1976) for the studio.
Mary Poppins was the second of three Disney films to feature Karen Dotrice and Matthew Garber, following The Three Lives of Thomasina (1964) and preceding The Gnome-Mobile. The children are noted as "The "Mary Poppins" Kids" in the opening credits to The Gnome-Mobile. Dotrice and Garber were named Disney Legends in 2004, the latter posthumously; Garber succumbed to hepatitis at only twenty-one years of age in 1977. Reflecting years later on Garber, Dotrice said, "I can't imagine making movies would have been half as much fun without him. He loved being naughty, finding and jumping off of small buildings on the back lot. While I was Victorian proper and wouldn't let myself get dirty or muddy, Matthew had a great sense of fun and danger. He was a daredevil and could have been a race car driver. And he did live a full life over his 21 years." (37)
Mary Poppins was the fifth of eight Disney films to feature Ed Wynn, who was named a Disney Legend in 2013. Wynn had previously contributed to Alice in Wonderland (1951), The Absent-Minded Professor, Babes in Toyland (1961), and Son of Flubber for Disney; and he thereafter appeared in Those Calloways (1965), That Darn Cat!, and The Gnome-Mobile for the studio.
Julie Andrews subsequently contributed to The Princess Diaries (2001), The Princess Diaries 2: Royal Engagement (2004), and Enchanted (2007) for Disney.
Dick Van Dyke subsequently appeared in Lt. Robin Crusoe, U.S.N. (1966), Never a Dull Moment (1968), Dick Tracy (1990), and Mary Poppins Returns for Disney.
As Van Dyke played both Bert and Mr. Dawes Sr. in Mary Poppins, a single actor played multiple characters in The Parent Trap, The Gnome-Mobile, and Hot Lead and Cold Feet (1978).
David Tomlinson subsequently appeared in The Love Bug and Bedknobs and Broomsticks for Disney.
Glynis Johns had previously appeared in The Sword and the Rose (1953) and Rob Roy, the Highland Rogue (1954) for the studio; and she subsequently contributed to Touchstone Pictures' The Ref (1994) for Disney.
Hermione Baddeley subsequently contributed to The Adventures of Bullwhip Griffin (1967), The Happiest Millionaire, and The Aristocats (1970) for Disney.
Elsa Lanchester subsequently appeared in That Darn Cat!, Blackbeard's Ghost, and Rascal (1969) for Disney.
A distant father also becomes closer to his children in Christopher Robin (2018).
During Mr. Banks's meeting with his superiors at the bank towards the end of the film, the Boston Tea Party is mentioned. Said event is depicted in Johnny Tremain.
Toy soldiers, which appear in Jane and Michael's nursery, were previously seen in Babes in Toyland.
In the Parks
The Sherman Brothers contributed songs to many classic Disney theme park attractions, including "It's a Small World," "Journey into Imagination with Figment," "Walt Disney's Carousel of Progress," and "Walt Disney's Enchanted Tiki Room."
Guests at Walt Disney World wanting to meet Mary Poppins can do so at scheduled times in Epcot's United Kingdom Pavilion; at scheduled times in the Magic Kingdom's Liberty Square section; at breakfast, lunch, and dinner at Epcot's "Akershus Royal Banquet Hall"; and at breakfast at the Grand Floridan Resort's "1900 Park Fare" restaurant. 1900 Park Fare's buffet breakfast, at which other English characters, including Alice and the Mad Hatter from Alice in Wonderland, Winnie the Pooh, and Tigger, also regularly appear, is called the "Supercalifragilistic Breakfast," a reference to the song "Supercalifragilisticexpialidocious" from Mary Poppins.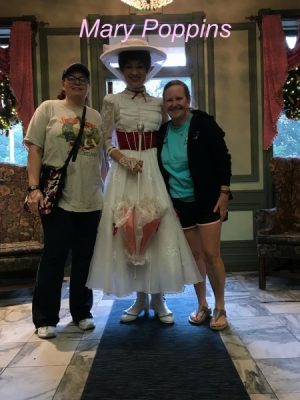 During Mary Poppins's credits and immediately prior to the "Step in Time" dancing scene, audiences enjoy beautiful panoramas of London, courtesy of Peter Ellenshaw's matte paintings. Guests at Walt Disney World's Magic Kingdom and the Disneyland parks in California, Paris, Tokyo, and Shanghai can enjoy similar views on the "Peter Pan's Flight" attraction.
During Mary Poppins's "Jolly Holiday" segment, Mary Poppins, Jane, Michael, and Bert ride a carousel. Carousels at Disney's theme parks include "Prince Charming Regal Carrousel" at the Magic Kingdom; "King Arthur Carrousel" at Disneyland Park; "Jessie's Critter Carousel" at Disney California Adventure; "Le Carrousel de Lancelot" at Disneyland Park Paris; "Castle Carrousel" at Tokyo Disneyland Park; "Caravan Carousel" at Tokyo DisneySea; and "Cinderella Carousel" at Hong Kong Disneyland Park.
Overall
Mary Poppins lives up to its hype. The story is engaging, the visuals are bold, and the music is comprehensively excellent.
Notes
1) "Disney's Gamble," Life, December 7, 2018, 9-10, 39.
2) Ibid., 19; "Supercalifragilisticexpialidocious: The Making of Mary Poppins" [DVD] (2004). United States: Disney. Approximately 51-minute segment featured on Disk 2 of 2004 DVD release of Mary Poppins, 3:57-9:07 (minutes and seconds into segment).
3) "Disney's Gamble," 21.
4) Ibid., 54.
5) Ibid., 56; "Supercalifragilisticexpialidocious," 13:02-14:10.
6) Cristina Sanza, "Dick Van Dyke Reveals He Paid Walt Disney $4,000 to Play Mr. Dawes, Sr. in "Mary Poppins"," Inside the Magic, November 23, 2018, accessed February 7, 2019, https://insidethemagic.net/2018/11/mr-dawes-sr-dick-van-dyke-paid-walt-disney/.
7) "Supercalifragilisticexpialidocious," 14:11-14:52.
8) Ibid., 17:00-18:45.
9) Ibid., 9:57-12:16; "Disney's Gamble," 56-62.
10) Ibid., 59-61; "Supercalifragilisticexpialidocious," 11:23-12:16.
11) Ibid., 46:38-48:12; "Disney's Gamble," 79.
12) Ibid., 6-25.
13) Ibid.; Jim Fanning, "A Very Merry Musical: Walt Disney's Babes in Toyland," The Disney History, December 2, 2011, accessed December 15, 2018, http://thehistoryofdisney.blogspot.com/2011/12/very-merry-musical-walt-disneys-babes.html.
14) "A Musical Journey With Richard Sherman" [DVD] (2004). United States: Disney. Approximately 21-minute segment featured on Disk 2 of 2004 DVD release of Mary Poppins, 3:00-3:05 (minutes and seconds into segment); "Disney's Gamble," 16-25.
15) Ibid., 21.
16) Ibid., 62; "A Magical Musical Reunion: With Julie Andrews, Dick Van Dyke, & Richard Sherman" [DVD] (2004). United States: Disney. Approximately 18-minute segment featured on Disk 2 of 2004 DVD release of Mary Poppins, 0:39-3:30 (minutes and seconds into segment).
17) "A Musical Journey With Richard Sherman," 7:12-9:00.
18) Ibid., 3:12-4:53.
19) "Disney's Gamble," 21; "Supercalifragilisticexpialidocious," 8:05-9:07.
20) "Disney's Gamble," 50.
21) Ibid., 42-50, 65-67.'
22) Ibid., 76-79.
23) Steven Watts, The Magic Kingdom: Walt Disney and the American Way of Life (Columbia, Mo.: University of Missouri Press, 1997), 406-7.
24) Ibid., 377-82.
25) "Disney's Gamble," 21; "A Magical Musical Reunion," 4:04-5:19.
26) "Disney's Gamble," 22, 62.
27) Ibid., 70.
28) Ibid., 62.
29) Ibid., 62-65, 23; "A Magical Musical Reunion," 2:04-3:30.
30) "Supercalifragilisticexpialidocious," 32:53-34:07.
31) "Movie Magic" [DVD] (2002). United States: Disney. Approximately 7-minute segment featured on Disk 2 of 2004 DVD release of Mary Poppins, 3:13-5:19 (minutes and seconds into segment).
32) "Disney's Gamble," 75-76.
33) "Movie Magic," 1:30-2:09.
34) Ibid., 0:50-1:29; "Supercalifragilisticexpialidocious," 29:57- 31:04.
35) Ibid., 21:21-22:21.
36) "Movie Magic," 2:45-3:12; "A Magical Musical Reunion," 9:03-9:59; "Disney's Gamble," 71-72
37) "The Tragic Story of What Happened to Little Jane & Michael Banks from 'Mary Poppins' Will Tear Your Heart to Shreds: The Sad, True Story of What Happened to Matthew Garber and Karen Dotrice, the Children from Disney's Mary Poppins," Gallery Roulette, accessed January 31, 2019, https://galleryroulette.com/disney/the-tragic-story-of-what-happened-to-little-jane-michael-banks-from-mary-poppins-will-tear-your-heart-to-shreds/?subpage=3.
What do you think of Mary Poppins? Let me know in the comments!
Sponsored Ad:  Would you like to help support The Mouse For Less website in continuing their mission of being THE Disney vacation planning resource?  You can do so by purchasing Mary Poppins from our Affiliate Link through Amazon. Thanks so much for your support!
Did you like this article? Make sure to share it with your friends! Check below for easy ways to share!