This post may contains affiliate links for your convenience. If you make a purchase after clicking a link we may earn a small commission but it won't cost you a penny more! Read our full disclosure policy here.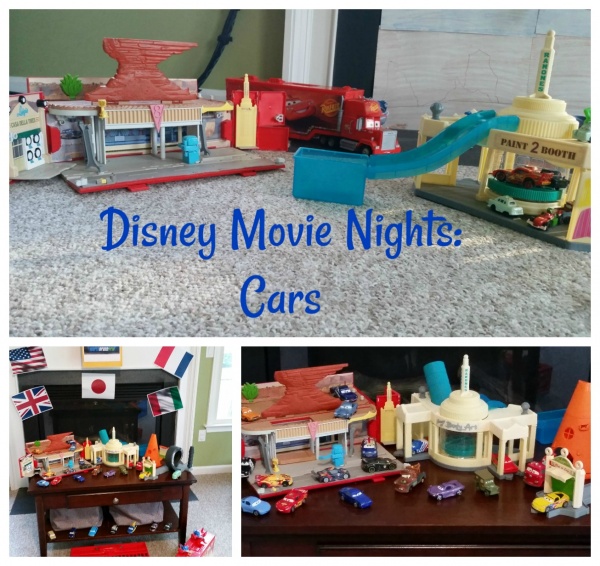 Disney Movie Nights are always a favorite way to celebrate an upcoming trip to Disneyland or Walt Disney World. Cars, Cars 2, and Cars 3 are classic Disney-Pixar films. The excitement, nostalgia, and laughs are one reason my family loves to incorporate one of these movies into our Disney Movie Nights. Decorating for this movie night was easy. My kids are obsessed with the entire Cars franchise; and we have just about every Cars toy imaginable. And of course, all of them are incorporated into our decorations!
Our first Cars movie night was a special one because we were at the beach! To make it feel like Radiator Springs, I printed out signs of all the different places featured in the movie. I then glued the picture to cardstock and hung them around our living room.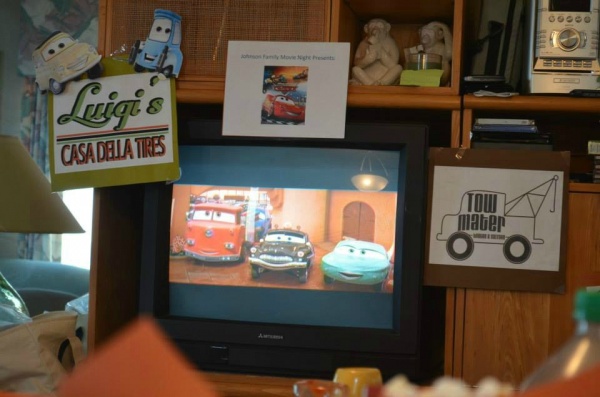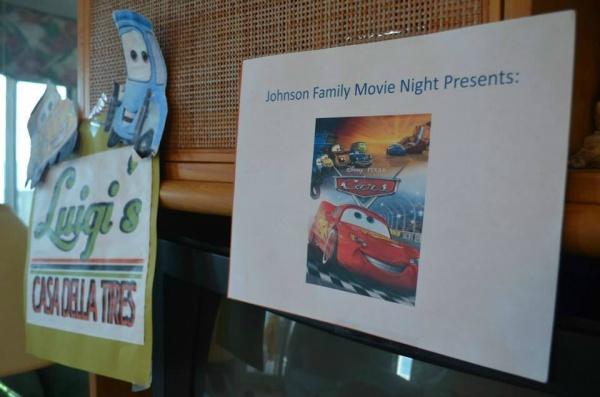 Some of our buddies from Radiator Springs came down to the beach with us to watch the movie. I had a lot of fun setting this up; I love making it look like the characters are right there with us!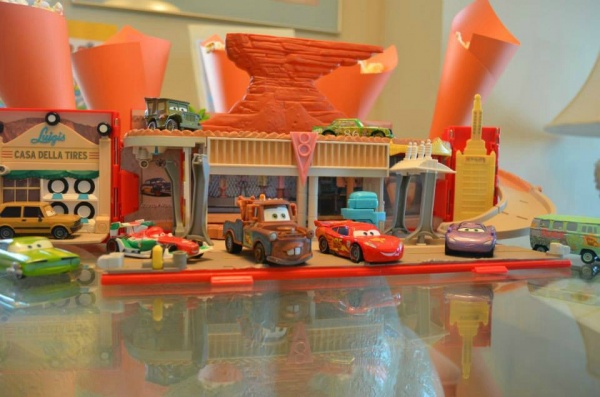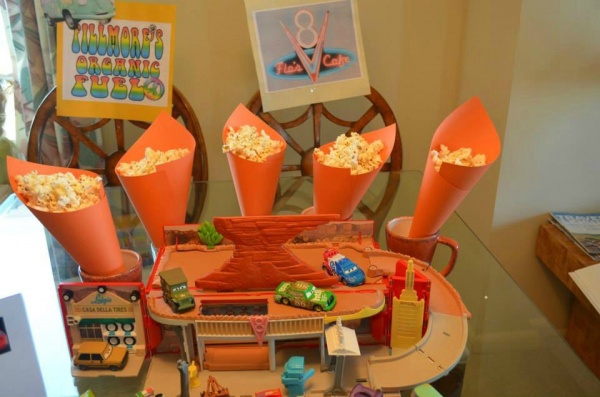 The orange cones behind Radiator Springs are our popcorn cozy cones. To make these, roll up orange card stock to look like a cone and tape it shut. Don't forget to fill it with your favorite popcorn! Our menu was simple too, including lemonade for special fuel and chocolate donuts for tires!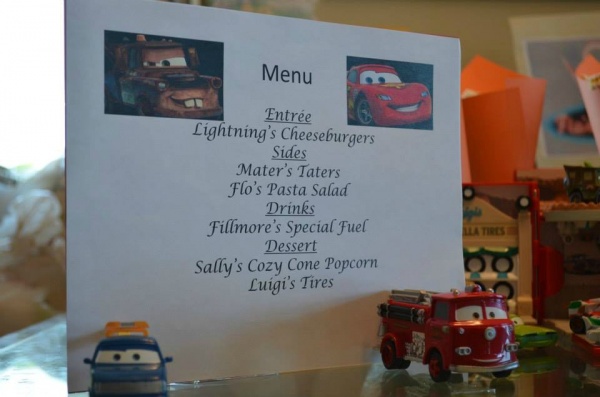 I made our Cars 2 movie night a little more international by printing out flags from the countries represented in the movie. My boys also wanted to make it feel like a drive in movie; so we made our own cars out of cardboard boxes. These were easy to make once we found boxes they could easily sit in. After you find the right box, wrap each one in your favorite color construction paper, and let the kids decorate until it looks like a super awesome race car!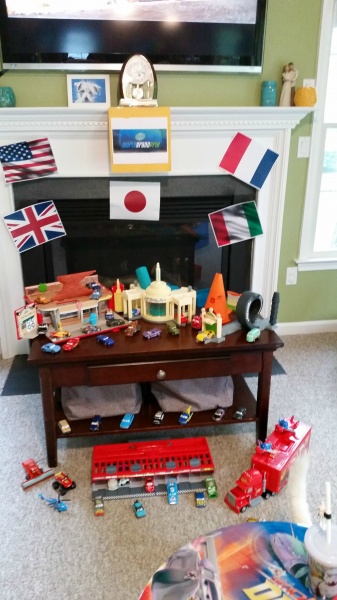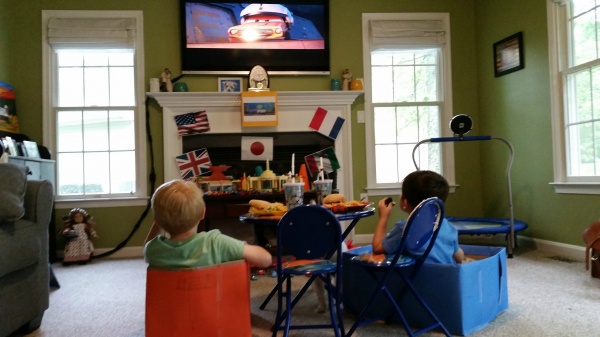 Once again our friends from Radiator Springs (and some new friends from Cars 2!) came along for the movie. Our town grew even bigger when we included our new Cars 2 toys to our decorations.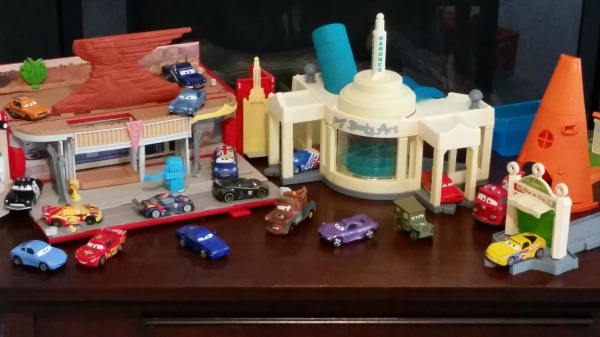 Our menu didn't really change from the first Cars Movie night, unless you count my attempt to add veggies to our dinner!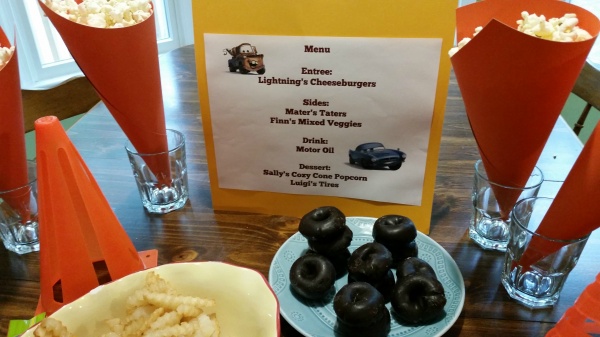 When it was time to go on a Disney vacation this year, of course we added Cars 3 to our movie nights. My boys are now 6 and 8, and wanted to be included in the decorating process. Once again, we used all of their toys, including our new Cars 3 track. My kids had a blast getting out their cars and setting up their own Cars Land. We haven't made it to the real Cars Land yet, but hope to one day! I made a backdrop for their decorations and taped it to our fireplace. This time around I also printed out checkered flags (that I taped to small dowel rods) and some of the new characters from Cars 3.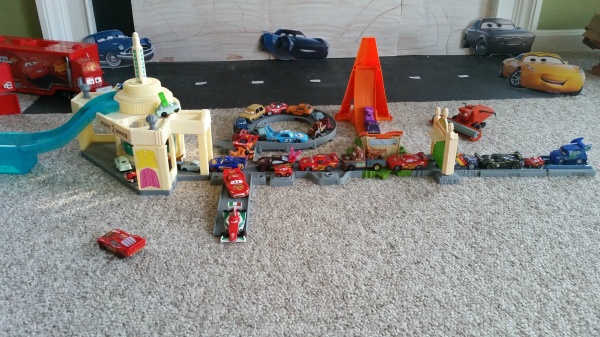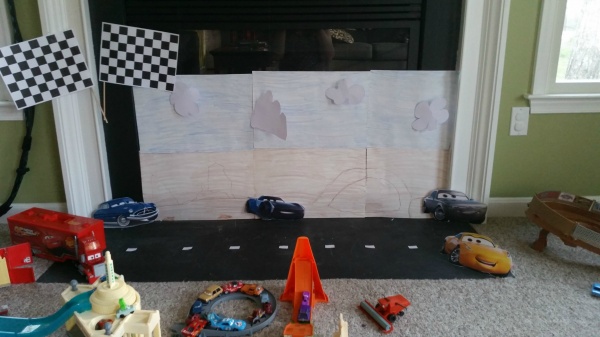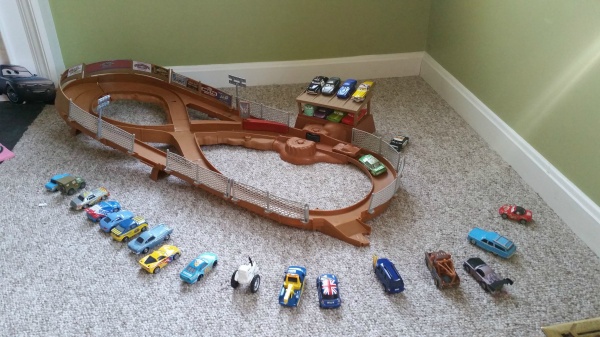 My kids were also instrumental in the making of our menu this time around. They made sure to include all current favorite foods and some of the fun yummy treats we've used in the past. Here a tip: always use chocolate donuts for Luigi's tires, it'll be a hit every time!
Even if you don't have toys from the Cars movies, you can use your own toy cars, tracks, cones, checkered flags, and racing hear to create a great looking Cars world! The great thing is, you can incorporate any and all of these ideas into an individual movie night or a Cars movie marathon. Have fun with it, and most importantly make some memories.
What tips do you have for having Cars-themed Disney Movie Nights? Let us know in the comments, or on Facebook or Twitter.
Did you like this article? Make sure to share it with your friends! Check below for easy ways to share!
Incoming search terms:
cars movie night menu
https://www themouseforless com/blog_world/disney-movie-nights-cars/