This post may contains affiliate links for your convenience. If you make a purchase after clicking a link we may earn a small commission but it won't cost you a penny more! Read our full disclosure policy here.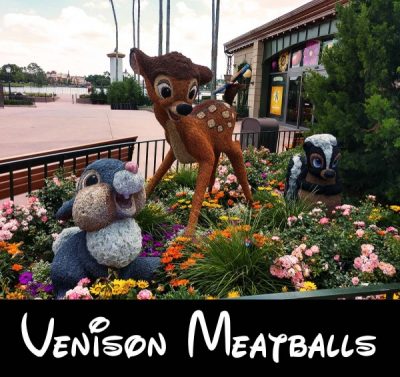 Despite its reputation as being a Disney classic and receiving three Academy Award Nominations back when it originally debuted in 1942, Bambi doesn't get a whole lot of love and attention in the theme parks. Sure, you can find a couple of topiaries during the Epcot Flower and Garden Festival, but there isn't a Bambi attraction or a Bambi character meet and greet (I'm guessing most kids would not be interested in having their picture taken with a 6 foot tall deer).  There's no restaurant themed after the movie, which considering what the menu would consist of, I can completely understand.
So what do you make for a Bambi themed dinner?  There are a couple of options.  One is to embrace the woodland way of life and serve strips of bark with a side of meadow grass.  Not exactly an appealing menu.  The other option is to try to forget that the characters have personalities and just make the first thing that comes to mind: animals.  I have a collection of woodland creature cookie cutters and it just seemed like the best plan would be to make sugar cookies. Cookies count as dinner, right?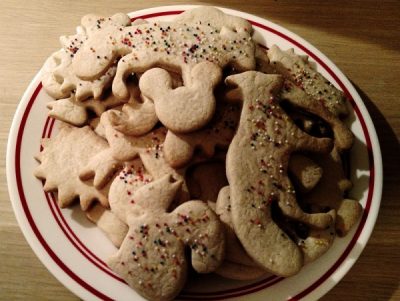 While dessert for dinner seems like a good idea, it does leave you hungry later on.  I gave in and did what I had hoped to avoid; making venison.  A friend had given me ground venison when I mentioned that I was looking for something to make for Bambi night.  I wasn't sure how I felt about cooking it.  We don't really have game meat.  Plus, there's something slightly disconcerting knowing that you are having the protagonist for dinner.  Maybe it is only bothersome because it is Bambi, but it definitely threw my kids for a loop.
They enjoyed dinner, they just weren't exactly thrilled to find out what dinner was. I did my best to mask what it was by turning the ground venison into meatballs.  A little grated parmesan, some Italian seasoning, toss in an egg, and no one would know it wasn't an ordinary meatball. Oh, they knew.  I don't think they will be requesting a repeat of the meal despite enjoying it while they had it. 
Now their concerned as to what we will be making for future movies.  Will I be serving them lion steaks or fox burgers? Is no character safe?
Who knows where this crazy Disney movie meal challenge will take us. I certainly have no intention of serving up main characters on a weekly basis.  But if my kids have concerns, I'll just tell them what Thumper's mom would tell them, "If you can't say somethin' nice, don"t say nothin' at all".
What would you have made for a Bambi themed night? Share your thoughts in the comments, or on Facebook or Twitter!
Did you like this article? Make sure to share it with your friends! Check below for easy ways to share!
Want to visit Walt Disney World? Contact The Magic for Less Travel for more information and a free, no-obligation quote.

Incoming search terms:
dinner and a movie for bambi\