This post may contains affiliate links for your convenience. If you make a purchase after clicking a link we may earn a small commission but it won't cost you a penny more! Read our full disclosure policy here.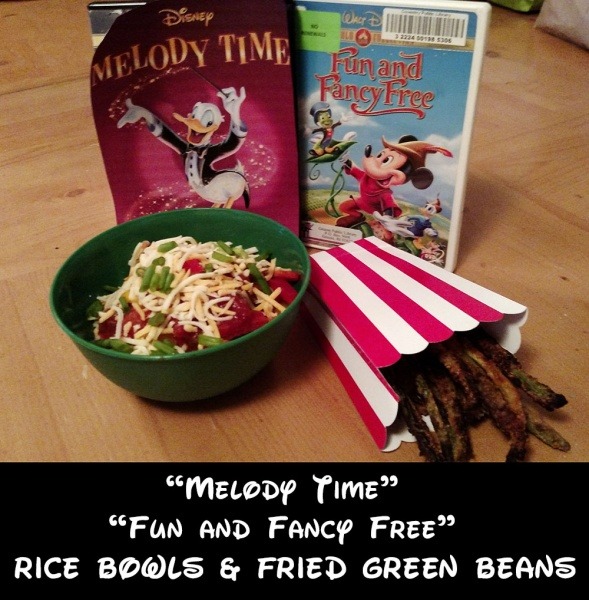 Remember when you were in high school and had an assignment that you were just not looking forward to doing? I don't mean the "homework gets in the way of my social life" kind of assignment. I'm talking about that massive paper you were supposed to be working on all year (and procrastinated on week after week) or the project for that required reading in English that you just had absolutely no interest in (sorry Shakespeare). 
Well, as much as I love Disney movies, I was not looking forward to watching Melody Time or Fun and Fancy Free. They are the Hamlet and Macbeth of Disney films for me. Not that there is anything wrong with either of them! The animation is great and the musical score is not too shabby either, but neither of them really captures my attention. So in an attempt to surge forward towards movies with more exciting plot-lines and menus, this week we combined two films to make our Disney Movie Meal.
It was probably a good idea to combine Melody Time with Fun and Fancy Free. Both were package films of the 1940s; multiple short film segments packaged as one film.  Package films make menu planning a definite challenge. Do we attempt to make something representative of each segment? Attempt one dish that somehow ties all the segments together? Or just pick one film segment that stands out and roll with that? Option #3 it is!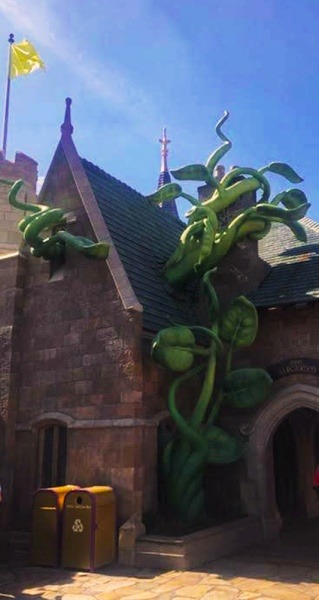 Fun and Fancy Free is actually only 2 stories; the first of Bongo the circus bear and the second is Mickey and the Beanstalk (which is actually quite good) where Mickey, Donald, and Goofy plant magic beans and end up discovering a castle in the clouds, owned by Willie the Giant.  It is the Disney-fied version of Jack and the Beanstalk.
What goes with a film about a beanstalk? Green beans of course! We tried to fancy them up a bit and make green bean fries by first dredging them in gluten-free flour, then a mixture of eggs beaten with milk, and finally tossed in bread crumbs. Baking them in the oven made them slightly healthier than frying them.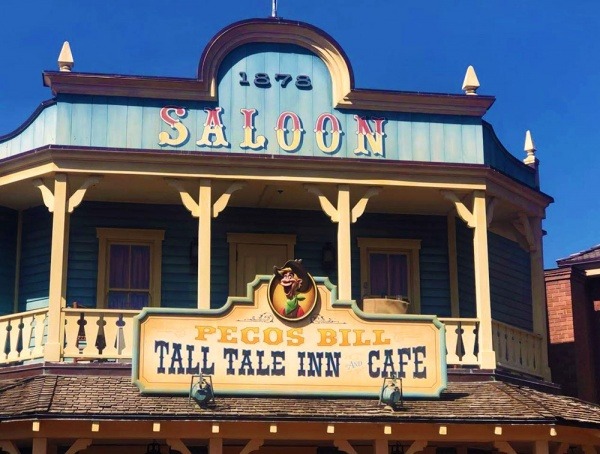 Melody Time has 7 film segments. There was no way to bring them all together for one dish. However, since one of the segments is the story of Pecos Bill and there just happens to be a quick service restaurant in the Magic Kingdom called Pecos Bill's Tall Tale Inn and Cafe, it seems only fitting that we recreate a dish from their menu! In this case, the Pecos Bill rice bowl will do just fine! We even had our own toppings bar with cheese, salsa, sour cream, etc. Not sure how well rice bowls go with green bean fries, but it can't hurt to find out!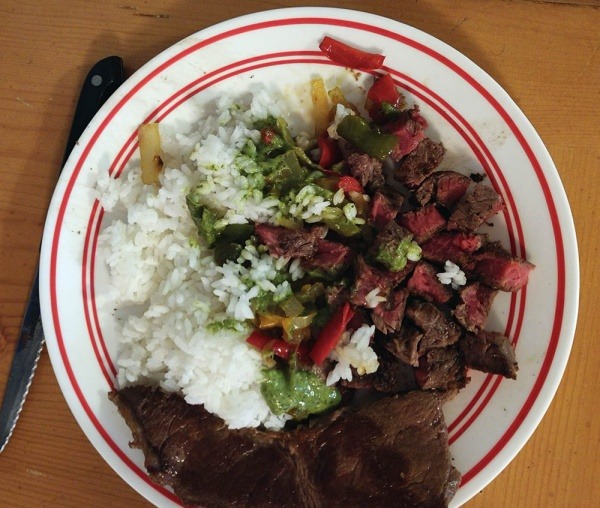 I am relieved that we made it through these films.  Not sure if combining two films for a double feature is against the rules, but since we created the challenge for ourselves, I guess it does not matter! All I can say is, we are all looking forward to the movies with just one plot-line.  Until then, we can check two more films off the list for our Disney Movie Meal Challenge!
Did you like this article? Make sure to share it with your friends! Check below for easy ways to share!
Want to visit a Disney Destination? Contact The Magic for Less Travel for more information and a free, no-obligation quote.