This post may contains affiliate links for your convenience. If you make a purchase after clicking a link we may earn a small commission but it won't cost you a penny more! Read our full disclosure policy here.

MICKEY'S FAMOUS BLUE HAT:
When you think of Disney's Fantasia, odds are good that your thinking of Mickey Mouse wearing his unforgettable sorcerer's hat – which makes complete sense! Mickey and his famous hat are depicted throughout Disney history, from the opening credits on 1980s VHS tapes to the giant Hollywood Studios park icon (RIP giant hat). But there is so much more to Fantasia than just Sorcerer Mickey. This Disney epic contains dinosaur battles, dancing mushrooms and flowers, ballerina hippos, and one of the most evil villains in Disney animated history, Chernabog! All having been animated to the wondrous classical music performed by the Philadelphia Orchestra. However, do you know what Fantasia does not have? FOOD!
WHAT TO DO?
Herein lies the difficulty with Fantasia and my movie meal challenge. Other than the centaurs making wine in The Pastoral Symphony, their is a serious lack of food and beverage in the film. Since I don't fancy myself to be a winemaker, nor would my kids be able to partake in the process or consumption if I tried my hand at it, where does that leave me in my Disney movie meal conundrum? Well, as I said before, much of the fame spurring from Fantasia is iconized through Mickey and his blue hat. Thus, I decided to embrace Mickey Mouse in the Sorcerer's Apprentice segment for my food making. I also wanted to draw my readers deeper into their memories of the Disney classic. So instead of making an edible blue sorcerers hat, I decided to make the tantalizing and relentless mops and buckets!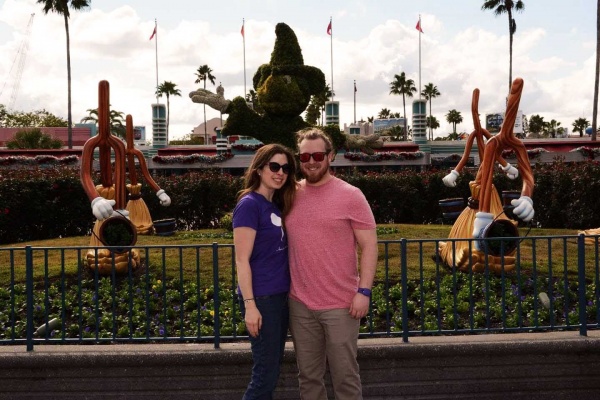 THE CULINARY CHALLENGE:
I started with the bucket. Considering that wooden buckets are typically inedible (maybe not for the busy beaver from Lady and the Tramp), I needed to seek out a similar colored food medium to use. I ended up using brownies since no one in my family is going to say no to chocolate) and attempted to find the best method to turn a brownie into a recognizable bucket. I contemplated baking the brownies and just digging out a hole in the middle, but that seemed to lack efficiency as well as being a less than aesthetically pleasing bucket.
Instead I attempted the use of a muffin tin, producing the desired round shape. I cooking sprayed the bottom of an identical muffin tin and then squished it into the filled one. I figured that would give me a round brownie with a dent in the middle, perfect for a bucket! And it did, well sort of… I got my round brownie but there was not much of a dent due to the lack of space given to the brownie mixture on the sides, producing a limited rise. After much pondering, I came up with a Plan B.
I have seen ice cream cups made from cookie dough that was baked around an upside down muffin tin.  So, why not try it for my brownie buckets? The brownie mix was pretty thick (I used a gluten free brownie mix) and molded fairly well around the muffin tin underside (I covered only two muffin wells, just in case it didn't work).
Unfortunately, once in the oven, the batter started to spread, partially forming a holey amorphous blob around one of the wells. However, the other well seemed salvageable! Once cooled I went to work, removing the whole brownie bucket from the pan, and then using kitchen shears to remove excess. In the end it looked moderately close to a brown bucket, good enough for me! I quickly mixed some cool whip with blue food coloring to resemble water and then filled my brownie bucket.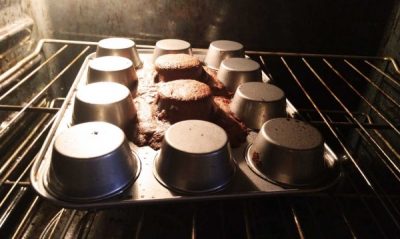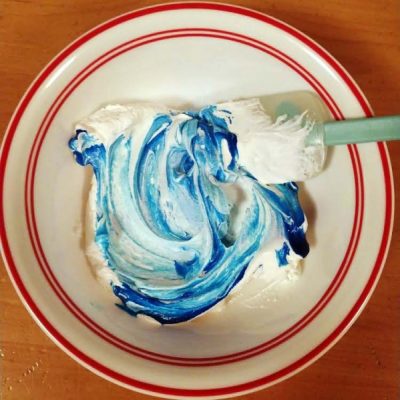 Next came the mop, not nearly as difficult to construct as the wooden bucket (thank goodness). I used a pretzel stick as the wooden handle, seemed both simple and efficient. I then cut a lobe of string cheese, partially shredding the bottom and then spreading it. I stuck the pretzel stick right into the cheese, wrapped it with a piece of chive, and voila, a beautiful mop!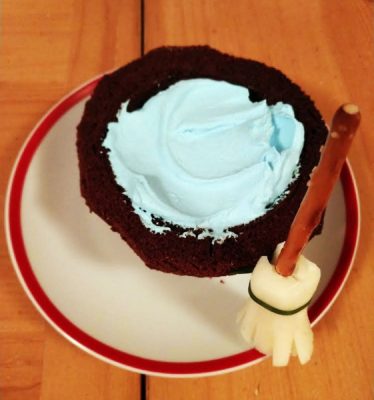 While final product may not have been my best culinary work, I survived the difficult task of developing and making Fantasia food! I was looking forward to moving on to the next film, not having to think about Fantasia food ever again, then my youngest spoke up. "Now what will you make for Fantasia 2000?" Eek. I guess we will have to wait and see (I can only hope it will not be quite so tough). Until then, I will be crossing Fantasia off the list for my Disney Movie Meal Challenge, I can only hope the next classic will be a little easier.
Incoming search terms:
https://www themouseforless com/blog_world/disney-movie-meals-challenge-3-fantasia/