This post may contains affiliate links for your convenience. If you make a purchase after clicking a link we may earn a small commission but it won't cost you a penny more! Read our full disclosure policy here.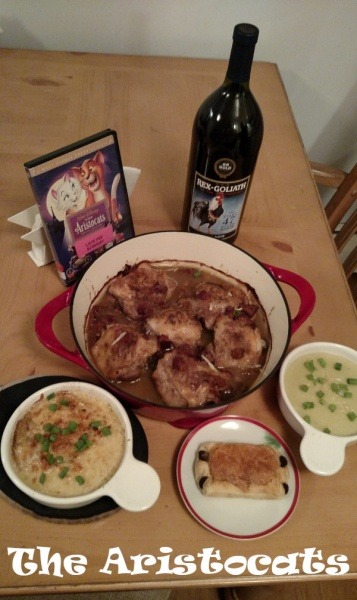 Everybody wants to be a cat, or so the song goes.  If you're going to be a cat, you might as well be an Aristocat.  The Aristocats live in Paris and sleep on velvet mats.  They have impeccable manners and always remember to practice their scales and arpeggios. And of course, the Aristocats dine on the finest cuisine served on a silver tray by their butler Edgar.
Disney's 20th animated feature film, The Aristocats, debuted in 1970.  It is the tale of Duchess and her three kittens, Marie, Berlioz, and Toulouse, and their adventures in Paris as they make their way back to their home.  They belong to Madame, a wealthy former opera singer, who dotes on them and plans to leave them her fortune. Unfortunately, her sneaky butler overhears this and plots to get rid of the felines so that he may inherit Madame's wealth instead.  Edgar laces the cats' cream with sleeping pills, then tries to dispose of them out in the countryside.  He encounters a few bumps along the way and the cats are left abandoned in their basket by a river.  With the help of an alley cat named Thomas O'Malley, they return home to their beloved Madame. 
There can be no better way to celebrate The Aristocats than with classic Parisian foods! We thought it would be fun to try our hand at both french onion soup and potato leek soup.  Chopping the amount of onions needed for french onion soup is sure to bring a tear to your eye.
If you are like me and prefer your soups to be more subtle, than I would recommend the potato leek.  The texture was smooth thanks to the immersion blender and the mild flavor from the leeks was perfect.  It seemed like a good representation of the spiked cream dish that Edgar served the kittens. 
As a main entree, we made coq au vin for the first time. It was actually easier to make than we thought it would be. Chicken thighs braised with bacon, onions, and mushrooms in a red wine sauce is a delicious introduction to French cooking.
For dessert, we had purchased chocolate cream filled croissants.  After tackling new recipes, we were more than happy to let someone else make the French pastries.  Maybe we'll attempt them further down the road.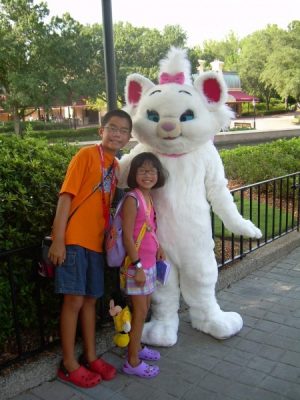 The Aristocats is a lighthearted movie with a couple of catchy tunes that we would not mind watching again.  Perhaps with a loaf of French bread next time.  Until then, we will have to settle for the next film in our Disney Movie Meal Challenge.  See you in Sherwood Forest!
Did you like this article? Make sure to share it with your friends! Check below for easy ways to share!  
Want to visit a Disney Destination? Contact The Magic for Less Travel for more information and a free, no-obligation quote.

Incoming search terms:
https://www themouseforless com/blog_world/disney-movie-meals-challenge-19-aristocats/
is Disney planning to bring back the Aristocats