This post may contains affiliate links for your convenience. If you make a purchase after clicking a link we may earn a small commission but it won't cost you a penny more! Read our full disclosure policy here.
If you have been fortunate enough to visit Walt Disney World more than once, you most likely have certain traditions that you like to keep with each subsequent visit. Whether it be always starting your trip at a specific park, having your first breakfast at the same restaurant, taking a photo in the same spot, or ending your trip with the same last attraction, Disney fans have a love for tradition.  For us, no trip is complete until we have tried to pull the sword from the stone.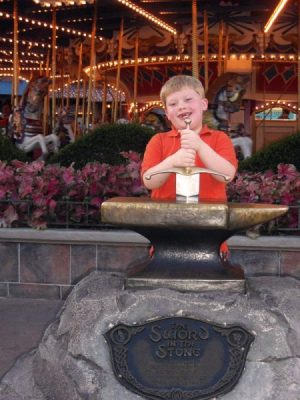 Without fail, for the last decade we have stopped at the stone in front of the carousel to test our might.  Not once have we ever been successful, but it certainly has not deterred us from trying.  Each time we try, I almost expect the choir to sing and a light to shine down on the stone like it did for Arthur in Walt Disney's film The Sword in the Stone.  While none of us will be king of England anytime soon, it's always fun to pretend and in the meantime, we can watch the movie with our latest Disney Movie Meal.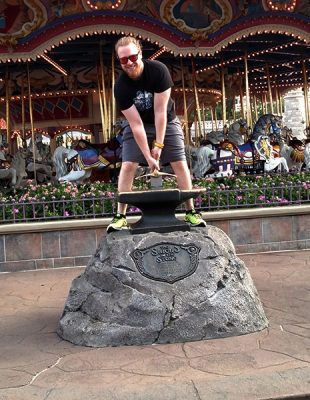 The Sword in the Stone was released in 1963 and tells the tale of young Arthur (or Wart as he is unaffectionately called by his foster family) and Merlin, the great wizard.  Merlin believes Arthur is destined for greatness and thus in need of an education, which he is more than happy to provide on the road to royalty.  The film has life lessons, songs by the Sherman brothers, and a cast of quirky characters.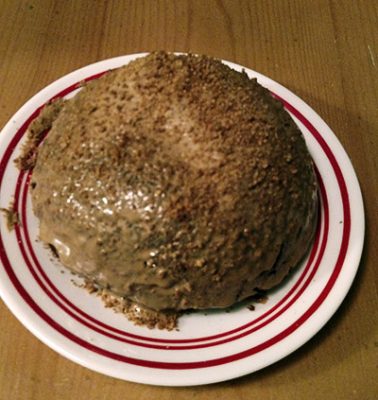 What could be more appropriate for a movie set in medieval times than a medieval meal? They may not be quite up to theme park standards, but turkey legs are on the menu. Baked in the oven with garlic powder, smoked paprika, salt and pepper, and then served with roasted potatoes and green beans.  The perfect dessert, a medieval honey cake. Flour (gluten free in our case) is mixed with butter, eggs, dark brown sugar, and honey then baked in the oven. We used a dome shaped bowl for a rounded top cake. Then an icing/glaze of powdered sugar mixed with honey and hot water to thin it out is poured over the top.  Definitely not the most attractive of desserts, but aesthetics did not seem to be a priority of cooking back in medieval times.  
There you have it, another Disney Movie Meal for the books! We're off to India next time to meet up with some jungle friends. See you then!
Did you like this article? Make sure to share it with your friends! Check below for easy ways to share!  
Want to visit a Disney Destination? Contact The Magic for Less Travel for more information and a free, no-obligation quote.

Incoming search terms:
https://www themouseforless com/blog_world/disney-movie-meals-challenge-17-the-sword-in-the-stone/
disney world sword in the stone