This post may contains affiliate links for your convenience. If you make a purchase after clicking a link we may earn a small commission but it won't cost you a penny more! Read our full disclosure policy here.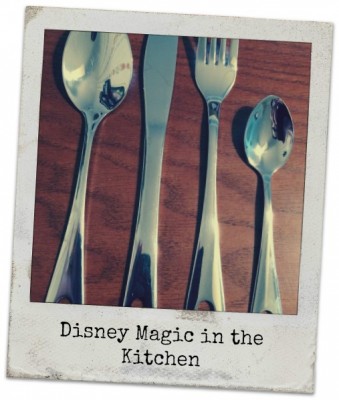 As self-proclaimed Disney fanatics, we are always looking for ways to add Disney touches to our home, and the kitchen is no exception! We've found that incorporating Disney accessories into our kitchen brings magic to our home-cooked meals and helps to ease the post-vacation blues between Disney trips. The following is a run-down of just a few of the Disney items we've added to our kitchen.
Measuring Cups
We've had these fun Mickey-themed measuring cups for about 2-years and use them regularly. Even with regular use and being repeatedly run through the dishwasher, you can see that the design has held up nicely – these measuring cups are well made and durable. Although only two are pictured here, these playful measuring cups came as a set of four, including 1 cup, ½ cup, 1/3 cup, and ¼ cup sizes.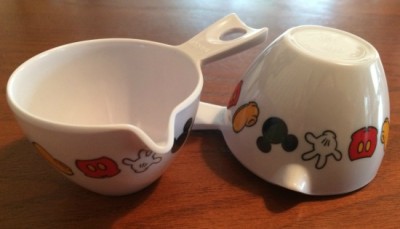 All of the white plastic measuring cups in this set feature classic Mickey imagery, including his red shorts, yellow shoes, white gloves, and black Mickey head icons. While we adore how cute and whimsical these measuring cups are, in our opinion they seem to be a bit more fun than functional. The handles on the cups are on the smaller side, making them somewhat awkward to grasp when scooping out dry ingredients, especially in comparison to our boring, yet functional, non-Disney KitchenAid measuring cups. We have also found that while the pour spouts on these cups work well for liquids, they make measuring dry ingredients a bit more difficult than a standard flat-lipped measuring cup.
Silverware
We've also had this set of Mickey silverware for about 2 years, and like our measuring cups, this silverware set has been subjected to regular use and daily trips through the dishwasher. This 16-piece set of stainless steel silverware (4 place settings) has held up wonderfully – it is fun, functional, and durable! When I'm cooking at home, day-dreaming of Disney dining, I know that I can get out this silverware to add a bit of Disney magic to our meal!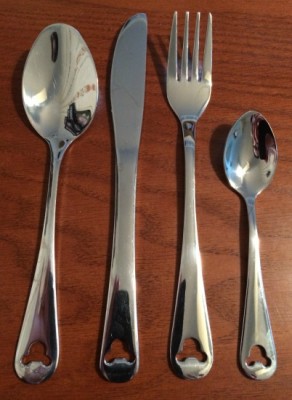 While we really enjoy this silverware (as much as you can really "enjoy" silverware, that is!), the one thing that is a bit odd about it is the size of the spoons. The larger, soupspoon is very large, while the smaller, teaspoon is incredibly small (practically a child-sized spoon) – I feel a bit like Alice in Wonderland whenever I use one of these spoons, and tend to gravitate towards our plain set of spoons when it's time for a bowl of cereal.
Sandwich Cutter / Cookie Cutter
We purchased both this red, stainless steel Mickey cookie-cutter and this red plastic and stainless steel Mickey sandwich-cutter while vacationing at Walt Disney World, as small yet useful souvenirs.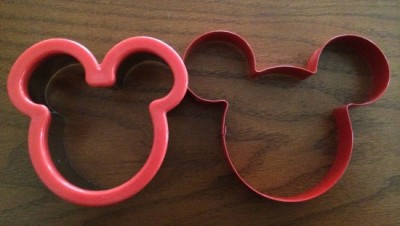 As an avid baker, I was beyond excited to break out this cookie-cutter and make Mickey shaped sugar cookies to bring into the office as a post-vacation treat for the coworkers that we'd left behind in the frigid Michigan winter. However, it wasn't until I actually went to use the cookie-cutter that I realized just how huge it is! My batch of cookie dough (which typically yields 3-4 dozen medium cutout cookies) quickly diminished, and I had only made about a dozen cookies (albeit a dozen very large cookies). I was also disappointed to find that because of the way that the ears are so narrowly attached to the head, several of them became casualties of the icing process. I now use this cookie-cutter very rarely, and generally only to make 1-2 giant Mickey cookies as a surprise for our Disney-loving daughter.
In contrast, I can't say enough good things about our Mickey-shaped sandwich cutter! We use it regularly to add a bit of Pixie Dust to our daughter's school lunches – I mean, what kid doesn't want a sandwich shaped like Mickey?! She loves opening her lunchbox and finding that her boring PB&J or Turkey and Cheese has been transformed into a magical treat. The sandwich cutter works really well, and if you use it after preparing the sandwich (rather than cutting out the bread before adding the filling) it seals the filling inside the bread, similar to a pre-packaged "Uncrustable."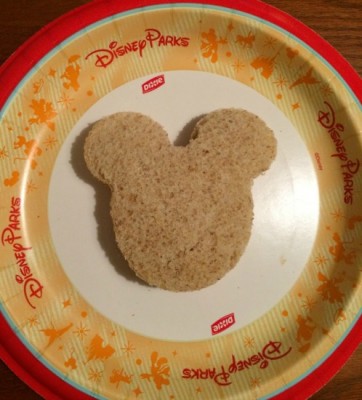 In addition to sandwiches, I've also found that this Mickey sandwich cutter works great as a cookie-cutter. The size is much more manageable than our actual cookie-cutter, and the ears are attached better, making cookies cutout with the sandwich cutter much more durable than those that were made with the cookie-cutter.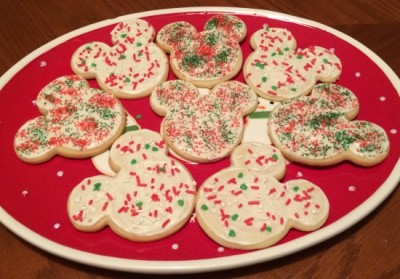 Large Tongs
We just received these adorable Mickey-glove shaped tongs as a thoughtful Christmas gift. Clearly word has gotten out that we love to incorporate Disney into our home and our kitchen! These tongs feature white, silicon Mickey glove grippers attached to a stainless steel and red rubber handle, and have a locking mechanism at the top, which keeps the tongs closed when not in use.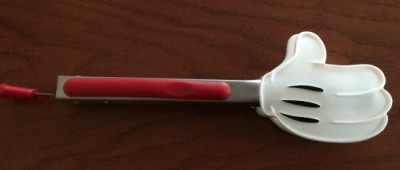 We couldn't wait to try out the newest Disney addition to our kitchen, and debuted these tongs to serve salad. They work great – and who doesn't want to have Mickey "give them a hand" with their salad? These tongs appear to be well made, and I'm sure that if they are anything like our other Disney kitchen accessories, they will hold-up well!
Sandwich Maker
Our Classic Mickey electric sandwich press is Scott's favorite kitchen accessory by far! Scott purchased this sandwich maker last Christmas to take to a $25 gift exchange, and couldn't resist "stealing" it away from our cousin to add to our collection. As an avid runner, Scott uses this sandwich press regularly to "carb-up" before a run. And when every calorie counts, the non-stick surface of this sandwich press allows him to make delicious grilled sandwiches without the use of butter or oil. Our daughter also enjoys making sandwiches on this press – it's actually the only way we can get her to eat grilled cheese (weird, I know!).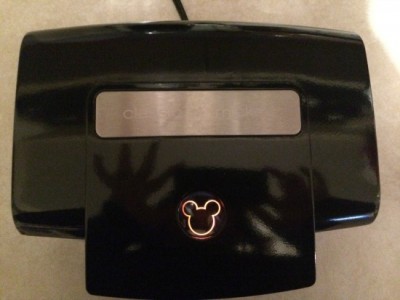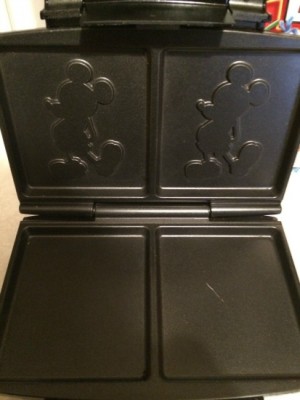 As functional as this sandwich press is, we'd probably own it even if it didn't sear Mickey's silhouette onto our sandwiches – although everything tastes better with Mickey! In addition to imprinting Mickey on sandwiches, this press also features a Mickey head icon light on the top, which turns blue to let you know when your sandwich is ready. That Mickey – always so helpful in the kitchen!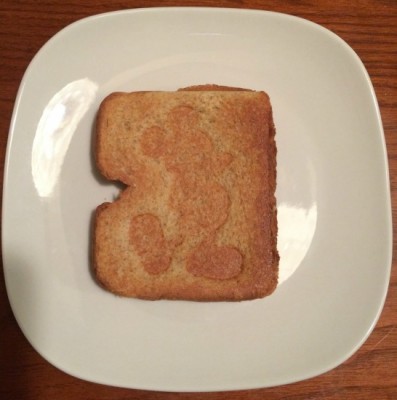 Do you have any Disney kitchen accessories? What are some of your favorites? What's on your Disney kitchen wish-list?
Incoming search terms: