This post may contains affiliate links for your convenience. If you make a purchase after clicking a link we may earn a small commission but it won't cost you a penny more! Read our full disclosure policy here.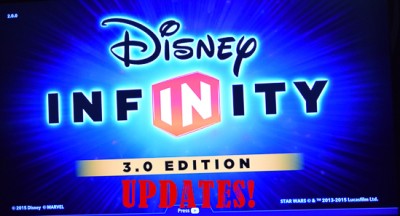 Note: This is a discussion and review of the continued expansion of Disney Infinity 3.0. If you would like to learn more about the original Disney Infinity and also the basics of the Disney infinity universe, you can see my review here, and also my review of Disney Infinity 2.0 here. The original review of Disney Infinity 3.0, here.

Since Disney Infinity was first released, the creators have continued the expansion each year by focusing on a different family of the Disney universe. Disney Infinity 2.0 focused on Marvel Characters and then 3.0 took us through the Star Wars universe. With this trend, fans of the series were beginning to wonder where the series would go next.
The creators of Disney Infinity have recently answered those questions, but before discussing that, here's an update of what has been going on recently with Disney Infinity.
The Force Awakens
Shortly after my original review of Disney Infinity 3.0 was published, Star Wars: The Force Awakens was released, and as such the playset tied to that movie was also made available to the public. This playset comes with Rey and Finn and allows you to play through a storyline loosely based on the movie.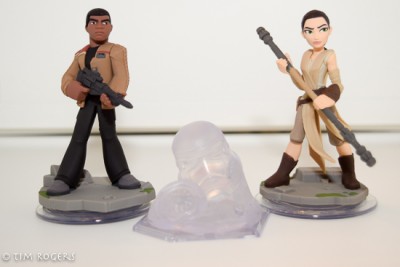 At the same time, champion coins for the new characters (besides Rey and Finn, also Kylo Ren and Poe Dameron from the Force Awakens and a late addition of Boba Fett) appeared in the original two playsets, so if you are a completionist you will need to head back into those worlds to collect the final coins.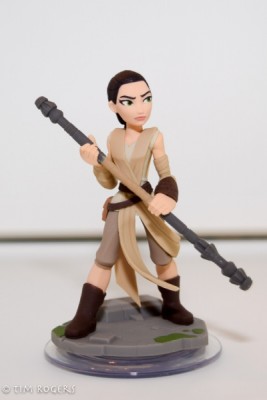 This playset is fun and very much in line with the action/adventure mode of the other Star Wars sets. Both Finn and Rey are great characters to play with, also I personally prefer Rey as a total character.  You can purchase the Star Wars: The Force Awakens playset on Amazon.
Marvel Battlegrounds
On March 15th, the final originally announced playset for Disney Infinity 3.0 was released: Marvel Battlegrounds. From the original announcement, this playset was the most interesting as a departure from everything the game has been before.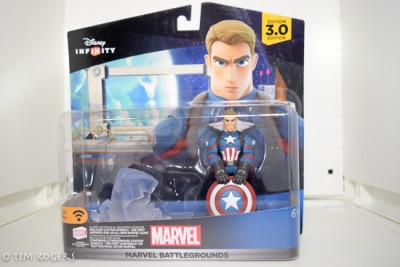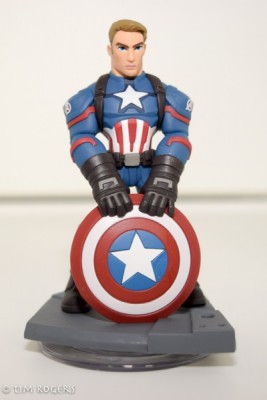 Marvel Battlegounds is described as a "brawler" style game which promised local 4 player gaming for the first time. It comes with a new Captain America, styled after the new Captain America 3: Civil War, but allows you to use any of the Marvel characters released in 2.0 or 3.0. Stylistically, the game play is like Smash Brothers in a 3D arena, and there are several ways to play.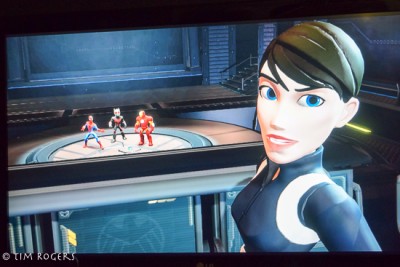 Your Friendly Guide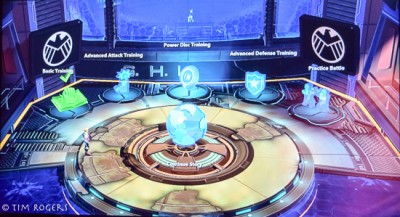 Optional Training
First is the story mode, using "story" very loosely. Essentially, the backdrop of this game is that Ultron and Loki are working together to make robot duplicates of the Marvel Heroes. The story mode essentially takes you through the combat arenas to eventually face Ultron and restore order.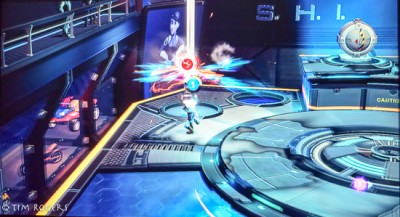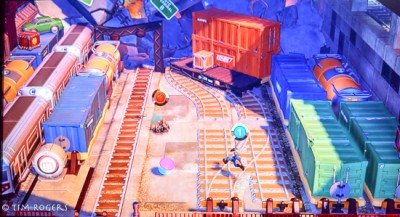 However, the story mode serves more as an introduction than anything else. The gameplay possibilities continue with challenges, for which you get a bonus for using specific characters.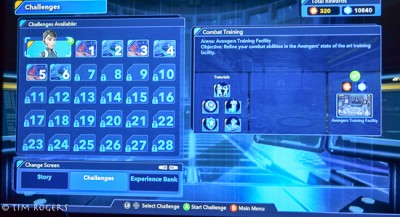 Most people will probably spend the most time with Versus mode, however.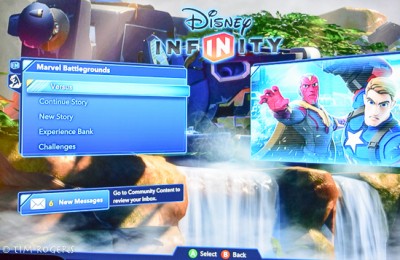 In this mode, you can play with up to four players using any of the characters you own (you will need to briefly place each one on the Infinity base to activate them each time you turn on the game). Additionally, several characters at a time become available for a free "trial" or you can unlock trial tokens by playing the game to temporarily gain access to characters you don't yet own.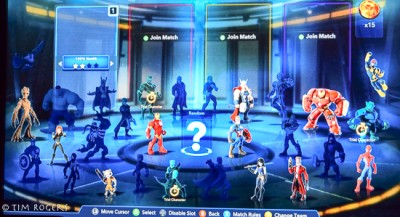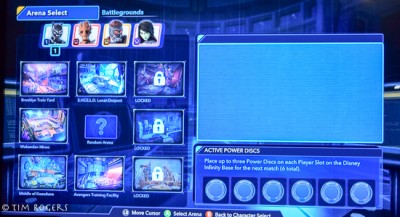 In Versus mode, there are also several different match rules you can use to mix it up. These include:
Battlegrounds: Everyone gets one life and last man standing wins
Super Hero: One player is larger and stronger, and you gain points by getting kills as that person or killing them to take over
Hero of the Hill: Basic king of the hill – stand in a ring to gain points
Rumble: Unlimited lives and most kills wins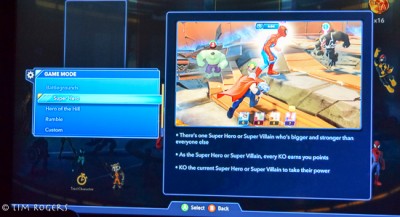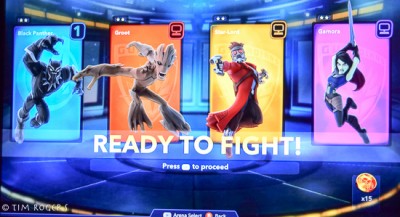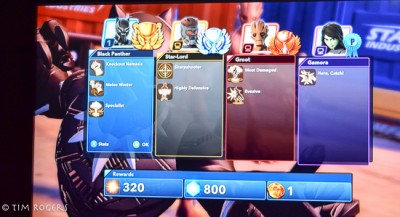 With these additions, the re-play possibility for Battlegrounds is much higher than the previous playsets It plays pretty well, has a good variety, and also recaptures some of the magic of in person multiplayer. A few other notes:
Every character you use in this playset will have full abilities at all times – you don't need to level them up to be equal. You still can earn experience and apply it to a character, through what they call the experience bank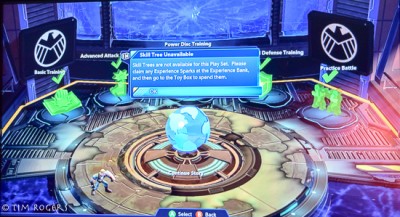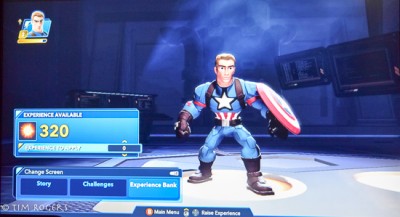 Besides Captain America, four other Marvel characters were released at the same time as this playset:

Ant-Man
Black Panther
Black Suit Spider-Man
Vision

If you add all of the playable characters together, there are now 28. Two of them are female (Gamora and Black Widow). This fact has not been lost on fans, and I have seen a few announcements from people working on Disney Interactive that they promise to release more female characters soon. My money is on Captain Marvel and Wasp. You can purchase the Marvel Battlegounds playset on Amazon.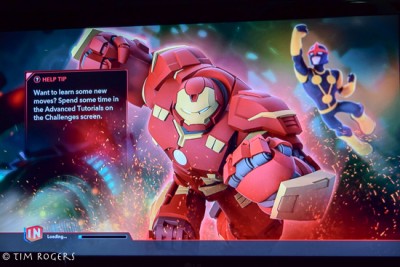 What's Next
On March 1st, the Disney Infinity team released the first of what they promise to be a series of livestream video events about the future of Disney Infinity. Besides some previews of Marvel Battlegrounds, this event released some interesting information.
First was some of the other characters that just came out, including Nick and Judy from Zootopia, and Baloo from the Jungle Book.
For me, the most interesting part of the announcement was that Disney Infinity 4.0 would not be released this year. Instead, the Infinity team said they wanted fans to be able to use the same base set for longer. As such, they have committed to releasing another playset from each of their four main areas: Disney, Pixar, Marvel, and Star Wars. They did not say specifically what these would be or when they would be released, however I like the extension of existing games this brings. Specifically, it also means that they have more flexibility built in to add characters using downloadable updates rather than forcing fans to buy completely new starter packs.
You can see the whole announcement here:
What are your thoughts on these updates for Disney Infinity 3.0? Share your thoughts in the comments.