This post may contains affiliate links for your convenience. If you make a purchase after clicking a link we may earn a small commission but it won't cost you a penny more! Read our full disclosure policy here.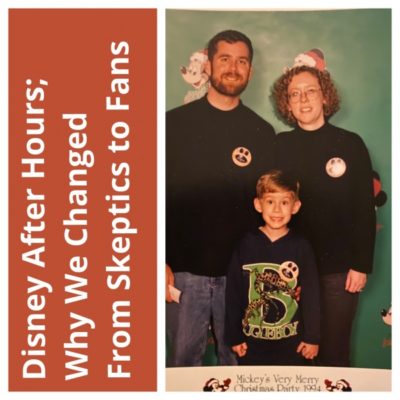 We weren't always fans of Disney hard ticket events. But, one trip to Mickey's Very Merry Christmas Party (MVMCP) made us true believers.
As flinty New Englanders it took some convincing for us to attend a Disney hard ticket event. Our logic was simple. We were already spending a small fortune at Walt Disney World. It seemed wrong to buy tickets to parks that you already had tickets to.
However, in 1994 we were on our third trip to the parks in six year and had already enjoyed several dinner shows. We were looking to try something new and the $23 per ticket ($15 for our son) for a Disney hard ticket event.
What happened at MVMCP to make us Fans of Disney Hard Ticket Events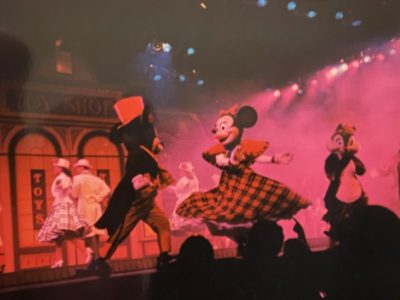 The start of the Christmas Party did not go well. As we entered Main Street snow was falling. We caught snow flakes on our tongues. Bad move. The snow was made of soap.
Mickey's Very Merry Christmas Party has been a successful Disney Late Night Event for over 30 years. If Disney's First Snow was a disappointment, Mickey's Very Merry Christmas Party was not. We had a great time watching shows, attending the parade and riding every ride we wanted.
The park was quiet and populated mostly with locals. It was a cool Florida night, so the locals avoided our favorite ride, Splash Mountain. Since no one was in line we were allowed to stay in the same car and rode the ride continuously five times.
Mickey's Very Merry Christmas, Then and Now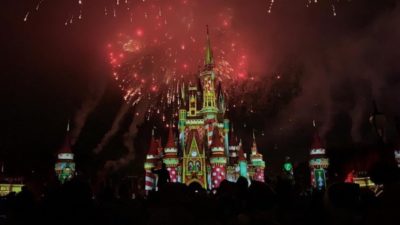 Many of the party's events that existed in 1994 still exist today. There's an elaborate Christmas parade, shows at the castle forecourt and in Tomorrowland, snacks and plenty of rides. The shows have been updated. In 1994 a live version of Mickey's Christmas Carol was on the Tomorrowland stage. This year it's The Edge Effect, an a capella group.
At MVMCP there are now custom treats in addition to free cookies. Disney replace the polaroid picture in front of a screen with special PhotoPass photos. Disney added cool overlays to some rides.. Two new upcharge events are available; Tony's Most Merriest Town Square Party and Minnie's Wonderful Christmastime Fireworks Dessert Party. Also, the party now runs from starts in early November. Finally, there are the crowds. I don't think we could ride Splash Mountain five times in a row today. Still, the park is much emptier at a Disney hard ticket event than during a regular admission day.
Disney Hard Ticket Events changed how we do Disney
We now look forward to attending hard ticket events. A father -son trip is next up in January. For that trip we gave up seats at California Grill during fireworks to attend a late-night party in the Magic Kingdom. Watching the Magic Kingdom fireworks from California Grill is awesome. Attending late night parties in the Magic Kingdom is even better.
To quote Stu when I asked him if he wanted to attend another late-night party, he talked about a trip two years ago, "those tickets were some of the best money I have ever spent last time and the weather [stunk]." So we have added the late night events to the family itinerary. Even if it means we gave the occasional awesome dinner.
What are your thoughts on the Disney hard ticket events? Do you think they are worth the money