This post may contains affiliate links for your convenience. If you make a purchase after clicking a link we may earn a small commission but it won't cost you a penny more! Read our full disclosure policy here.
From Our Magically Speaking Newsletter Archive – subscribe today!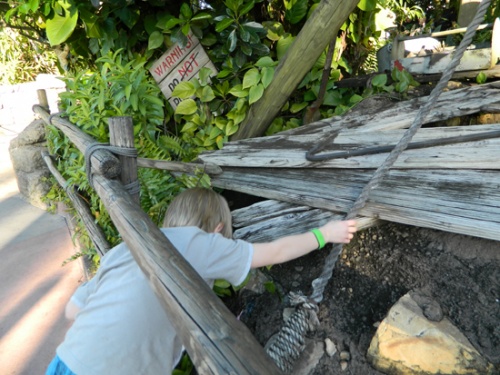 I knew I was in trouble when I staggered out of Epcot at the end of a long day. People say Epcot stands for "Every Person Comes Out Tired" and that certainly applied to me.
It does not, apparently, apply to active seven-year-old boys. Not only did my grandson Xavier skip happily towards the bus stop, when it was our turn to get on, he took a couple of steps back, ran and JUMPED over the steps onto the bus. The bus driver could only shake his head as I pulled myself up the steps behind him.
"Are you finding it a little tough to keep up with him?" he asked.
"Maybe a little…" I admitted.
I would have been ready to head to bed when we got back to Pop Century. But Xavier pointed out that we had not yet been swimming that day and we NEEDED to get into the pool. I briefly worried that I might fall asleep in the water and drown, but then realized Xavier's antics would definitely keep me awake.
This was day two of our Grandma-grandson trip to Walt Disney World, and, yes, it was exhausting. But I promise you I fell asleep with a smile on my face.
I am lucky enough to have six grandchildren (and two more on the way). When the oldest, Sebastian, was eight years old I took him on a trip to WDW, just the two of us. His two uncles were working in Le Cellier at the time and I thought he'd enjoy hanging out with them and seeing them at work. The trip was such a hit that a few years later, I took his sister Callista, who thoroughly enjoyed having an all-girls outing and focusing on princesses and fairies for a change (she has three brothers).
This year it was Xavier's turn. This is also the year I will turn 60. I have a very sedentary job and nobody would describe me as "athletic." Or even fit. But I can still have a wonderful time at WDW.
Here are some things I've learned as a "mature person" visiting my favorite spot.
Comfort beats fashion. I know, we all want to look good. But those adorable sandals with the cute little heels are not going to be your friend at the end of a day in Animal Kingdom. Us mature people can get cranky when our feet hurt.
Benches are your friend, and fortunately Disney has lots of them. Walt wouldn't have put so many in his parks if he didn't want us to use them, now would he? If you don't see an actual bench, look for concrete walls to sit on. Plenty of those, too.
Make FastPass+ reservations and give yourself plenty of time to get to each of them. Let's face it, you're not going to win the race at rope drop to be first in line for the Seven Dwarfs Mine Train. But here's the good news – you don't have to! Book yourself a FastPass time from the comfort of your home weeks in advance, and then just stroll over at your own speed when it's time.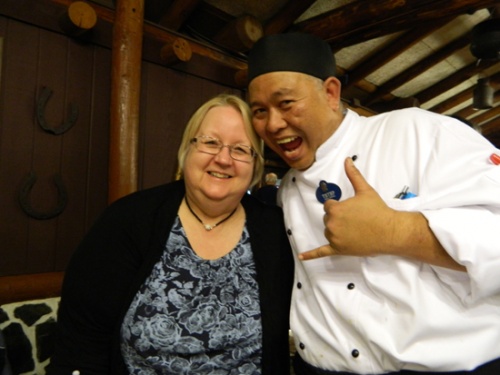 Consider a sit-down meal in the middle of the day. Like most people our age, you've probably developed a real appreciation for good food (as opposed to fast food). And you probably have an even bigger appreciation for air conditioning on a hot day and a chance to rest those tired feet. Make an ADR and you'll get a relaxing hour or two enjoying lunch – and maybe even a hug from Mickey Mouse.
Check out the not-in-the-parks activities. Many are perfect for the older guest. Some examples: Afternoon Tea at the Garden View Tea Room Grand Floridian has all the elegance of a Victorian tea room, and your server will make you feel like a queen; the Segway Tour at Fort Wilderness is a less-tiring way of checking out the trails and you'll learn some history and nature lore along the way; Disney's Yuletide Fantasy Tour shows you the behind-the-scenes work that goes into the holiday décor at the resorts and parks.
Take lots of photos – or get Disney to take them for you. My memory, I'm not ashamed to admit, isn't quite what it used to be. Photos help me remember the special moments of my trip when I get home. I try to take a picture of the front of each ride before we get on, as well as any shots of character interactions or fun moments on the ride. This helps me afterwards to recall what we did throughout the day.  I've found that if I'm alone or traveling with a grandchild, the CMs are usually more than willing to take photos of us. All I have to do is ask. You can also get PhotoPass photos and either purchase the whole CD or just the ones you want. I usually buy some of those, too.
Push yourself a little! Some of us – myself included – can get into a comfortable rut. WDW is a great place to try something new or just a bit more challenging, in a safe environment. I'm a bit nervous about heights, but I decided to try the Wild Africa Trek a couple of years ago, even though it meant walking along a rickety-looking bridge with some open-mouthed crocodiles underneath. With our guides and the other group members cheering me on, I made it across and thoroughly enjoyed the rest of the tour.
Or just go with a seven-year-old boy. I promise that will push you into whole new levels!
I've read that Walt's goal in creating Disneyland was to make a place that parents and children could enjoy together. I'd extend that another generation – it's great for grandparents too. I'm hoping I'll get a chance to see what it's like for great-grandparents. But that's still quite a few years away…
Magically Speaking Featured Article
Library of Congress ISSN:1556-3863